US President Donald Trump does not preclude the postponement of the date of increase in duties on Chinese goods
US dollar index declined after 8 days of continuous growth
The decline of ICE US dollar Index occurred on the backdrop of reducing global risks. US President Donald Trump announced that he could slightly move the deadline for increasing import duties on Chinese goods. Now it is planned on March 1. US stocks quotations rose on Tuesday due to the fact that the US Congress approved the preliminary state budget for the new fiscal year. This will avoid another suspension of government work. Additional positive aspect is corporate news announcement. Amazon.com shares rose 2.6% due to local success in competition with Walmart. Positive news were published by Electronic Arts (+ 4.5%) and Goldman Sachs (+ 2%). Sportswear manufacturer Under Armor has posted good quarterly reports. Today in the US at 14-30 CET, there are data on inflation for January.
Euro US Dollar exchange rate has not yet been able to break through the 1.13 support level
There was no specific news in the Eurozone. The increase of EURUSD was due to the weakening of the US currency. European stocks quotations also rose yesterday based on the background of a possible agreement between the US and China on mutual trade. An additional positive news was the good reporting of the French manufacturer of tires Michelin (+ 13%). Investors decided that it reflects the increase in demand for vehicles. Shares of other European tire manufacturers Pirelli and Continental rose as well. The growth of the sectoral stock index STOXX Europe 600 Automobiles & Parts was 2.9%. The Kering, which owns the Gucci brand, has published a good forecast for the 1st quarter of 2019. Its shares went up by 3.3%, which contributed to the growth of other assets of the consumer sector. The data regarding industrial production in December will be announced today in EU. The data on inflation, producer prices and real estate prices for January will be published in UK.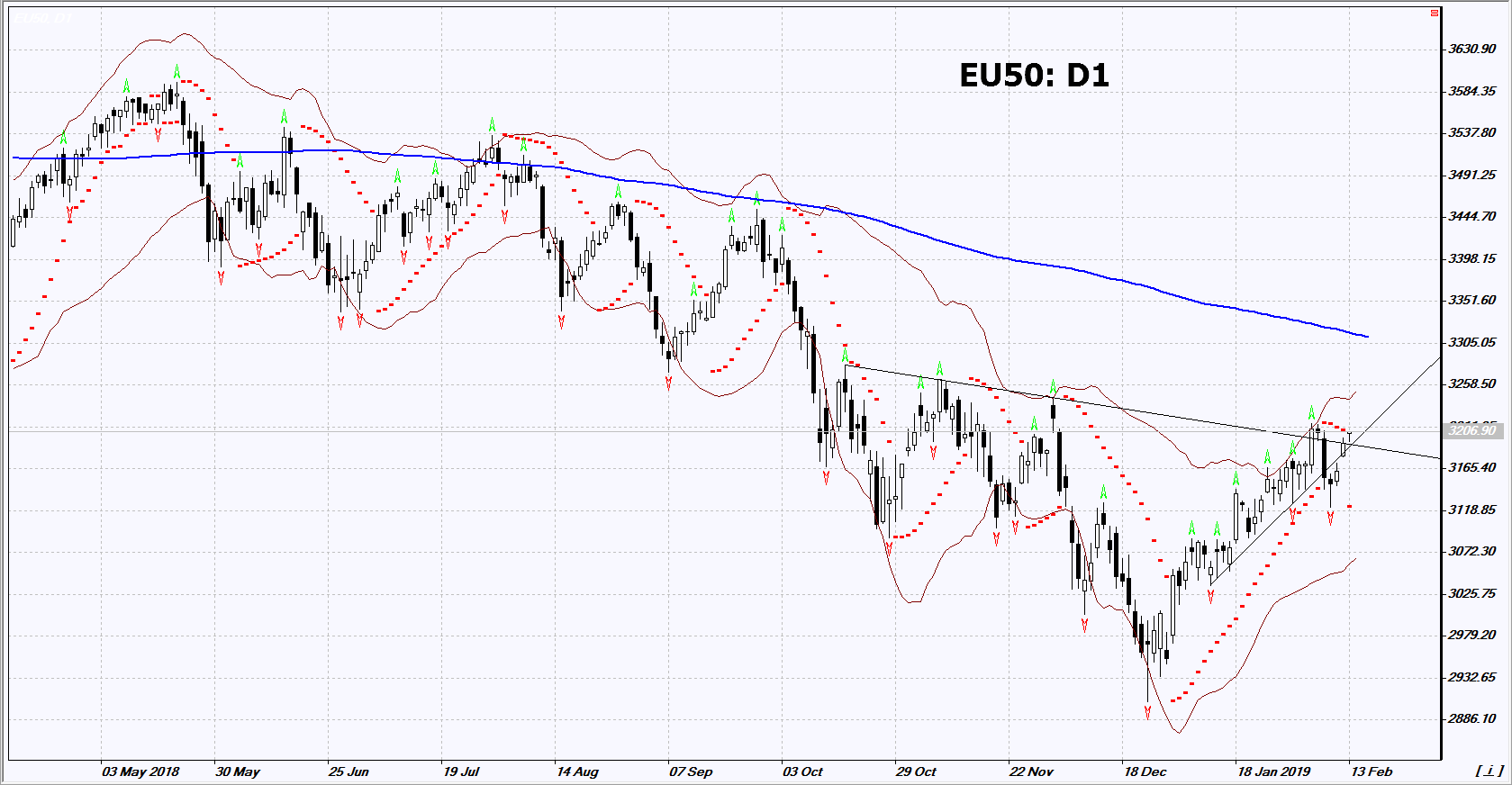 Japanese stock index Nikkei continued to grow for the 3rd day in a row
USDJPY is also rising for the 3rd day in a row, which indicates the weakening of the yen. On Wednesday, Nikkei climbed 1.3% and approached a 2-month high. This was facilitated by the possible success of China-US trade negotiations, as well as corporate information. Oil service company Inpex raised its profit forecast for the next year and its shares rose by 12%. Kabu.com Securities rose almost 6% due to KDDI Corp posting a possible $ 800 million buyback of Kabu.com shares. New Zealand Dollar demonstrated strong strengthening against the background of the next meeting of Reserve Bank of New Zealand (RBNZ). The Central Bank of New Zealand announced it would keep the rate at the current level of 1.75% until the end of 2020. In 2021, it can be increased to 1.97% and in 2022 - to 2.36%.
Quotations of Soybean rose against the backdrop of a possible reduction in world stocks
US Department of Agriculture (USDA) reduced its forecast for global soybean stocks in the agricultural season 2018/19 by 6 million tons to 112.7 million tons. This was due to the bad weather conditions in South America. The forecast for total soybean stocks in Brazil and Argentina was reduced by 8 million tons from USDA side. Earlier, the Brazilian state agency Conab reduced the forecast for soybean reserves in the season 2018/19 to 0.9 million tons from 1 million tons and its harvest to 115.3 million tons from 118.8 million tons.
---
Want to get more free analytics? Open Demo Account now to get daily news and analytical materials.
This overview has an informative character and is not financial advice or a recommendation. IFCMarkets. Corp. under any circumstances is not liable for any action taken by someone else after reading this article.
Analysis feed
---
We wish we knew what it is. Wild talk of the US joining Japan and Europe with zero or negative return on the 10-year is or should be very frightening.
Read more
Gold (futures on Comex) extends its side-trend around the 1440 mark into the mid-European session, having stalled its retreat from 2019 highs of 1454 near 1437 region.
Gold News