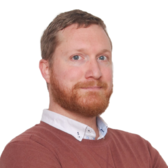 Clay Webster
News Editor FXStreet
Thanks for following this author!
At the start of each trading session, you will receive an email with the author's new posts.
You've unfollowed this author.
You won't receive any more email notifications from this author.
---
Short Bio
Clay Webster grew up in the US outside Buffalo, New York and Lancaster, Pennsylvania. He began investing after college following the 2008 financial crisis. He has spent 15 years working in media and advertising, most of it in Pittsburgh and Washington, DC. He now resides in Addis Ababa, Ethiopia with his wife and children.
Current work at FXStreet
Clay edits and writes content for the stocks section of FXStreet. His focus is on developing the new section into a major competitor in the realm of equity trading. He edits crypto content as well.
Previous financial experience
Clay was the associate editor for Platts covering the OTC coal and environmental markets from 2011 through 2013. Before that, he held a financial markets fellowship with the Money department of US News & World Report. He has also written markets, business and economics content for Fool.com and SouthEUSummit Magazine.
Educational background
Clay graduated with a Political Science B.A. from the University of Pittsburgh and an M.A. in International Relations from the Johns Hopkins School of Advanced International Studies.
Notable media appearances
Clay was featured on EnergyWeek TV in 2012, speaking about the natural gas market, and has written op-eds for Fortune Addis.
"Featured quote"
"When my information changes, I alter my conclusions. What do you do, sir?"
John Maynard Keynes
Extra-curricular activities
Clay enjoys travelling, reading and entrepreneurial pursuits. In his downtime, he makes homemade bows & arrows with his children. He co-founded and advises KickassSoccer.com.