---
AETOS WINS TWICE AT PERSONAL WEALTH AWARDS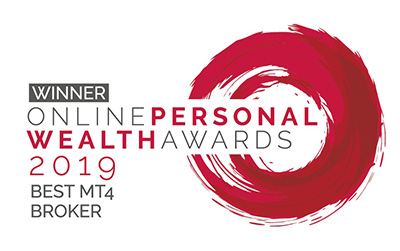 AETOS Capital Group has won two titles at the Online Personal Wealth Awards 2019. The market-leading Forex firm scooped the "Best Forex NDD Broker" and "Best MT4 Broker" trophies at the highly respected UK Awards ceremony.
The prestigious event celebrates companies that champion great products, trading technology and customer service in the area of personal wealth. Fresh off winning the "Best NDD broker" at the UK Forex Awards, which has seen AETOS rank top of the list with the most profitable clients than any other broker in a recent Finance Magnates study in 2018*, AETOS' No Dealing Desk was once again recognised as the best in its class. Thousands of voters cast their support for AETOS' transparent and fast trading technology to see the company's NDD rewarded once again.
The awards didn't stop there. AETOS doubled up by winning the "Best MT4 Broker" title as well. The trading platform is the most popular solution for retail Forex traders and they cast their votes for AETOS as their MT4 broker of choice.
Over the past year, AETOS' monthly trading volume has reached $53 billion and client numbers have also greatly increased. This has put the company on Finance Magnate's top fx brokers in their Q3 report.
The double award scoop for AETOS continues what has already been a highly successful year. The company celebrated its twelfth anniversary with a huge gala dinner event in Sydney, Australia. The grand occasion saw AETOS celebrating in the city the business began. Attendees at the event included government officials, ministers of state and over 200 AETOS representatives from its global offices.
Also making an appearance at the celebrations were members of Sydney FC. AETOS is the football club's principal partner in this season's AFC Champions League. The gala event saw the unveiling of Sydney FC's new jersey for 2019 with AETOS proudly positioned across the chest. The partnership, now in its second year, has increased the awareness and appeal of both brands.
2019 has started off well for AETOS. Further recognition with two more titles at the Online Personal Wealth Awards serve to enforce its growth and development in to a market leader in the Forex industry.
BDSwiss Receives Best Trading Conditions 2019 Award by World Finance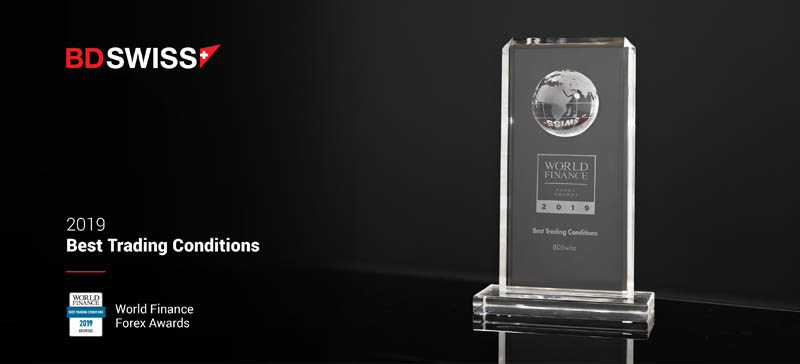 Forex and CFD investment firm BDSwiss was honoured to receive the award for "Best Trading Conditions 2019", by the acclaimed finance magazine and awarding body, World Finance. The award came as the ultimate recognition of its ongoing commitment towards investing in excellence, and continuous efforts to exceed client expectations by offering the best possible trading environment.
Committed to growth, transparency and innovation, BDSwiss Group has undertaken a number of projects and initiatives aimed at creating the best trading conditions in the industry. Specifically, the Group has bolstered its forex and CFD offering by adding the new and improved MetaTrader5 to its platform arsenal and has launched a groundbreaking new account type, the BDSwiss Raw Account, which features extremely competitive conditions, including institutional grade liquidity, lower trading costs and ultra-thin spreads. When combined with BDSwiss' commitment to transparency and regulation, the Group's latest innovations make for a truly competitive trading environment.
Markos Solomou, BDSwiss Holding PLC COO has recently commented with regards to the World Finance Best Trading Conditions award: "In 2019, BDSwiss has taken very decisive steps in order to truly refine its offering and make it even more competitive. This award comes as a true recognition of our efforts to provide industry leading trading conditions and an unmatched experience. We are honoured to be recognised by such a prestigious institution such as World Finance, and we plan to continue to work towards delivering exceptional products and services to our client base."
Never complacent, the Group's Research and Development team is currently working on offering even more competitive trading conditions through its BDSwiss Raw Account, in an effort to lower trading costs even further. To learn more about BDSwiss, its trading platforms, accounts and conditions click here.
About BDSwiss Group: BDSwiss Group operates on a global scale under different licenses and entities offering Forex and CFD investment services to more than a million clients worldwide. BDSwiss as a brand was established back in 2012 and has since then been providing innovative products and platforms, competitive CFD trading, 24/5 support and advanced execution. BDSwiss Group's holding company, is located in Zug, Switzerland. BDSwiss Holding PLC is authorized and regulated by the Cyprus Securities and Exchange Commission (the "CySEC", license no. 199/13 and registration no. HE 300153).
About World Finance Awards
The World Finance Markets awards are the world's most premier finance and business awards. Established to honour excellence and achievement, the awards grant global recognition to Organizations and Business Leaders worldwide, since 2007. World Finance judging panel boasts over 230 years of financial and business journalism, supported by a research team that works round the clock to ensure our award winners are the most deserving in their sector.
April Fools' hoax and industry exposé from TIOmarkets goes viral
The management team of TIOmarkets has announced that their "incredible, unbelievable and never seen before in FX" offer was in fact part of our marketing drive for an April Fools' campaign and client awareness.
The prank, which coincided with the opening of its doors for pre-registration, was intended to counter the misleading and often unrealistic promotions that are so commonly released by companies within the industry.
TIOmarkets today announced the hoax on https://tiomarkets.com/vr with the following statement:
"For those of you who fell for it, we apologise for leading you up the garden path. There is a valuable lesson to be learned… the story about the partnership with the deep tech firm, the payment methods and the VR was made up. Think of it as a metaphor for all of the things wrong misleading with the forex industry at the moment. While these promises are all very good (and don't we wish they were real!), they are quite simply, too good to be true."
The campaign itself consisted of a video showing TIOmarkets partnering with a deep tech firm, which pledged to allow withdrawals and funding of accounts via any bank in the world. Veterans of the forex industry will be familiar with this deep-seated issue, which negatively impacts upon a great many traders living in specific certain jurisdictions worldwide. The video also promised free VR headsets and Android mobile devices to the first 100,000 sign ups of the company.
"Let's start cleaning up: No false promises and hidden charges – we offer what we intend to provide – an excellent trading experience with no surprises." On https://tiomarkets.com/vr, the firm stated that it wished to expose some of the inequalities within the industry, and through its no-nonsense tone of voice, plans to continue such frank and open discourse with FX traders about the dangers of FX trading.
TIOmarkets management acknowledges that this campaign was both innovative and controversial. Head of Business Development Terence Tan commented: "This campaign represents our positioning in the industry. We plan to prove to our clients every single day that we are all about transparency and honesty, qualities that can be rarely found anywhere else. We believe it's time for an industry shake up."
TIOmarkets will be the first in the FX industry to offer a subscription model to its clients, where traditionally the widening of spreads, partner commissions, and other company overheads have eaten into the profits of investors. TIOmarkets positions itself differently by offering a monthly subscription cost. The VIP Black package, for instance, is 49.95 USD per month and contains no hidden charges, costs or fees. This could mean significant savings for our investors. We offer a number of different packages to suit individual client needs.
Doors for registration open 2nd April 2019. Visit tiomarkets.com/vr to find out more.
NEW FX FIRM OPENS PRE-LAUNCH WITH UNBELIEVABLE OFFER
Think big.
NOW THINK BIGGER
AN INCREDIBLE OFFER
NEVER SEEN BEFORE IN FX
Welcome to TIOmarkets! We are the next hot upcoming FX and CFD trading brand that you'll want to be a part of. To celebrate our pre-registration launch, we are partnering with a deep tech firm which has been mastering technologies never seen before in FX.
Instant deposits & withdrawals at almost any bank, anywhere in the world
VR trading using sophisticated technologies that will blow your socks off
Your own personal trading avatar who will answer any trading question
Free VR headset & Android mobile device to the first 100,000 sign ups, no strings attached
KISS GOODBYE TO FUNDING & WITHDRAWAL PROBLEMS
Our partner has spent five years trying to fix the problem that so many FX traders face when depositing and withdrawing. Using advanced QR technologies combined with our partners' excellent relationships with some of the world's biggest banks, our clients will be able to visit almost any bank worldwide and deposit cash directly into their trading account. If that wasn't good enough, our clients will also be able to withdraw cash straight into their pocket, with no questions asked.
VR BEYOND YOUR WILDEST DREAMS
We have access to sophisticated gesture and learning technologies that you can use to help take your trading to the max. Dive deep into the digital world of trading and discover the green, red and black world of your trading platform, dragging and dropping charts and trades as you go.
THE WORLD'S FIRST TRADING AVATAR
Discover our absolutely incredible AI-based technologies through the world's first personalized trading avatar, who has been built to give you the answers that you need.
Ask your own personal trading avatar any question:
Want to know what a Fibonacci sequence is? Ask your trading avatar!
Want to see which instrument is trending? Ask your trading avatar!
Want to know what trades other people are placing right now? Ask your trading avatar
MASSIVE VR HEADSET GIVEAWAY
The first 100,000 sign ups to the upcoming TIOmarkets platform will win a state-of-the-art virtual reality headset.
HOW CAN YOU REGISTER FOR THESE WONDERFUL THINGS?
Like our Facebook, Instagram or Twitter page @tiomarkets and visit tiomarkets.com/vr to be the first to register on April 2nd.
CFDs are high-risk instruments. Trading CFDs is not suitable for all investors. You should ensure that you fully understand the risks involved and do not trade with money that you cannot afford to lose. This notice provides you with information about the risks associated with CFDs, but it cannot explain all of the risks, nor how such risks relate to your personal circumstances. Please see our risk warning document. If you are in doubt, you should seek professional advice.
JFD Group Launches JFDBANK.com to Offer Retail and Institutional Services under One Brand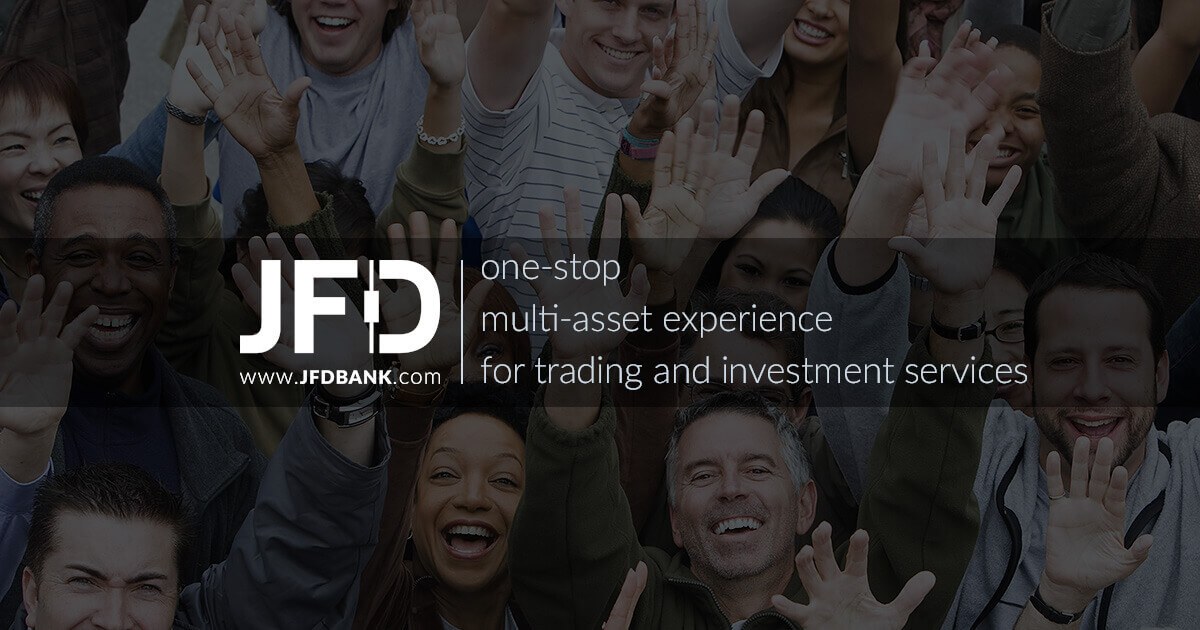 26. March 2019 – After renaming its German-based investment banking business to JFD Bank AG, JFD Group Ltd consolidates retail and institutional services under the brand JFD Bank. The website www.JFDBANK.com is the new online hub for all current and future services offered by the FinTech group.
JFD Bank AG is the new name of the German-based investment bank acquired by JFD Group in 2018. The final stage of the transaction was completed in March 2019, when the remaining 20% of the shares were exchanged. Following this major milestone, JFD Group Ltd. is now the single owner of the BaFin-regulated entity, allowing the company to offer services such as designated sponsoring, institutional sales trading, initial public offerings, transaction structuring and more. JFD Bank AG is also a Capital markets Partner in the Frankfurt, Munich, Düsseldorf and Vienna stock exchanges.
JFDBANK.com is the new online hub for all current and future services offered by JFD. Retail, professional and institutional clients can now find all the information and services they need under a single domain, constituted by various entities of the group. This consolidation is the first step in offering a unique one-stop multi-asset experience for trading and investment services for both individuals and corporations.
The website features a new section with all the institutional services offered by the company. They cover all the needs of businesses and corporations when it comes to trading and investing – Prime Brokerage & Liquidity, Designated Sponsoring, Institutional Sales Trading, Capital Markets & Investment Banking.
"Launching JFD Bank has been a challenging task and a tremendous success for us. It marks the end of a long, very complicated and sometimes frustrating process of acquiring a regulated German investment bank and getting all the necessary approvals," shares Lars Gottwik, founder and CEO of JFD. "However, for us this is also the beginning of a new, even more exciting part of our journey. JFD is on a mission to set new standards in the trading, investing and banking world, and JFDBANK.com is just the beginning."
Earlier this year JFD already challenged the status quo of traditional brokers and investment intermediaries by introducing zero-fee stock trading for its clients. The new conditions came with no limitations to number of trades, minimum volumes, or additional monthly fees and charges. JFD clients can now trade over 600 US, German and Dutch stocks via both MetaTrader 5 and Guidants platforms. The company also provides Forex and CFD trading on ETFs, Indices, Commodities, Cryptocurrencies and Bonds, encompassing 1,500+ instruments across 9 asset classes.
More information about all the services offered under the brand JFD Bank can be found at www.jfdbank.com.
Contact:
JFD Group Ltd.
Nikola Marinov
Head of Marketing
+357 25 878530
About JFD Bank:
JFD Bank is a registered trademark and trading name owned and used by the JFD Group of Companies. The parent entity, JFD Group Ltd was launched in December 2011 and is now an internationally licensed global provider of multi-asset trading and investment solutions. It provides commission-free trading in real stocks and Crypto CFDs as well as extremely competitive pricing for trading and investing in 1,500+ instruments across 9 asset classes. JFD is acknowledged by numerous independent sources as one of the fastest-growing and respected financial companies worldwide. Thanks to its core values of transparency, fairness and trust, many experienced investors consider the company as their best choice for self-trading, portfolio management and investment advisory solutions. JFD Group of Companies constitutes of JFD Group Ltd, (License Number 150/11), JFD Overseas Ltd (License Number 17933) and JFD Bank AG (License Number 120056).
BDSwiss Group Holds 6th Annual Kick-Off Meeting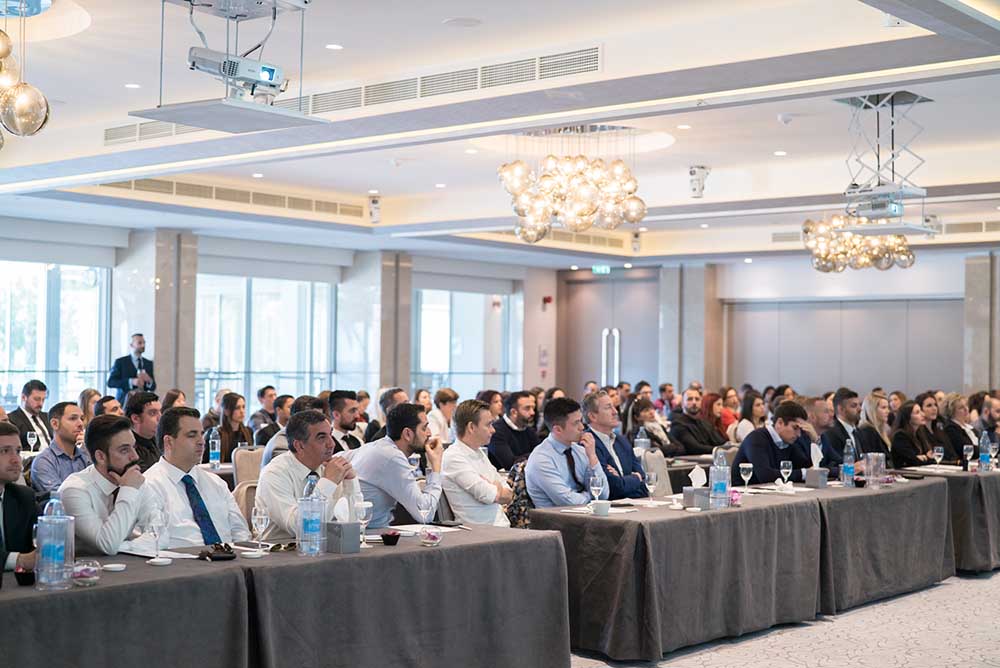 BDSwiss' 6th annual kick-off meeting was completed with great success on the 1st of March at Crown Plaza Hotel in Limassol. BDSwiss employees from overseas offices flew in to attend the Group's kick off meeting which was comprised of a series of speeches by product owners, team leaders and members of the senior management who presented the most important milestones for 2018 as well as the major BDSwiss Group goals for 2019.
Impressively, BDSwiss Group has seen a 136.67% growth in trading volume during 2018, compared to 2017 according to data provided by the Head of Business Intelligence, Manos Iosifakis. What is more, there was a substantial increase of 210.05% in the total number of active traders in 2018, while conversion rates increased by 9% during the same year with an average conversion rate of 25%. The company attributes its notable growth to its recent expansion efforts to new markets, client centric approach, innovation initiatives and the emphasis on transparency and robust partner relationships. BDSwiss has also invested internally in 2018, inaugurating new offices, employing new staff, refining its operations, and cementing a strong company culture. When it comes to the actual headcount, Head of Human Resources, Nayia Antoniou has noted that the figures are impressive, with the group's teams having doubled in 2018, counting 200+ employees so far.
Looking into the future, BDSwiss Group aims for greater growth and innovation. Having already established a solid presence in Europe through its offices in Cyprus and Germany, BDSwiss has tapped into Asian Markets in 2018 with the inauguration of its Swiss Markets branded office in Kuala Lumpur. During the company kick-off, BDSwiss CEO, Alexander Oelfke also announced that in 2019, BDSwiss Group plans to open new offices in the Philippines.
At the conclusion of the meeting, BDSwiss Heads expanded on the company's goals for the upcoming months, highlighting that the company remains invested in maintaining optimal customer experience through adamant support, innovative tools and platforms, new tradable assets and ultra-competitive trading conditions.
About BDSwiss Group: BDSwiss Group is a leading financial institution specializing in Forex/CFD trading with its holding in Zug, Switzerland. BDSwiss Group operates under different entities and licenses. The business was established back in 2012 and has since then been providing top-class trading products, competitive conditions and fast execution to more than a million clients worldwide.
FP Markets announces launch of multi-faceted online training tool, MT4 Trader Toolbox
5th March 2019, Sydney Australia: FP Markets, a market-leading global CFD and Forex provider with over fourteen years industry experience, announces the launch of MT4 Trader Toolbox, a suite of twelve online trading tools which have been exclusively designed to further enhance clients' trading experience by giving them the competitive edge as well as valuable insights into the markets.
The apps are available for clients using the MT4 trading platform
Whether a novice or pro trader, MT4 Trader Toolbox offers users a wide range of applications to take their trading to the next level. Topline features include applications such as Trader Toolbox Connect which provides news feed and economic calendars within the trading platform meaning clients can access market information on different time scales and make informed trading decisions. Users can also improve their trading experience by taking advantage of the correlation between markets and highlight the areas of low or high correlation to efficiently calculate the next trade with the new Correlation Trader.
To gain the insight needed to tackle the markets with MT4 Trader Toolbox, traders need to simply open an account, fund $100 or equivalent cost and they will receive the MT4 Trader Toolbox software, via email, gaining access to impressive trading features not typically found on other trading platforms. Full instructions and easy to use videos can be found on the FP Markets website.
Craig Allison, Head of Europe, Middle-East & Africa at FP Markets commented, "At FP Markets, we are always researching innovative tools to enhance our clients' trading experience and help them get the most out of our bespoke trading platforms. The launch of MT4 Trader Toolbox fulfils these criteria as it is a sophisticated yet easy-to-use system which will appeal to the all-rounder trader, novice or pro, and enable them to analyse the markets with greater speed, efficiency and accuracy. We are delighted with the end-result and we look forward to developing more beneficial programs for our customers across the world."
Other key tools from MT4 Trader Toolbox:
Alarm Manager: Set up alerts and notifications with the MT4 Trader Toolbox Alarm Manager, carry automated actions such as open and closing positions. Customise what action you want your alarm to trigger.
Correlation Matrix: Get invaluable market information on different time scales and make informed trading decisions. Take advantage of the correlation between markets and highlight the areas of low or high correlation to efficiently calculate your next trade with the Correlation Matrix.
Excel RTD: This trade monitoring, analysis and reporting tool inserts real-time account, ticket and price data into Excel, without the need of programming. Interact with trading platforms and send trading commands from VBA code in MT4 Trader Toolbox Excel RTD
Market Manager: With the MT4 Trader Toolbox Market Manager, you can view recent price activity, place market and pending orders, select symbols, and alter existing positions. Take full control over your account and keep in the know of important market information.
Stealth Orders: Hide your pending orders from other market participants with the MT4 Trader Toolbox Stealth Orders. Once an entry price is hit, this tool will buy or sell at market, as opposed to placing a stop or limit order. Additionally, it provides stealth stop-losses and take-profits.
Tick Chart: The MT4 Trader Toolbox Tick Chart Trader is ideal if you want to enter and exit the market quickly numerous times throughout your trading session.
Session Map: The MT4 Trader Toolbox Session Map gives you a quick overview of the market and your account. Take advantage of a map of the main world markets, an economic calendar, and information on key market changes.
Trade Terminal: Providing a number of trading features which you will not typically find in trading platforms, the MT4 Trader Toolbox Trade Terminal displays a list of all open positions and pending orders, an overview of current account metrics, automatically apply rules for scaling out positions, and position analysis.
Mini Terminal: Serving as an extension of the Trade Terminal, the MT4 Trader Toolbox Mini Terminal allows you to concentrate of a specific market with specific trading charts.
Sentiment Trader: The MT4 Trader Toolbox Sentiment Trader provides an easy to read market sentiment about current and historic long/short sentiment.
About FP Markets
FP Markets is an Australian ASIC regulated global CFD and Forex provider with more than 14 years of industry experience. The company's vision has always been to deliver the ultimate trading destination for clients by combining the best technology, product range, pricing and client services available to those wanting to trade the markets. The convenience of being able to trade CFDs from the one account across an extensive range of equities, indices, commodities, Forex, futures and cryptocurrencies is why so many market participants are opting to trade with FP Markets. FP Markets prides itself on its deep understanding of what traders are looking for. Clients can even choose to trade on-the-go from their mobile devices across several online platforms like MetaTrader 4, MetaTrader 5, WebTrader and IRESS. With superior pricing, execution speed, platforms, product range, client support and market analysis, FP Markets' clients possess all the confidence that they need to truly trust the services of their chosen broker. The company's outstanding 24/5 multilingual service has been recognised by Investment Trends as home to some of the most content clients in the industry, having been awarded 'The Highest Overall Client Satisfaction Award,' 5 years running.
BDSwiss Launches New Optimised Client Portal and Adds Autochartist to its Trading Tools Arsenal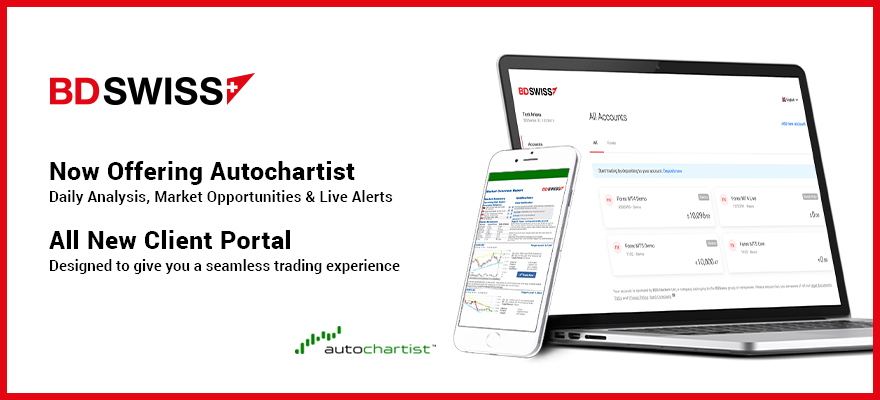 Committed to providing the best possible trading experience, Forex and CFD Investment Firm BDSwiss has announced the launch of its new, user-friendly client portal and the addition of Autochartist,a leading technical analysis tool with detailed breakdowns across a wide range of Forex and CFD instruments, to their trading tools arsenal.
Developed with The End-User In Mind
BDSwiss' new client portal was developed in house, by the company's software development team and comes as the latest addition to BDSwiss' unique trading suite. The new portal was created to give the end user a truly seamless experience and facilitate forex traders in their day-to-day transactions. Featuring a clean and minimal design, the new BDSwiss portal enables users to sign up, create and fund new forex accounts, switch between existing accounts, access a detailed overview of their transactions and trades, opt-in for express account validation, withdraw their funds with min processing time as well as view the complete history of their deposits, withdrawals and transfers. What is more, the BDSwiss Client Portal can be described as a complete traders' dashboard solution, offering a suite of forex trading tools like notifications on major market events, high volatility alerts as well as upcoming webinars.
Optimising Customer Experience
BDSwiss CTO, Christos Alatzidis comments on the launch of the portal: "After months of rigorous testing and development, we are delighted to have launched our new BDSwiss Client Portal. We've designed our new portal with our users' experience in mind, making it as user-friendly and intuitive as possible, while maintaining advanced functionality, responsiveness and optimum efficiency. Our end goal was to ensure that our clients have everything they need to manage their accounts all in one place while also being able to perform their day-to-day transactions quickly and efficiently. At BDSwiss we have a history of investing heavily in technology and our clients can be confident that we will continue to innovate and offer them the most intuitive portals, platforms and trading tools the markets have to offer."
New Tools: Leading Technical Analysis & Alerts with Autochartist
Striving to achieve an unparalleled customer experience, BDSwiss has also recently announced the addition of Autochartist - one of the most advanced tools for automatic identification of trading opportunities, across a wide range of Forex and CFD instruments - to its trading arsenal. Autochartist is an automated and highly intuitive tool that can monitor hundreds of financial instruments 24 hours a day and alert traders to major trends and trading opportunities as they occur. Employing key market levels, intraday scanning, volatility analysis and a set of advanced technical indicators, Autochartist can make reliable market movement predictions in real time.
Opting to consistently follow a strictly client-centric approach, BDSwiss promises to continue to offer their clients more, by investing in fintech solutions, embracing innovation, as well as introducing new CFD assets and unique trading tools aimed at enhancing future functionality and taking their clients' experience to the next level.
About BDSwiss
BDSwiss is one of Europe's leading financial institutions specializing in Forex and CFD trading. BDSwiss provides access to competitive trading conditions to retail and institutional clients in more than 150 countries via its advanced trading platforms and superior execution technologies. Visit BDSwiss Website to learn more.
Risk Warning: CFDs are complex instruments and come with a high risk of losing money rapidly due to leverage. 84.1% of retail investor accounts lose money when trading CFDs with this provider. You should consider whether you can afford to take the high risk of losing your money.
EightCap joins Scuderia Ferrari for the 2019 F1® season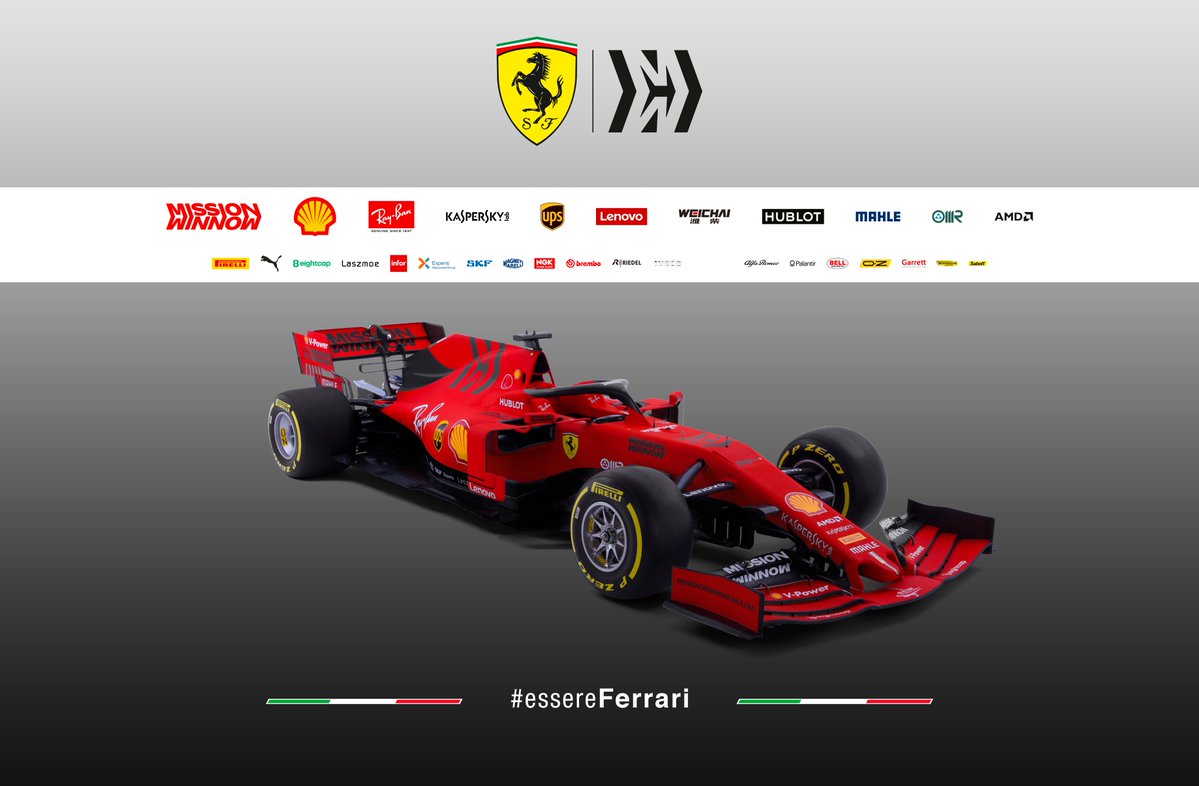 Scuderia Ferrari showcased its new look 2019 Formula 1® single-seater last Friday which included the unveiling of Australian Forex & CFD broker EightCap as an official sponsor.
EightCap has teamed up with Scuderia Ferrari for the 2019 and 2020 Formula 1® seasons. Scuderia Ferrari is featuring the new look EightCap logo on the front wings of the two single-seaters for both seasons.
Joel Murphy, EightCap CEO, said he's thrilled EightCap was chosen as one of the major sponsors for the team.
"Ferrari has been the most successful Formula One team since the series began and is recognised across the globe as a leading auto-manufacturer. Here at EightCap, we're aiming to enhance our brand's global reach and continue to improve our client's trading experience. It's fantastic to have our company represented in the fast lane and I'm looking forward to this exciting new partnership."
EightCap will be the only Australian company to be aligned with Scuderia Ferrari ahead of the Australian Grand Prix in Melbourne.
The inaugural F1® season launch will be held in Melbourne on March 13, ahead of the race on March 17 where all 10 teams and 20 drivers will compete.
EightCap is optimistic for a home victory with Scuderia Ferrari already reported as one of the leading performers from this week's pre-season testing in Barcelona, with Charles Leclerc having so far recorded the fastest times.
About EightCap
Incorporated in 2009 and headquartered in Melbourne, Australia, EightCap provides access to trading on a wide range of financial markets. Regulated by the Australian Securities and Investments Commission (ASIC) and platform access to MT4 & MT5. EightCap enables trading on over 200 instruments including forex, indices, stocks, commodities and cryptocurrencies.
ATFX Awarded "FX Broker of the Year, UK" by Global Banking & Finance Awards 2018
ATFX, a global award-winning forex broker, has recently added two more trophies to its mantelpiece after being named "Best Forex CFDs Broker" by Share Magazine's UK Forex Awards.
The broker was then awarded "FX Broker of the Year, UK" at The European Business Awards 2018, a division of Global Banking & Finance Awards. ATFX views this achievement as a reflection of its commitment to continuous innovation of the trading instruments on offer, and the enhanced services used to cater to the industry's evolving demands.
Based in London, UK, ATFX (UK) is regulated by the Financial Conduct Authority (FCA). With a mission to provide the best possible trading experience for all traders, ATFX offers a state-of-the-art, mobile-accessible, client trading portal for forex, indices, cryptocurrencies CFDs and precious metals trading. Led by an experienced, skilled management team, the company has an international presence.
Marcos Tigsilema, Commercial Director of ATFX (UK) and Ergin Erdemir, Head of Marketing of ATFX (UK) were interviewed by The European Magazine, and discussed ATFX's business outlook and global future development. Renowned Journalist and Writer, Juliette Foster presented the trophy to ATFX during the interview.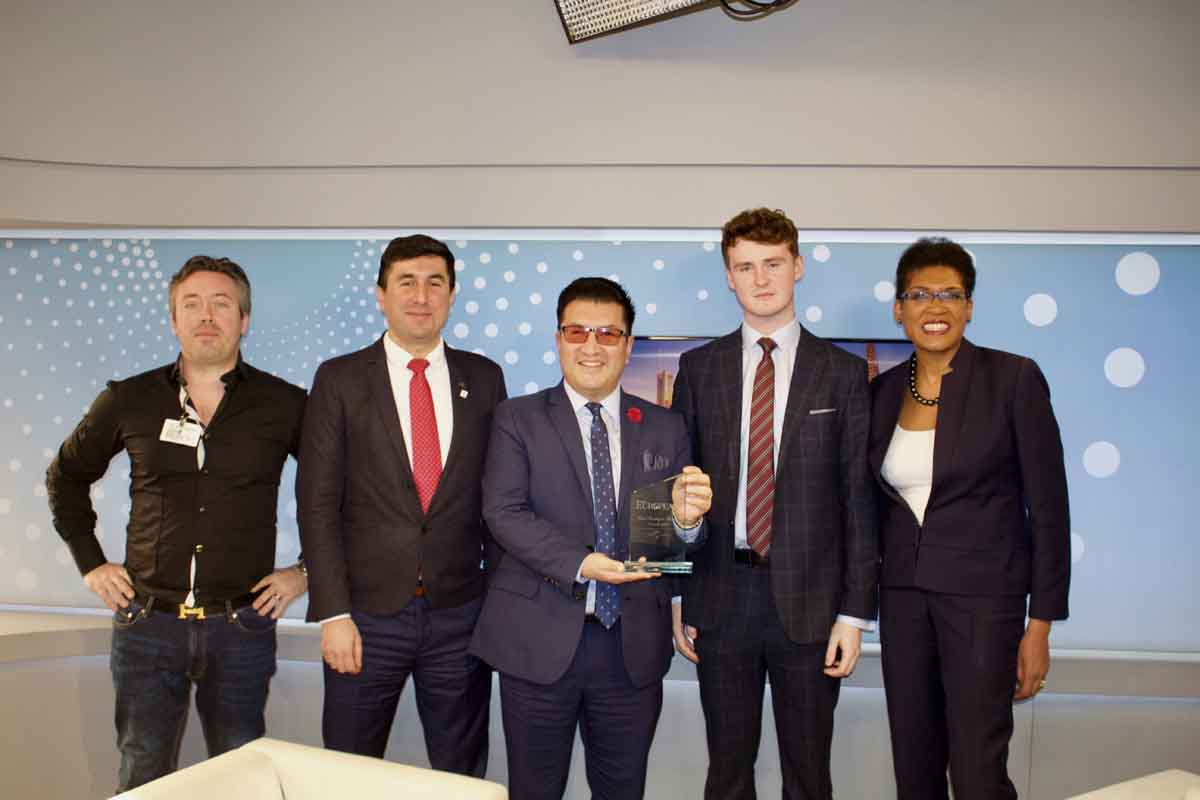 After the interview, Marcos and Ergin commented "ATFX has established itself as powerful broker in the forex trading world. These latest awards showcase some of the company's greatest values, including an unyielding commitment to providing the greatest online trading experience."
All companies are nominated through the online voting system. The judging panel of the awards have extensive experience across a range of sectors, and are supported by a highly dedicated research team. The award programmes are tailored to provide a comprehensive analysis of the very best in all major market sectors globally. Good governance, innovation, know-how, and quality of service are all major considerations in recognizing companies that stand out from the crowd, and consequently result in moving their industry forward.
The awards also reflects the company's efforts to consistently offer the highest quality of service to its clients, ensuring that the most recent awards won't be the last to grace its mantelpiece.