US Election effect on USD, markets
---
Third and Final Presidential Debate
In today's US debate, Clinton remained calm and presidential, while Trump was also more contained despite his sporadic interruptions, as it has been the norm since the first debate. Clinton also cut some of Trump's interventions, but to a lesser degree. Both candidates put on, by far, the best performances, with Trump much better than in his first debate, while Clinton remained strong.
One of the key moments that may play against Trump was when he said that he may doubt the results of the elections if Clinton wins, implying that the process may be rigged. That kind of talk is not going to play in his favour, as voters don't like to hear these type of mistrust comments from someone who is seeking the role of being the President of the US.
How to trade the US election

US Dollar major pairs, stocks, commodities, bonds... this election has the potential to impact any asset on the market. Here you'll get a more clear picture of how the election is affecting the FX and financial markets and how to profit it on your trading. These articles show how our contributors foresee the Trump versus Clinton showdown in terms of potential scenarios and asset allocation.
Election's Effect on US Dollar
The US Presidential Election is bringing plenty of headlines for the markets to digest. Things may get more interesting if Trump wins, as Mrs. Clinton's victory is hardly expected to affect markets. Trump, on the other hand, is a hassle, and risk aversion will likely kick in if he wins.
In the chart below, you can see the US Dollar appreciation against the British Pound during the first year of the Bill Clinton, George W. Bush and Barack Obama presidencies. Will this trend keep it going with Hillary Clinton or Donald Trump?
Current Trading Positions on Major USD Pairs
USD/MXN: The Trump Trade
When it comes to currencies, the highly-touted "Trump Trade" has revolved largely around the Mexican peso. It has been no secret that US Presidential Candidate Donald Trump's heavily protectionist trade policies, not to mention his stance on immigration, have targeted Mexico in particular. Besides proposing to build a wall between the US and Mexico, Trump has also repeatedly expressed his staunch opposition to the North American Free Trade Agreement (NAFTA) and has proposed broad restrictions on both Chinese and Mexican imports. The result has been increasing speculation that if Trump is seen to win the presidency, the Mexican peso could suffer dramatically against the US dollar.
Trump Trade Idea - RUB/MXN: How to build a Synthetic Pair to trade
---
US Presidential Election
As if there was not enough uncertainty surrounding financial markets, US elections are just around the corner. The US presidential elections 2016 will be held on Tuesday, November 8th. These presidential elections occur quadrennially, with registered voters casting their ballots on Election Day, which since 1845 has been the Tuesday after the first Monday in November, coinciding with the general elections of various other federal, state, and local races.
The event is having a strong effect on the markets specially for the most traded against USD. So here you can read all you need to know about it: the debate schedule, the electoral process, the decisive states and why all this will be important to your trading.
Road to the White House
September 26 - First presidential general election debate was held at Hofstra University in Hempstead, New York.
October 4 - Only vice presidential general election debate was held at Longwood University in Farmville, Virginia.
October 9 - Second presidential general election debate was held at Washington University in St. Louis in St. Louis, Missouri.
October 19 - The third and final presidential general election debate will be held at the University of Nevada, Las Vegas in Paradise, Nevada
November 8 - Election Day
2016 US Election Map: Current Poll Situation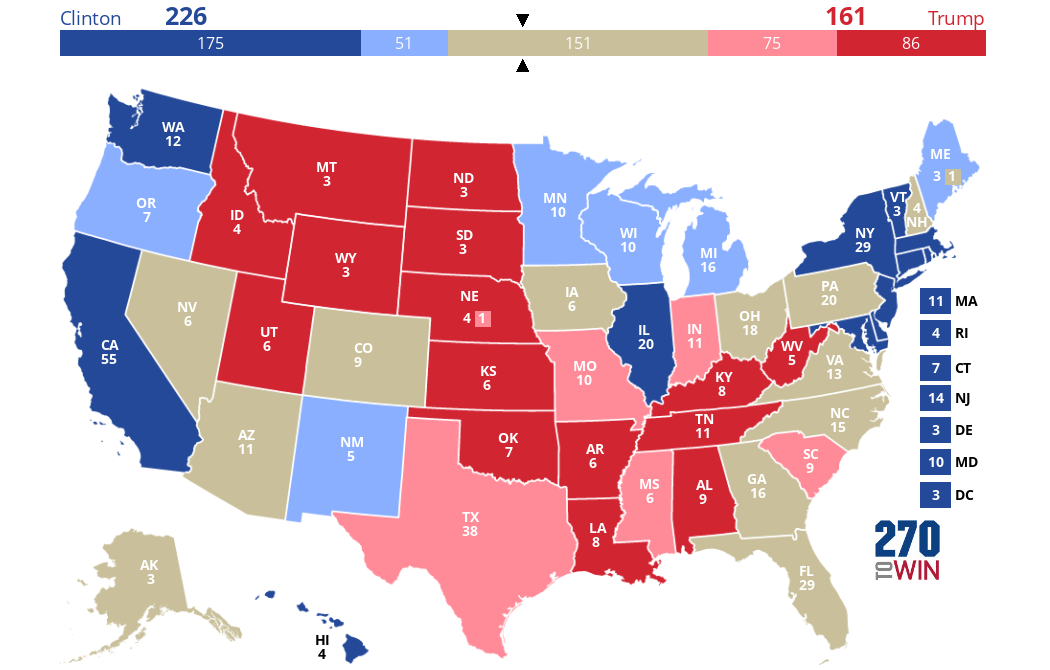 This map shows how Hillary Clinton and Donald Trump are doing in the current polls. Blue states are where the Democrat candidate has an advantage and red ones where the Republican is doing better. Look out for the grey states and those lightly shaded to be the ones to swing and probably decide the Election.
---
US Election impact on Currencies: Clinton VS Trump
Overall, the two candidates represent virtually polar opposites when it comes to many of their respective economic policies and issues of concern. One of these candidates, a billionaire real estate mogul billed as the ultimate outsider, Donald Trump aims to shake up the US political establishment, which could potentially cause extensive market volatility along the way. The other candidate, a classic Washington insider with deep ties to the current administration and the political status quo, Hillary Clinton is seen as a relatively steadier alternative for USD, as she is essentially considered by many to be a potential extension of President Obama's legacy into a third (and possibly fourth) term.
Going forward, as their key economic policies differ in so many ways, Trump and Clinton should each have a substantial, but very different, impact on various key financial markets such as US Dollar, Euro, Yen, Pound and other important currencies as well as stocks, commodities and bond markets in the event of victory.
Clinton received the most votes and primary delegates in the 2016 Democratic primaries, formally accepting her party's nomination for President of the United States on July 28, 2016, with vice presidential running mate Senator Tim Kaine. She became the first female candidate to be nominated for president by a major U.S. political party.

Trump is the second major-party presidential nominee in American history whose experience comes principally from running a business (Wendell Willkie was the first). If elected, Trump would become the first United States President without prior government or military experience, and the first without prior political experience since Dwight D. Eisenhower.

---
What They Say About Her
Prakken cites "uncertainty" under Trump vs. stability under Clinton. What a hoot. Is uncertainty worse than ruinous policies? Speaking of uncertainty, Is Hillary going to directly intervene in Syria? Start a war with Russia with her ridiculous no fly zone proposal? Will Hillary's global trade prosecutor idea be any better than Trump's wall? If stock markets hated uncertainty, they would never rise.
What They Say About Him
Trump thinks he can make up reality. He denied telling people to go check out the Miss Universe sex tape when his Twitter clearly says exactly that. The comment that is grabbing attention so far is his charge that if elected, he would appoint a special prosecutor and send Clinton to jail, again showing he doesn't know how government works—and also sounding like he thinks the president is a dictator in a banana republic.
---
---
Clinton effect on US Dollar
As mentioned, Clinton is seen as the status quo candidate, unlike Trump. This status quo also extends to the very lengthy period of extremely accommodative monetary policy from the Federal Reserve. A Clinton administration is likely to continue favoring a more neutral-to-dovish approach to US monetary policy, in contrast to Trump's comparative hawkishness. If this is indeed the case, the Fed's status quo will likely be maintained and the future outlook for Fed interest rate increases could continue to be slow. This scenario is apt to weigh further on the US dollar. Additionally, a Clinton win would obviously preclude a Trump presidency, which would be good news for emerging markets targeted by Trump's protectionist trade policies, including China and Mexico. In that event, those emerging market currencies would likely rebound against the US dollar, which could place additional pressure on the greenback.
Trump effect on US Dollar
As for the US dollar, Trump has repeatedly stated in public his position that the US Federal Reserve and Fed Chair Janet Yellen have been politically-motivated in keeping interest rates low. He has essentially accused the Fed of attempting to create false appearances of a healthy economy and stock market to embellish the Obama Administration. Trump has deemed the rising US equity markets as a "false stock market" that has been propped up by an overly accommodative Fed. This stance against what he sees as politically-driven dovishness provides a hint that if Trump gains the highest office in the land, he may be keen on instituting a more hawkish Fed. In that scenario, the possibility of higher interest rates going forward could lead to a stronger US dollar. In addition, Trump's rhetoric on international trade issues has deemed his policy position as heavily protectionist. At least initially, this stance could lead to a further boost for the USD, especially against emerging market currencies like the Mexican peso and Chinese yuan.
---
US Election Latest Reports