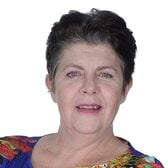 Valeria Bednarik
Chief Analyst FXStreet
Thanks for following this author!
At the start of each trading session, you will receive an email with the author's new posts.
You've unfollowed this author.
You won't receive any more email notifications from this author.
---
Short Bio
Valeria Bednarik was born and lives in Buenos Aires, Argentina. Her passion for math and numbers pushed her into studying economics in her younger years. She joined the investment world in 2001, looking for financial independence, once she graduated from the Universidad Católica del Salvador as a Certified Public Accountant. Before College, Valeria attended a bilingual school, the First English School since kindergarten.
In 2006, she began writing some articles through FXStreet as an independent analyst. Back then, Francesc Riverola, owner and co-founder of the company, invited her to join his team, initially to create a news feed, but also to enhance FXStreet's authority in the FX sphere.
Current work at FXStreet
Through the years, Valeria has grown alongside FXStreet and is currently the Chief Analyst and Content Leader of the company. Throughout the way, she spent several years educating herself and newbies. "A day without learning something new, is a day wasted," she likes to say.
Other profiles
Previous financial experience
Valeria has extensive experience in writing technical and fundamental analyses particularly focused on currencies and commodities. Her short but spot-on pieces cover the different aspects of the market, adopting a didactic approach that fits any reader's level of expertise.
Educational background
Certified Public Accountant from Universidad Católica del Salvador.
Notable media appearances
Extra-curricular activities
Valeria mostly likes to spend time with her family, and travelling. She is involved in different community activities, meant to help those in need. She has been always interested in languages and cultures from around the world. She loves meeting people from all over the globe, which she considers a positive to working on FXStreet.