Hello traders! I've just come from our beautiful Woodland Hills, California office, and one of our veteran students asked me a question about Japanese candlesticks, specifically referring to an article I wrote a couple of years ago. With his questions in mind, I'd like to expand on how I use weekly candles to give me a bias for the following week. Let's go!
Now that you have read that previous article, let's talk about what to do if we aren't already in a trade on the currency pair in question. In the following AUDUSD pair of charts, let's say you find yourself looking at the pair around the time frame marked 1. Obviously, the pair has already had a large move to the down side, so you aren't still looking for shorts way down here are you? You especially shouldn't be with the big round number of .7500 hanging out down here (a psychological level of support/resistance.) Instead, when the first green bodied candle in this new uptrend decisively breaks past the previous week's high price, you decide to look for long trades. That previous week's high was formed on 12/05, and didn't break until 12/14.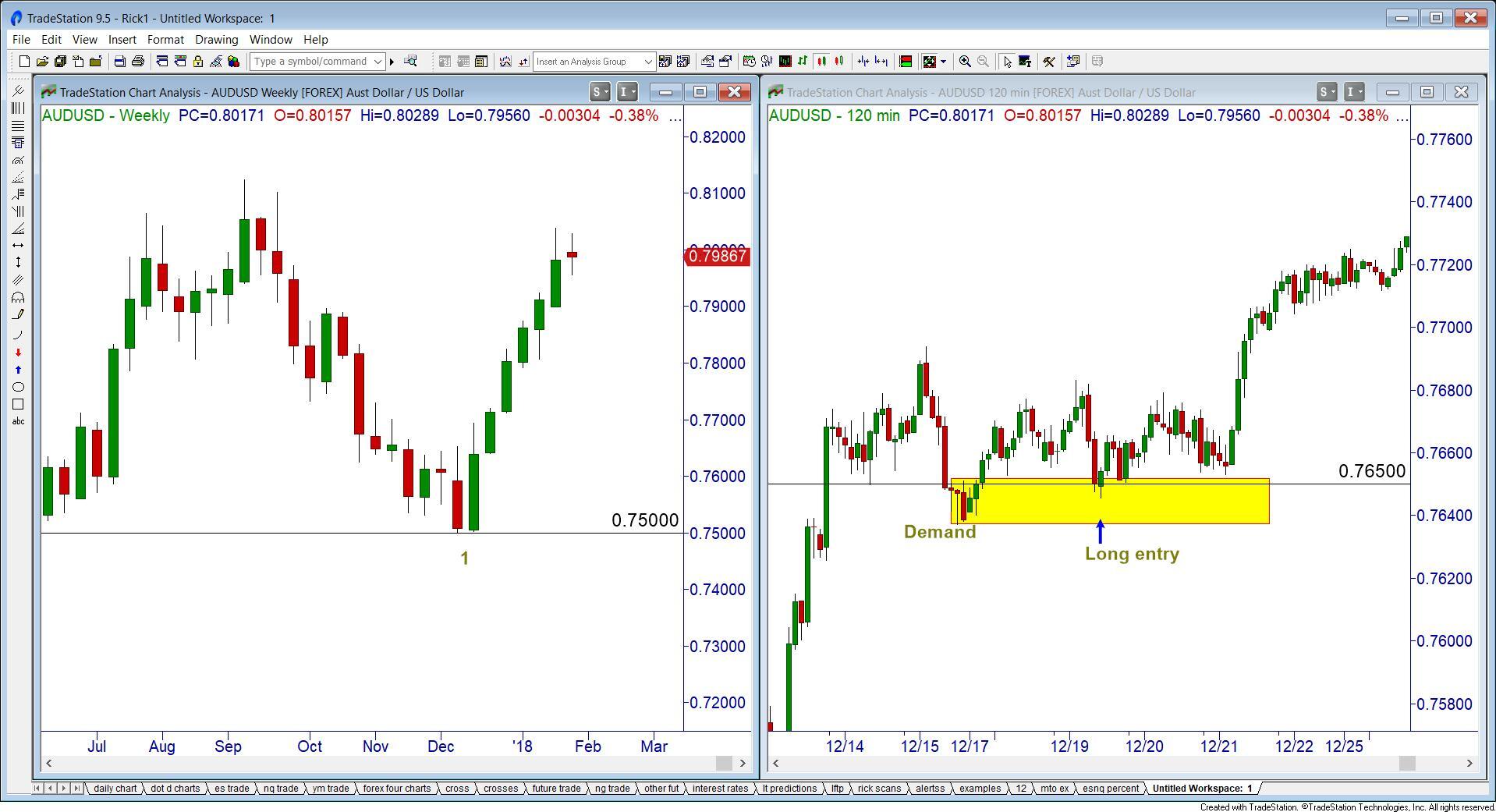 After the major players have given you the hint that they are no longer shorting, but going long, we can now look for long trades on our smaller timeframes. In the corresponding one-hour chart, you had an opportunity to buy on 12/19 near the 0.7650 mark. While it took a couple of days for you to make a lot of pips, the signal was clear.
OK, let's say you missed that one, end of year holidays and all. How about one after the start of the year?
In this next picture, you noticed a weekly high of about 0.7874 that happened on Jan 5. (This weekly candle is marked 2). Once you had permission to look for long trades, as the previous weekly candles high had been broken, you could have gotten long around the 0.7847 mark. By using this technique, you won't be early or first to these trades by any means; however, your probability of being correct in this direction will go up substantially. Now, seeing where this chart is currently trading (at the time of this writing), I wouldn't still be going long using these time frames. If you are long, please continue to manage your winning trades appropriately!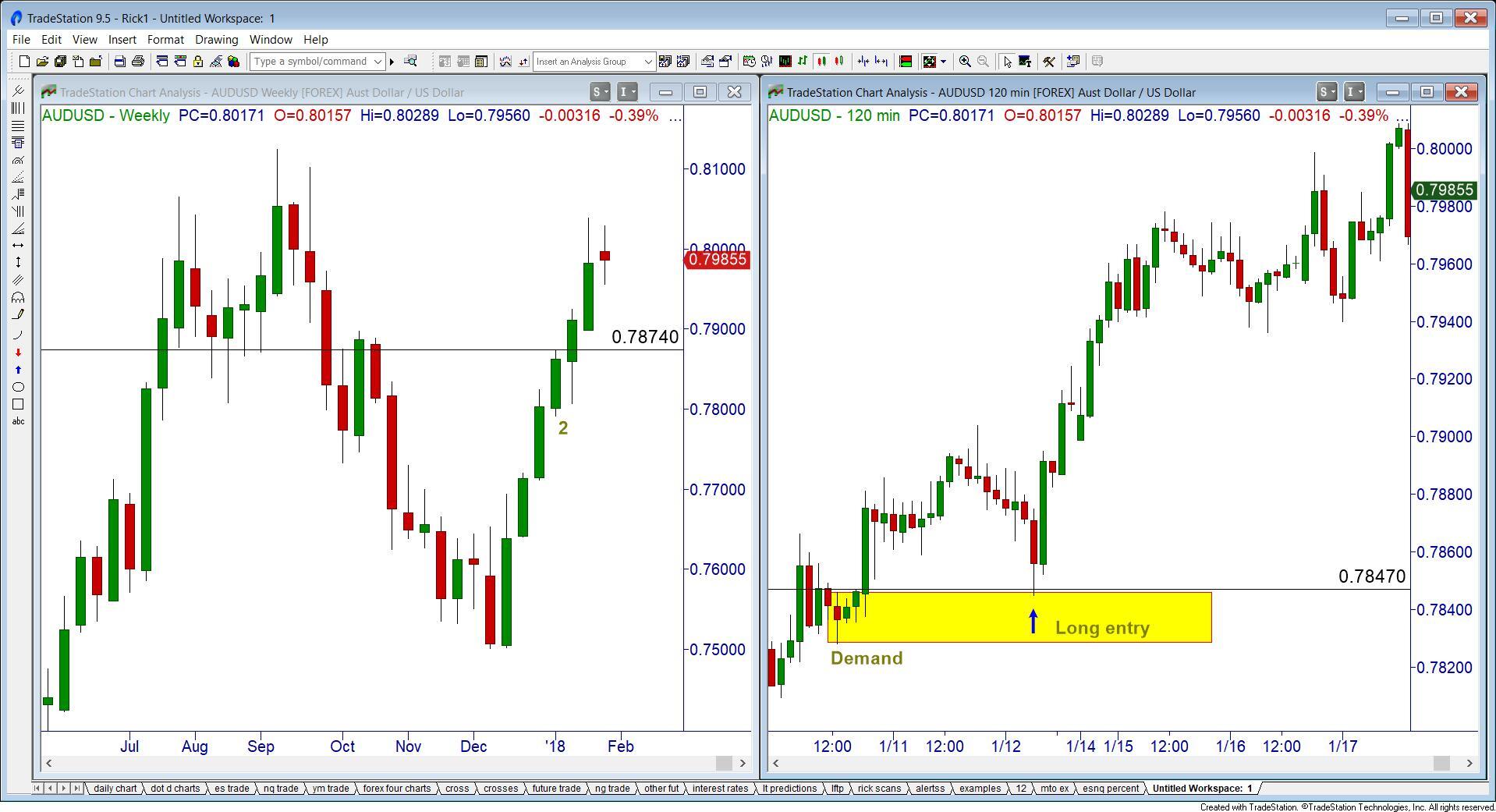 Now, how about an example for the short side? The weekly low on the EURGBP was on Sept 1, and was broken the following week on Sept 5. (Weekly candle marked as 3). Once you had your short bias, or your permission to look for short trades, we must wait for a rally into supply to take any short opportunities. On both Sept 7 and 8 we had chances to get into this short trade.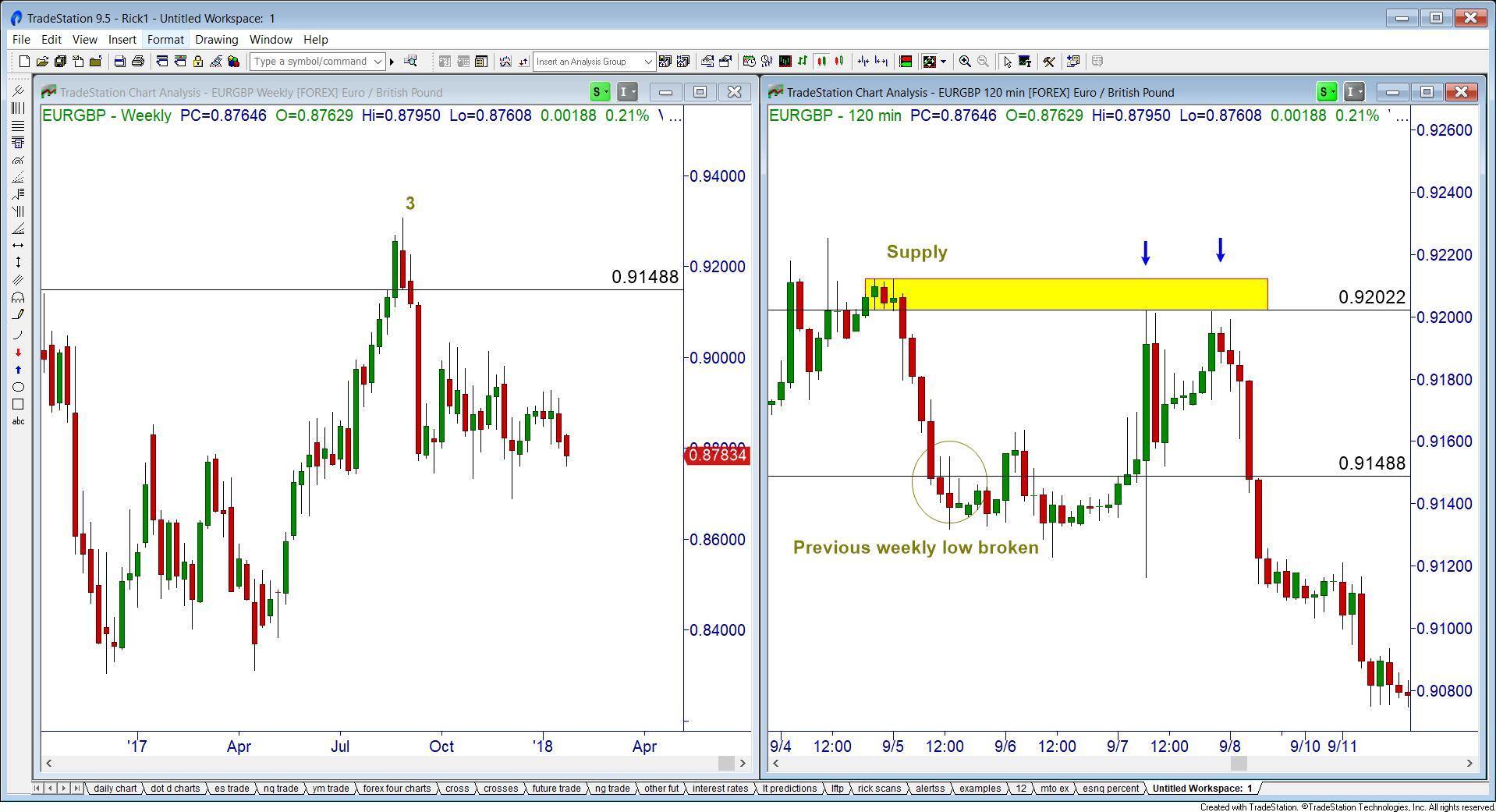 Now, I must make a couple of things super duper clear. This technique to get a long trade or short trade bias works very well during up or down trending markets. When you find a chart that is going sideways, our third trend direction, this bias technique will not help much at all! In fact, it may hurt more than it helps! The second point I want to make is, you must also take into consideration what the trend HAS BEEN. If your trend has been going UP for several weeks, taking you into a long term supply level, I would definitely NOT be looking to continue trying to find trades on the long side. On the other side, if your trend has been going DOWN for several weeks, taking you into long term demand, I wouldn't be looking for any more short trades.
This content is intended to provide educational information only. This information should not be construed as individual or customized legal, tax, financial or investment services. As each individual's situation is unique, a qualified professional should be consulted before making legal, tax, financial and investment decisions. The educational information provided in this article does not comprise any course or a part of any course that may be used as an educational credit for any certification purpose and will not prepare any User to be accredited for any licenses in any industry and will not prepare any User to get a job. Reproduced by permission from OTAcademy.com click here for Terms of Use: https://www.otacademy.com/about/terms
Education feed
Join Telegram
---
Editors' Picks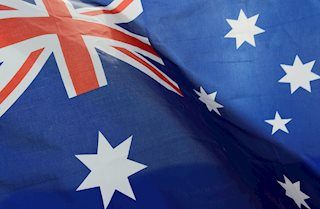 AUD/USD is trading close to 0.6800, as traders digest an unexpected increase in the Chinese Caixin Manufacturing PMI. The US dollar is licking its wounds on dovish Fed's Powell and the China reopening optimism.
AUDUSD News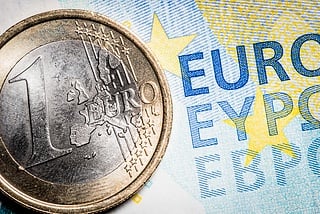 EUR/USD grinds higher past 1.0400, taking rounds to 1.0430 during early Thursday, as bulls await the key data/events after posting the biggest monthly jump since September 2010. The major currency pair struggles to extend the previous day's U-turn from the 100-SMA.
EUR/USD News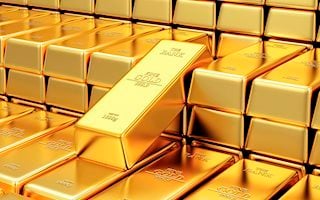 Gold price is sitting at the highest level unseen in two weeks near $1,780, consolidating the three-day winning streak so far this Thursday. The main underlying reason behind the Gold price upsurge is a clear dovish message from Federal Reserve Chair Jerome Powell.
Gold News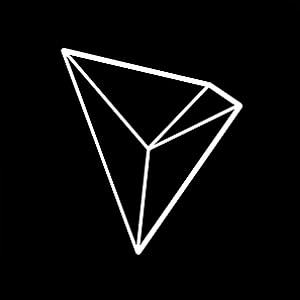 TRON price (TRX) has retaliated considerably against the bearish onslaught witnessed in November. Despite the optimistic gesture, TRX price still faces significant barriers of resistance ahead. Traders should consider trading more conservatively near the current price levels.
Read more

U.S. stocks rose, hurtling ahead, putting those nasty thoughts of a bear market to bed as the December Santa Rally springs alive. Indeed investors are revelling in the afterglow of moderating Fed signals.
Read more
RECOMMENDED LESSONS
Discover how to make money in forex is easy if you know how the bankers trade!
In the fast moving world of currency markets, it is extremely important for new traders to know the list of important forex news...
Chart patterns are one of the most effective trading tools for a trader. They are pure price-action, and form on the basis of underlying buying and...
The forex industry is recently seeing more and more scams. Here are 7 ways to avoid losing your money in such scams: Forex scams are becoming frequent. Michael Greenberg reports on luxurious expenses, including a submarine bought from the money taken from forex traders. Here's another report of a forex fraud. So, how can we avoid falling in such forex scams?
Trading is exciting. Trading is hard. Trading is extremely hard. Some say that it takes more than 10,000 hours to master. Others believe that trading is the way to quick riches. They might be both wrong. What is important to know that no matter how experienced you are, mistakes will be part of the trading process.
---