16.78 million Unemployment Claims in last 3 weeks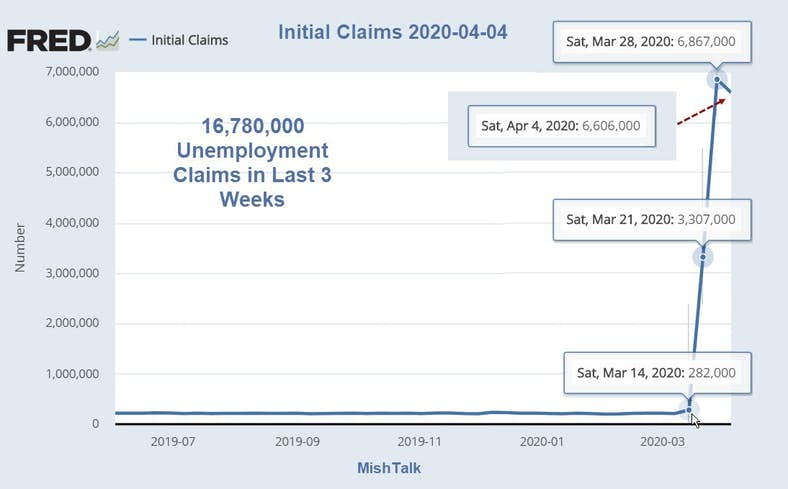 Unemployment claims rose 6.606 million in the week of April 4, the third consecutive miserable week.
Economists at Econoday expected 5 million claims this week but they were too optimistic once again.
The newly revised total for the week ending March 28 is 6.867 million, up from 6.648 million.
The cumulative 3-week total is 16.78 million.
March Household Survey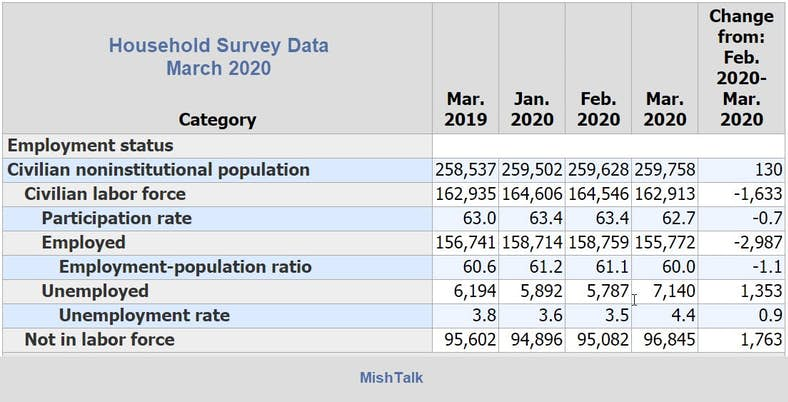 How High Will the Unemployment Rate Rise in April?
The unemployment rate comes from the household jobs survey, not unemployment claims.
Nonetheless, we can take a stab at what things may look like using the initial claims data.
Unemployment rate = (7.14 million current + 16.78 million new + those not yet filed) / 162.913 million labor force.
If we assume there are no more claims (not gonna happen) the unemployment rate would be about 14.7%
If we assume another 8 million in the next two weeks total the unemployment rate would be about 19.6%.
How High Will the Unemployment Rate Rise in April?
On April 6 in How High Will the Unemployment Rate Rise in April? I came up with an unemployment rate of 21-22% in a more detailed manner, but also with more assumptions about how many jobs in various categories will be lost.
Leisure and Hospitality jobs will get crushed. I expect close to 12 million jobs lost in that class by itself.
Household Survey Caveats
The household survey is not hard data. Rather it is a phone survey. The BLS asks people if they worked any hours in the reference period.
If they say yes, even if it is 1 hour, thay are considered employed.
And with the small business loan program, people might get paid even if they did not work, and that would be counted as working.
Also, I wonder if people will say they did not work even if they did out of fear of losing the $1,000 checks going out to everyone. The two are not related, but it could impact how people respond.
Reference Period
The reference period for the household survey is the week that contains the 12th of the month.
For April, that is the week of April 12-18.
There are two more weeks of initial claims coming before the next jobs report, but that will not matter because the unemployment number is not at all based on claims.
The claims will rise, and even though they are outside the reference period, what matters is how people answer the survey, not whether someone filed before the reference week.
Thus, the survey will be reasonably accurate with the caveats I noted above.
Ugly Numbers
We have some hard numbers, and those numbers are ugly. With two more weeks of claims coming, we are already at the 16.78 million level. If we do get another 8 million claims in the next two weeks, we are roughly looking at an unemployment rate near 20%.
How Fast a Recovery?
Eventually, the coronavirus depression will subside. But what will America look like when it does?
The huge fear now is How Do I Pay the Bills?
This is the second crisis in 12 years. These scars will last.
Note that Vehicle Sales Plunge by 5.5 Million Units, Most Since 1987.
With the stock market down and consumer savings wiped out, will car sales quickly recover?
The same question applies to eating out and airline travel. Simply put, a quick return to business as usual is not in the cards.
For a 20-point discussion of what to expect, please see Nothing is Working Now: What's Next for America?
No V-Shaped Recovery
Add it all up and you should quickly arrive at the correct viewpoint: The Covid-19 Recession Will Be Deeper Than the Great Financial Crisis.
This material is based upon information that Sitka Pacific Capital Management considers reliable and endeavors to keep current, Sitka Pacific Capital Management does not assure that this material is accurate, current or complete, and it should not be relied upon as such.
Analysis feed
---
Latest Forex Analysis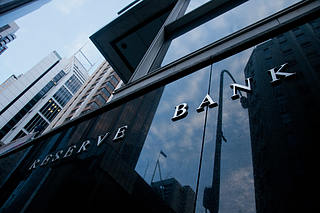 Having dominated the markets at the week's start, AUD/USD bulls keep the reins around 0.6810, high of 0.6814, at the beginning of Tuesday's Asian session. RBA is widely anticipated to keep the current monetary policy unchanged.
AUD/USD News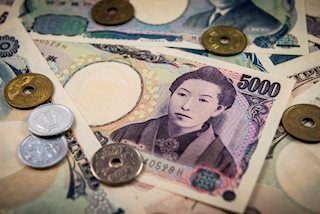 USD/JPY fails to extend the previous day's losses amid fresh challenges to risk. The yen pair dropped the previous day amid broad US dollar weakness. A lack of data from Japan keeps traders focused on the geopolitical issues for fresh impulse.
USD/JPY News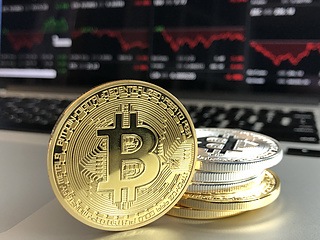 XRP remains on the sidelines, although it could join the bullish run. The crypto market is starting to remind us of times gone by, with dazzling rises across the crypto board that draw the public's attention.
Read more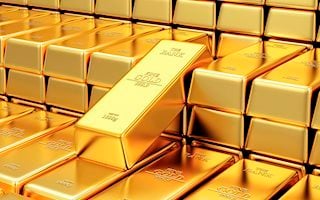 Gold prices print four-day winning streak to probe $1,740. A four-day-old ascending trend channel formation and sustained trading above 200-HMA keeps buyers hopeful. $1,710 offers key support ahead of Wednesday's low.
Gold News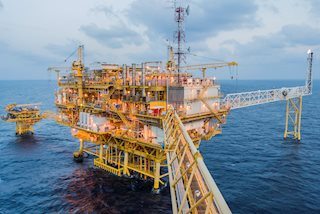 Crude oil is trading near session's lows as WTI is trading above the main SMAs on the four-hour chart. However, as the black gold remains fragile in a dominant downtrend, it remains to be seen if WTI can regain the 36.00 resistance.
Oil News
---