What Are Stock Market Circuit Breaker Rules?
In this article, let's talk about the stock market circuit breaker rules and how they can case "limit down" moves.
During the stock market crash in March 2020, several times circuit breakers were tripped and trading was halted.
Here's an example from March 16, 2020, where trading was halted for 15 minutes: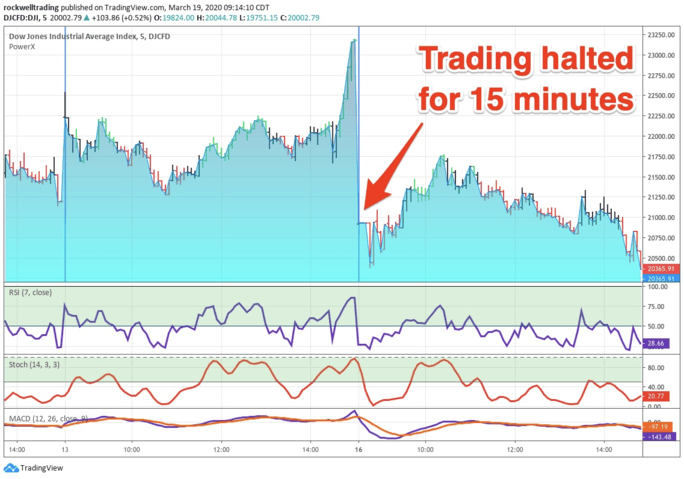 When trading is halted, we call this a "limit down" move.
What Are "Limit Down" Moves And How Does This Work?
Stock market circuit breakers were implemented after the crash in 1987.
During Black Monday in 1987, the markets dropped 20% in one day.!
After this, there were some rules implemented so that this cannot happen anymore. Here's how it works:
The benchmark for the circuit breaker rules is the SPX, the index that tracks the S&P 500.
So whenever the markets are down 7% from the previous day's close, that's when one of these stock market circuit breakers is tripped.
What Happens When A Stock Market Circuit Breaker Is Tripped?
When a circuit breaker is tripped, trading is halted for 15 minutes.
And here's why:
The idea is that for the 15 minutes that trading is suspended, everybody can take a deep breath and calm down. The idea is to avoid panic.
No trades will take place. You can still place orders, but they will not be executed.
That's when you see that prices are not moving: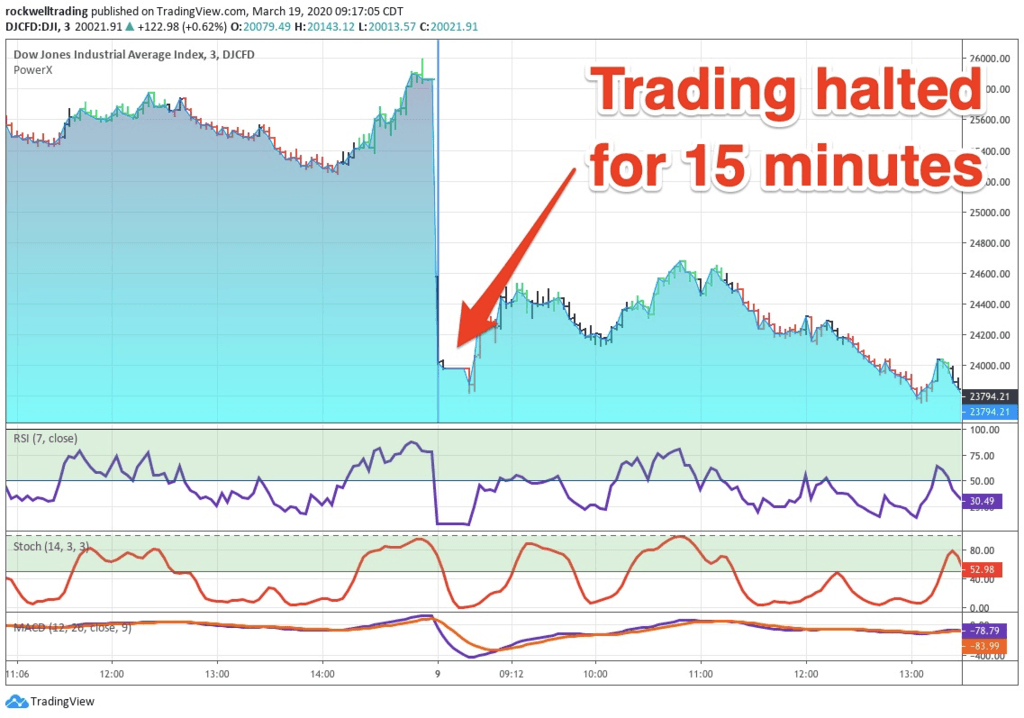 What Happens If The Markets Keep Falling?
The first circuit breaker is at 7% below the previous close of the SPX.
When it triggers, trading is halted for 15 minutes.
After this, if the market keeps falling, the next circuit breaker is activated at 13% below the previous day's close.
At this point, trading is halted for another 15 minutes.
And then there's a third circuit breaker:
The 3rd circuit breaker is trigger when the SPX falls 20% under the previous day's close. When this happens, trading is suspended for the rest of the day.
Stock Market Limit Down Moves
There's one more "special circuit breaker", and this is for the futures markets.
The futures markets are trading overnight — almost 24 hours.
And the correspondence to the SPX is the eMini S&P (ES).
Here's a 5-minute chart of the overnight session of the e-mini S&P.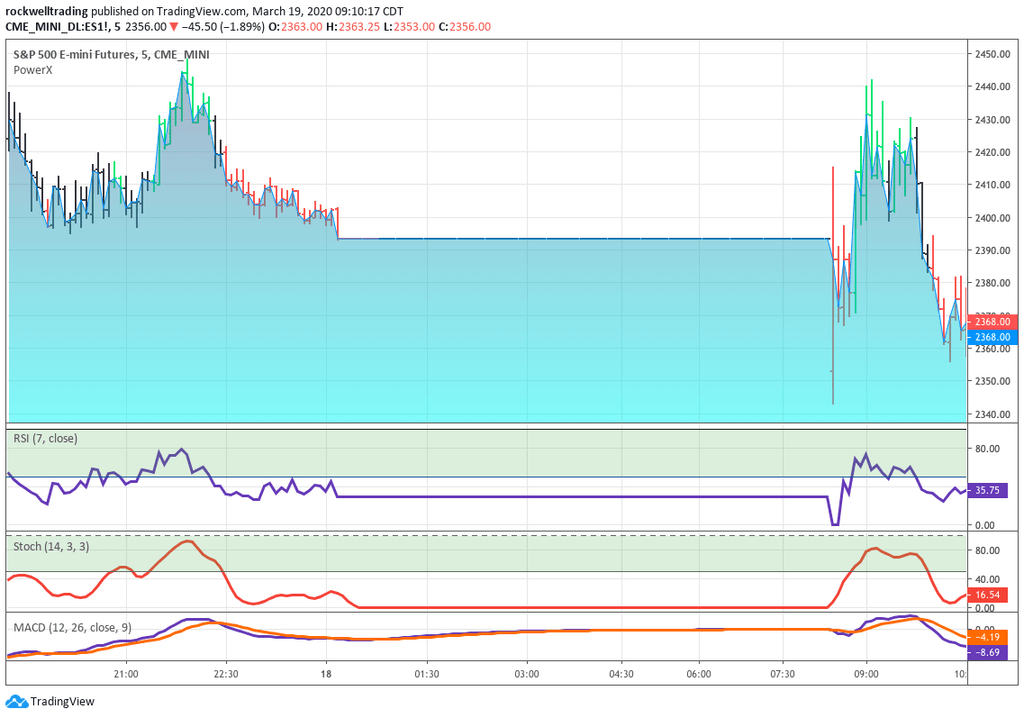 Here's another example: On March 9th, 2020, the 1st circuit breaker was tripped and trading was halted for 15 minutes shortly after the open.
Sometimes this can happen shortly after he open, and sometimes this happens during the trading day.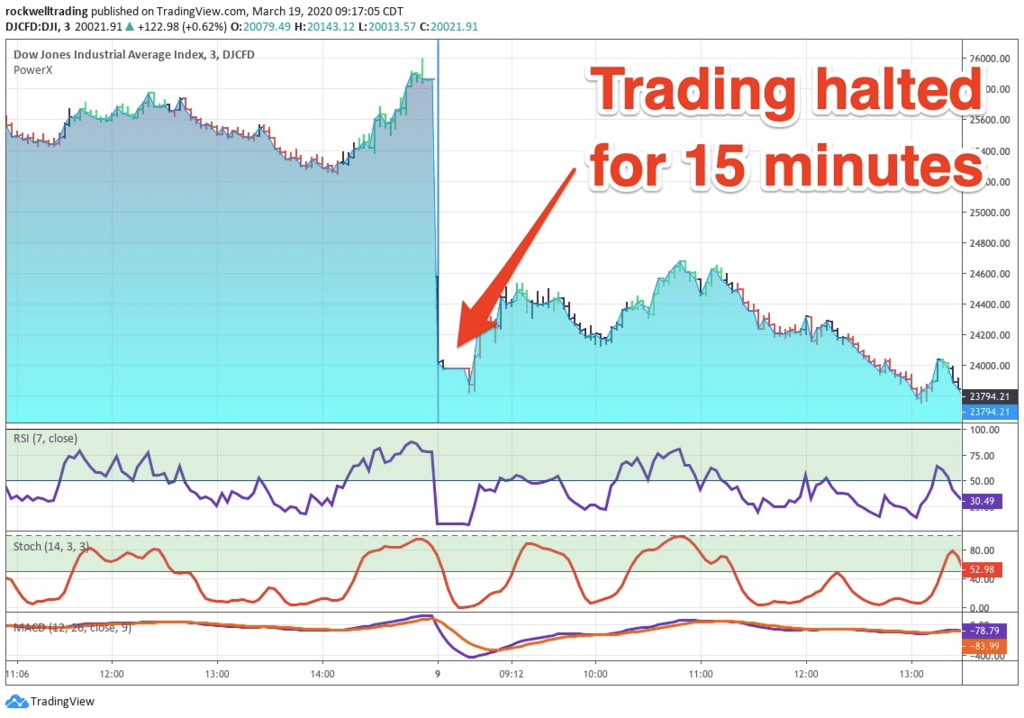 Thus far, it hasn't happened yet that we triggered the 7% rule and the 13% rule.
Even during the financial crisis in 200 and 2008, we only triggered the 7% rule.
And even during the stock market crash in 2020, we never triggered the 2nd stock market circuit breaker at 13% — which proves that these circuit breakers are working!
Recap
These circuit breakers are in place to prevent a dramatic crash.
In 1987 the markets tanked 20%, and that's when we were in trouble.
The circuit breakers are there so that everyone can take a deep breath, and for a moment say, "OK, it's not as bad as it seems. Let's go back now and let's all calm down."
The idea is that hopefully, the markets are bouncing a little bit back up.
If this was helpful, feel free to add a clap or comment below.
Trading Futures, options on futures and retail off-exchange foreign currency transactions involves substantial risk of loss and is not suitable for all investors. You should carefully consider whether trading is suitable for you in light of your circumstances, knowledge, and financial resources. You may lose all or more of your initial investment. The lower the day trade margin, the higher the leverage and riskier the trade. Leverage can work for you as well as against you; it magnifies gains as well as losses. Past performance is not necessarily indicative of future results.
Education feed
---
Editors' Picks
RECOMMENDED LESSONS
Discover how to make money in forex is easy if you know how the bankers trade!
In the fast moving world of currency markets, it is extremely important for new traders to know the list of important forex news...
Chart patterns are one of the most effective trading tools for a trader. They are pure price-action, and form on the basis of underlying buying and...
The forex industry is recently seeing more and more scams. Here are 7 ways to avoid losing your money in such scams: Forex scams are becoming frequent. Michael Greenberg reports on luxurious expenses, including a submarine bought from the money taken from forex traders. Here's another report of a forex fraud. So, how can we avoid falling in such forex scams?
Trading is exciting. Trading is hard. Trading is extremely hard. Some say that it takes more than 10,000 hours to master. Others believe that trading is the way to quick riches. They might be both wrong. What is important to know that no matter how experienced you are, mistakes will be part of the trading process.
---