US business cycle chart book – The biggest risk to the outlook is the virus and reopening rollbacks
What Policy Makers are Saying
"The Federal Reserve is strongly committed to using our tools to do whatever we can for as long as it takes to provide some relief and stability to ensure that the recovery will be as strong as possible and to limit lasting damage to the economy... The Fed will continue to use these powers forcefully, proactively, and aggressively until we're confident that the nation is solidly on the road to recovery."
– Fed Chair Powell (Congressional Testimony on 6/30/20)
"The PPP is keeping tens of millions of employees connected to their jobs. Economic impact payments are also helping millions of families and workers through these challenging months... we're beginning to have conversations about supplemental relief legislation, we look forward to working with Congress on a bipartisan basis in July on any other further legislation that will be necessary. Treasury has already been entrusted with a tremendous amount of funding to inject into the economy. We are closely monitoring these results and seeing conditions improve. We would anticipate that any additional relief would be targeted to certain industries that have been especially hard hit by the pandemic, with a focus on jobs and putting all Americans back to work who have lost their jobs through no fault of their own."
- Treasury Secretary Mnuchin (Congressional Testimony on 6/30/20)
U.S. Leading Economic Indicators (LEIs) Index
Conference Board's LEI Index and YoY Rate of Change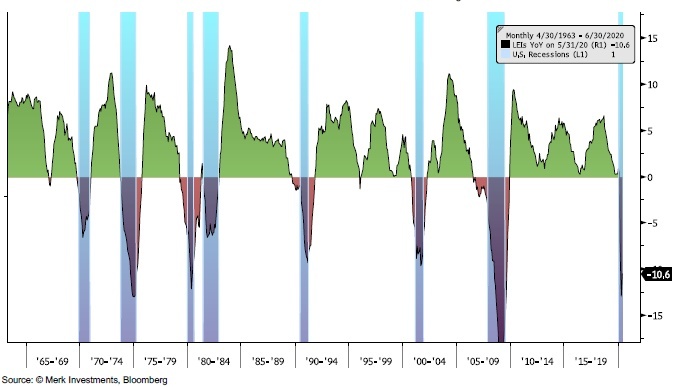 Analysis: The LEI index bounced back in May. And given the bounce I'm positive on this picture. It's also confirmed by a move higher in the OECD U.S. leading index for May. As I noted previously, this will likely be the first time the LEIs failed to signal an imminent recession (given the positive picture for the Feb LEIs). That speaks to the sudden exogenous shock nature of the current Covid19 pandemic/shutdown. Framework: I'd get negative if the YoY rate of change moved lower again.
The Merk Hard Currency Fund is a no-load mutual fund that invests in a basket of hard currencies from countries with strong monetary policies assembled to protect against the depreciation of the U.S. dollar relative to other currencies. The Fund may serve as a valuable diversification component as it seeks to protect against a decline in the dollar while potentially mitigating stock market, credit and interest riskswith the ease of investing in a mutual fund. The Fund may be appropriate for you if you are pursuing a long-term goal with a hard currency component to your portfolio; are willing to tolerate the risks associated with investments in foreign currencies; or are looking for a way to potentially mitigate downside risk in or profit from a secular bear market. For more information on the Fund and to download a prospectus, please visit www.merkfund.com. Investors should consider the investment objectives, risks and charges and expenses of the Merk Hard Currency Fund carefully before investing. This and other information is in the prospectus, a copy of which may be obtained by visiting the Fund's website at www.merkfund.com or calling 866-MERK FUND. Please read the prospectus carefully before you invest. The Fund primarily invests in foreign currencies and as such, changes in currency exchange rates will affect the value of what the Fund owns and the price of the Funds shares. Investing in foreign instruments bears a greater risk than investing in domestic instruments for reasons such as volatility of currency exchange rates and, in some cases, limited geographic focus, political and economic instability, and relatively illiquid markets. The Fund is subject to interest rate risk which is the risk that debt securities in the Funds portfolio will decline in value because of increases in market interest rates. As a non-diversified fund, the Fund will be subject to more investment risk and potential for volatility than a diversified fund because its portfolio may, at times, focus on a limited number of issuers. The Fund may also invest in derivative securities which can be volatile and involve various types and degrees of risk. For a more complete discussion of these and other Fund risks please refer to the Funds prospectus. The views in this article were those of Axel Merk as of the newsletter's publication date and may not reflect his views at any time thereafter. These views and opinions should not be construed as investment advice nor considered as an offer to sell or a solicitation of an offer to buy shares of any securities mentioned herein. Mr. Merk is the founder and president of Merk Investments LLC and is the portfolio manager for the Merk Hard Currency Fund. Foreside Fund Services, LLC, distributor.
Analysis feed
---
Latest Forex Analysis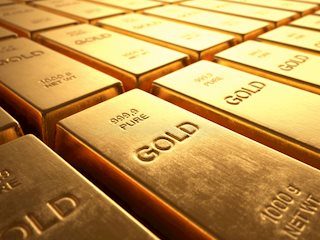 US bond yields are on the rise, supporting the recovering dollar and contributing to a sell-off in precious metals. The lack of progress in US fiscal talks and the increase in America's coronavirus deaths are among the depressing factors. US CPI is eyed.
Read more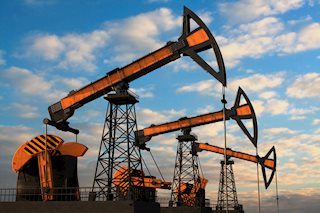 WTI could soon witness a big move in either direction. That's because, the spread between Bollinger bands – volatility indicators placed 2 standard deviations above and below the 20-day simple moving average of price - has narrowed ...
Oil News
---