Is Tesla the world's most valuable car company? [Video]
Over the past few days, Tesla has been skyrocketing higher! Why? Well… There's a real possibility that Tesla will be added to the S&P 500, FINALLY! This beckons the question: is Tesla the world's most valuable car company?
The requisite for a stock to be added to the S&P 500 is that it has 4 consecutive, profitable months. This is something that Tesla has NEVER been able to do.
What's the benefit of being added to the S&P 500 you ask? Well, as soon as Tesla is added to the index, hedge funds can then purchase its stock.
Most large hedge funds typically only buy stocks that are listed on the major indices. Once Tesla is added to the index, it's game on!
So far, Tesla has had 3 consecutive months of profits. On July 22nd, Tesla will release its earnings. Everything between now and then is speculation!
So whether you love it or hate it, you have to remember the golden rule… trade what you see, not what you think!
This week's move in Tesla was a massive 18% move. When we examine the move on a chart, it's OBVIOUS that this move qualifies as a parabolic move.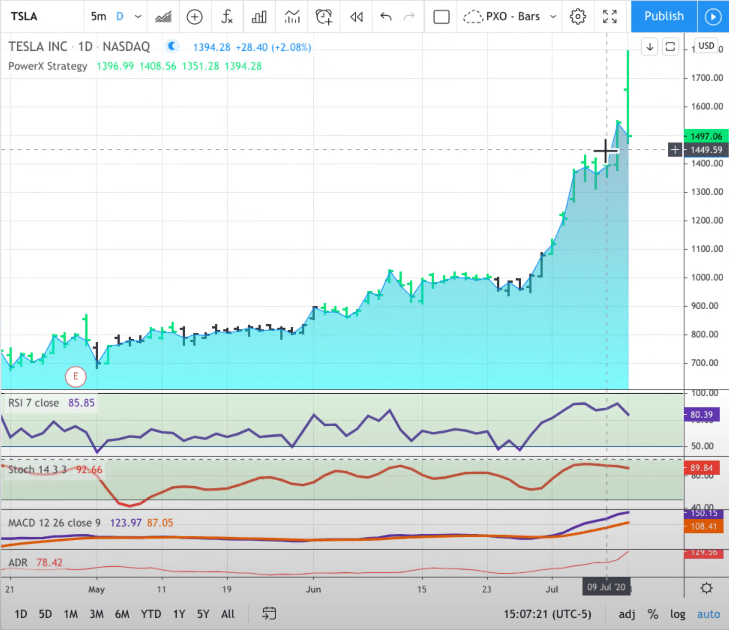 These types of moves are NOT sustainable!
Is Tesla The World's Most Valuable Car Company?
When we look at the valuation of the company, we see a similar story. Once Tesla hit $1,000 it became more valuable than Toyota, the most valuable car company in the world!
When Tesla hit $1700, its value exceeded that of General Motors, Ford, and Fiat Chrysler, COMBINED!
So as of now, Tesla is actually valued as the world's most valuable car company… but is it?
Many traders think not. According to CNBC.COM, Tesla's short-interest level, or the value of all shares sold short, recently hit $19.95 billion.
Will Tesla Stock Crash And Burn?
It's no secret that car companies aren't exactly "killing it" right now.
Let's take a look at Ford Motor Company's Stock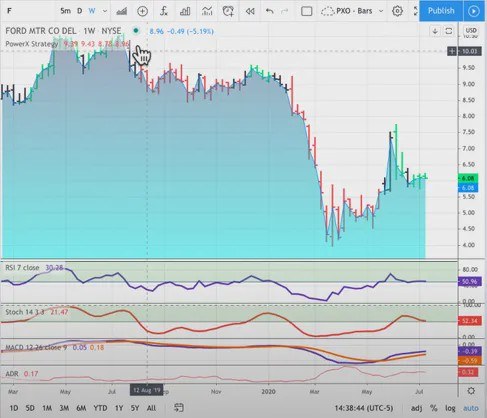 When we look at auto manufacturers like Ford, we can see there's not really a lot of consumer spending on vehicles right now. Can Tesla really be selling more vehicles than Ford, GM, and Toyota?
The answer to that question is no!
What about that $19.95 billion dollars in short interest?
Oh, yea…THAT $20 billion bet against Tesla. It's unlikely that ALL of the would-be short-sellers will be wearing Elon Musk's fancy red shorts come earnings season.
Tesla's earnings are due in less than a week. If Tesla doesn't report a profit for last month, it's possible that we will see a HUGE correction.
At this point, there's a lot of pressure for Tesla to report positive earnings for July. It's extremely high valuations, HUGE parabolic moves, and the possible inclusion of Tesla on the S&P 500 are all contributing factors.
Should I Buy Or Sell?
What-ever you decide, do so with caution. Many people see the huge moves this stock is making and contract the dreaded "FOMO" or fear of missing out syndrome.
While it's possible to make a lot of money with this stock, it's also possible to lose a lot of money.
Time will tell whether or not the $20 billion dollar bet against Tesla will pay off, but until then…
We have to remember one thing: Trade what we see, not what we think.
Trading Futures, options on futures and retail off-exchange foreign currency transactions involves substantial risk of loss and is not suitable for all investors. You should carefully consider whether trading is suitable for you in light of your circumstances, knowledge, and financial resources. You may lose all or more of your initial investment. The lower the day trade margin, the higher the leverage and riskier the trade. Leverage can work for you as well as against you; it magnifies gains as well as losses. Past performance is not necessarily indicative of future results.
Education feed
---
Editors' Picks
RECOMMENDED LESSONS
Discover how to make money in forex is easy if you know how the bankers trade!
In the fast moving world of currency markets, it is extremely important for new traders to know the list of important forex news...
Chart patterns are one of the most effective trading tools for a trader. They are pure price-action, and form on the basis of underlying buying and...
The forex industry is recently seeing more and more scams. Here are 7 ways to avoid losing your money in such scams: Forex scams are becoming frequent. Michael Greenberg reports on luxurious expenses, including a submarine bought from the money taken from forex traders. Here's another report of a forex fraud. So, how can we avoid falling in such forex scams?
Trading is exciting. Trading is hard. Trading is extremely hard. Some say that it takes more than 10,000 hours to master. Others believe that trading is the way to quick riches. They might be both wrong. What is important to know that no matter how experienced you are, mistakes will be part of the trading process.
---