Apple stock split 2020 [Video]
Apple's stock has been on a tear lately.
On the year Apple is up over 70%, recently becoming the first U.S. company with a market cap of over 2 trillion….yes, that's trillion with a T
On July 30th, Apple (AAPL) announced a 4:1 stock split making its stock price more affordable for more investors.
The split is scheduled to take place on August 31st. But they're not the only one. Tesla (TSLA) just a few days later on August 11th, announced a stock split also for August 31st.
TSLA is arguably the most talked-about stock this year. Their stock split will be a 5:1 split. So to kick things off, let's first simply answer the question:
What Is A Stock Split?
Let's look at Apple (AAPL) as an example. At the time of this article, Apple closed at $503.43/share. So for easy math let's say you currently were holding 100 shares of Apple. The so-called "Split Date" is as of the close of the market on August 28th. At this time, whatever the current price of AAPL stock is it will be divided by 4. In doing this, your original 100 shares will now be 400 at the new price.
Make sense?
Why Would A Company (Like Apple or Tesla) Want To Split Their Stock?
Well, it's honestly pretty simple: They want their share to be more approachable/accessible to more people. With both companies having insane runs higher this year, TSLA is currently trading at $2014.20 as of today's close and as I previously mentioned, AAPL closed at $503.43.
So as you can see for the average trader or investor, they may have to pass on investing or trading in either companies stocks, which is what they hope to changes with their upcoming splits.
Next, lets discuss…
Has Apple's Stock Split Before?
Yes, since Apple's IPO all the way back on December 12, 1980, Apple has split four separate times.
June 16th, 1987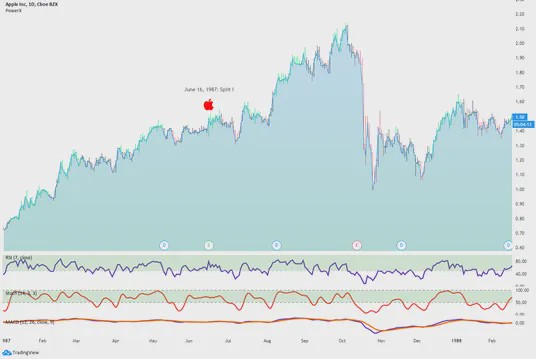 2. June 21, 2000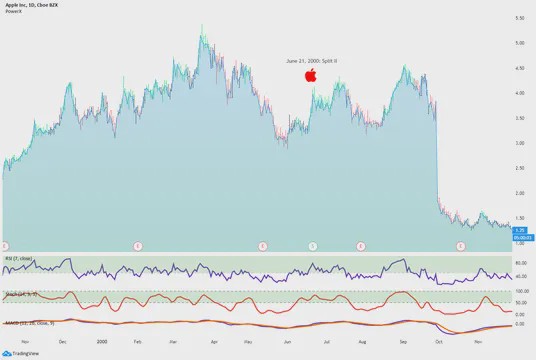 3. February 28, 2005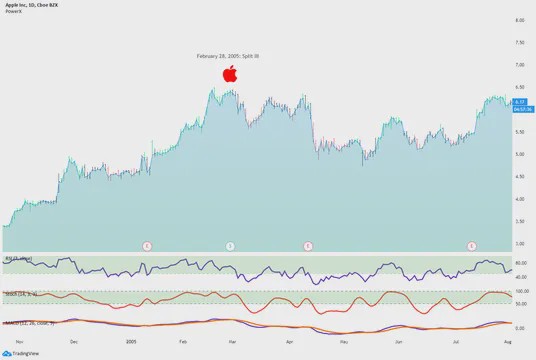 4. June 9, 2014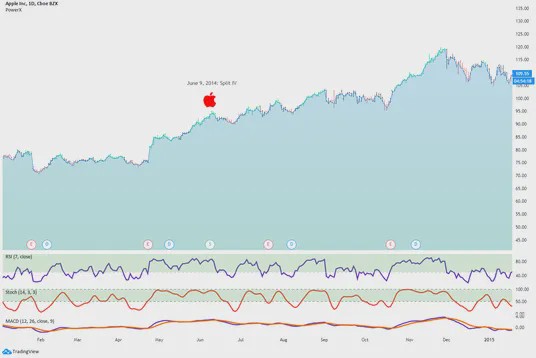 What Does This Mean If You're Currently Holding AAPL & TSLA Stock?
If you're currently holding either company's stock at the close of the markets on the 28th, you can take the number of shares you currently have in AAPL and multiply it by 4, and with the case of TSLA, you would multiply by 5.
When the markets open back up on the 31st you should see the new number reflected in your account, along with the new price/share.
Important Things To Keep In Mind:
1) Double-check your orders because your broker may cancel any open orders
2) Check your option strike prices because they will change with the stock split.
Does A Stock Split Typically Send A Stock Higher or Lower?
Well typically, as we've seen with both Apple and Tesla, the announcement of the split typically results in a bullish activity with the stocks. When both companies announced it sent both of their stocks on a nice run higher.
This can be attributed somewhat to the exposure stocks get when they announce a split. If we hop over to Google Trends, which shows what people are searching for, you can see when both company's made their announcements you saw a spike in search traffic on Google…kind of cool, huh?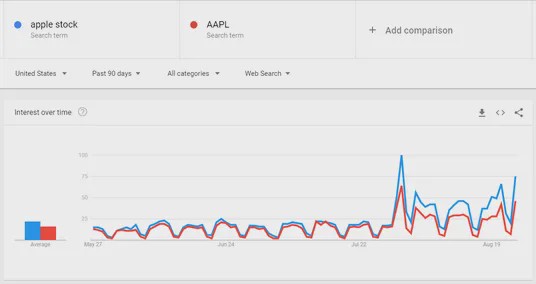 And as I already touched on, at the new lower price it tends to attract a lot of new traders and investors who may have not previously been able to trade or invest in the stock.
So Should I Invest In AAPL Before or After The Split?
Well, in short…that's totally up to you
I'm not a financial advisor, nor do I EVER make trades or investments solely off of an event or news…that's just not what I would consider a repeatable strategy.
I will definitely be watching both AAPL and TSLA as their stocks are set to split this upcoming Monday the 31st, but as you may have seen printed on my coffee cup:
I Trade What I See, Not What I Think
And right about now, I THINK Apple's stock could go either direction…so I'll just enjoy the show.
I hope this has given you some insights on what a stock split is and you've enjoyed reading it. Let me know if you're currently holding Apple or plan to trade/invest in it before or after the split.
I always love hearing from you!
Good trading!
Markus
Trading Futures, options on futures and retail off-exchange foreign currency transactions involves substantial risk of loss and is not suitable for all investors. You should carefully consider whether trading is suitable for you in light of your circumstances, knowledge, and financial resources. You may lose all or more of your initial investment. The lower the day trade margin, the higher the leverage and riskier the trade. Leverage can work for you as well as against you; it magnifies gains as well as losses. Past performance is not necessarily indicative of future results.
Education feed
---
Editors' Picks
RECOMMENDED LESSONS
Discover how to make money in forex is easy if you know how the bankers trade!
In the fast moving world of currency markets, it is extremely important for new traders to know the list of important forex news...
Chart patterns are one of the most effective trading tools for a trader. They are pure price-action, and form on the basis of underlying buying and...
The forex industry is recently seeing more and more scams. Here are 7 ways to avoid losing your money in such scams: Forex scams are becoming frequent. Michael Greenberg reports on luxurious expenses, including a submarine bought from the money taken from forex traders. Here's another report of a forex fraud. So, how can we avoid falling in such forex scams?
Trading is exciting. Trading is hard. Trading is extremely hard. Some say that it takes more than 10,000 hours to master. Others believe that trading is the way to quick riches. They might be both wrong. What is important to know that no matter how experienced you are, mistakes will be part of the trading process.
---