Crypto companies spend millions on sponsoring sports clubs – Is the investment worth it?
You might have heard of million-dollar deals between cryptocurrency firms and sports clubs: they rename arenas, run ads during the Super Bowl, and place logos all over sportswear and stadium sidelines. In the last few years, there has been a sharp increase in the number of such partnerships, as follows from the European Sponsorship Association and Nielsen Sports 2022 report. But what is the profit for both sides of the bargain?
Simple marketing: New users for money
For sports teams, the outcome of such deals is straightforward: they get paid. Furthermore, engaging with a "trendy" thing such as cryptocurrency helps them strengthen bonds with their communities.
For crypto firms, the profit is somewhat harder to calculate. By reaching out to thousands and millions of sports clubs' loyal fans, crypto businesses boost their brand awareness. The audience not only learns about the brand but judges about its credibility: companies partnering with renowned clubs are considered more credible. Ultimately, this outreach brings them new users.
The benefit of sports sponsorships for crypto firms can be indirectly evaluated through the number of such partnerships: during three quarters of 2021, a whopping 84 contracts were signed worldwide, which is a 664% increase from just 11 contracts back in the same period in 2019.
At this point, you may ask: the crypto market was booming in 2021, followed by a major collapse in 2022. How relevant is this data today? It is safe to say that many crypto firms have tightened their belts – especially in terms of marketing expenses, and many sponsorship deals have been suspended. And it is fair to ask a question – do such partnerships really yield results?
Want five billion fans to see your product? Sponsor the FIFA World Cup
The World Cup Final 2022 was one of the most watched events in the history of humanity. The battle between Argentina and France was witnessed by 80K people live in Qatar and 1.5B soccer fans from all over the world.
As Lionel Messi and Kylian Mbappe played the legendary game, the stadium was packed with banners featuring Crypto.com – the official sponsor of the FIFA World Cup 2022. We don't know how many new users joined the platform after the tournament, but the brand exposure for the company was tremendous – in total, the World Cup was watched by 5B viewers.
The final was not the only event where you could see the Crypto.com brand assets. Previously, the company has partnered with numerous clubs in ice hockey, MMA, soccer, and other kinds of sports. The largest and the most well-known deal dates back to 2021 when the company acquired naming rights for the Los Angeles Staples Centre, the home venue for Los Angeles Lakers and a few other clubs in NBA, WNBA, and NHL. The stadium where Michael Jordan played is now called Crypto.com Arena. The value of the deal was estimated at $700 million.
Basketball, Formula 1, and American football (not only in America)
Sponsorship deals endorsed by crypto companies span across multiple kinds of sports. One of the examples is basketball – in the 2021-2022 season alone, the NBA achieved an impressive $1.64 billion in annual sponsorship fees from firms including Crypto.com, Webull, FTX, Socios, and Coinbase. In 2021, the latter was named the exclusive cryptocurrency partner of the association.
Formula 1's most popular teams have also embraced cryptocurrency sponsors. McLaren Racing receives funding from Tezos and OKX, Haas is supported by OpenSea, and Alpine benefits from sponsorship by Binance. The latter also operates the Alpine F1 Team Fan Token as part of their partnership. However, the FTX downfall left a mark on many Formula 1 deals: many clubs have suspended the sponsorship from crypto companies, fearing the reputational cost and the potential impact of digital assets' volatility.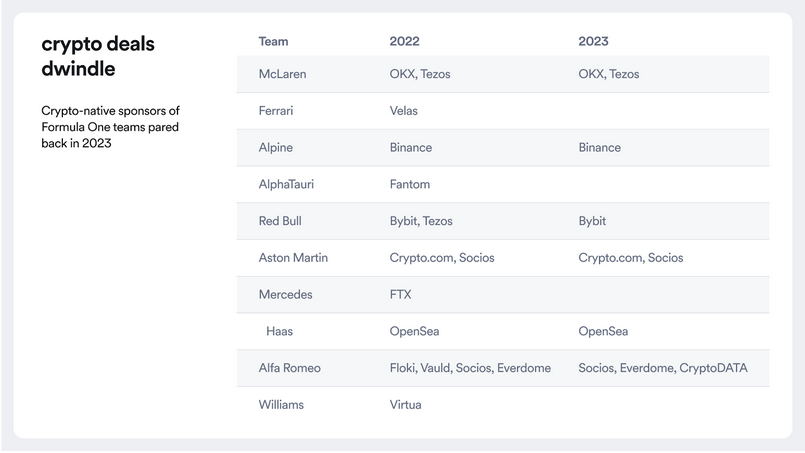 Source: Bloomberg
The prominent involvement of crypto companies was evident in the Super Bowl in 2022. $6.5M was invested by FTX, Crypto.com, and Coinbase each to run their 30-second ads to a 208 million audience – approximately 60% of the United States population. According to the tradition (and the size of the investment), the companies showcased exceptionally crafted videos that hardly looked like typical advertisements.
As American football is gaining traction in Europe, some sponsorships with crypto firms are being signed here as well. For example, Vienna Vikings, Europe's strongest football team, has recently secured a deal with the Choise.com crypto platform. The players wear helmets with their logo during the matches, and the company's CEO opens the games by tossing a coin together with his son.
The long-term investment
It is quite hard to evaluate the outcome of sponsoring sports clubs: brand exposure does not always immediately convert into cash flow. Nevertheless, being visible is important: it makes brands more recognizable and credible in the long term. Cryptocurrency executives seem to hold the belief that such partnerships are valuable, as sports sponsorships are projected to reach a staggering $5 billion by the year 2026.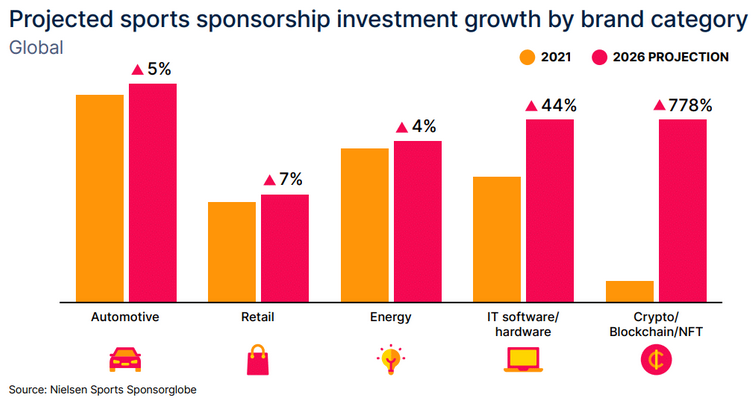 Again, this evaluation was made as crypto was booming in 2021. One may say that the prediction fails to come true now as some of the sponsorship deals are already being suspended due to various fears.
But the market is cyclical, and the crypto industry is likely to "moon" again – maybe not as much in 2023, but definitely after the Bitcoin halving next year, according to historical data. Research indicates that brands that halt their advertising efforts during crises ultimately experience a decline in sales volume, with small brands being particularly impacted. Businesses that invest in increased brand exposure today will reap the benefits in the long run.
---
This content is not an investment advice and does not constitute any offer or solicitation to offer or recommendation of any investment product. It is for general purposes only and does not take into account your individual needs, investment objectives and specific financial circumstances. Investment involves risk. You should carefully consider whether trading is appropriate for you based on your financial circumstances and seek independent consultation.
Join Telegram
---
Follow us on Telegram
Stay updated of all the news
Recommended Content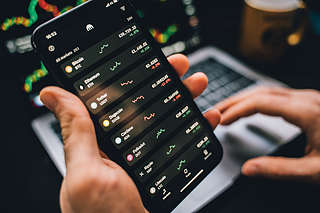 Terra Classic USD and Terra Luna Classic tokens are trending among market participants after overnight price gains. USTC rallied to $0.078 local top after its 2022 collapse, garnering hope among traders.
More Cryptocurrencies News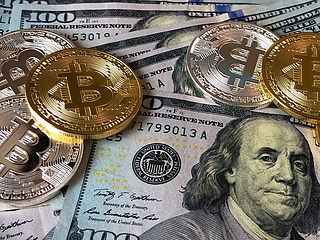 Bitcoin, from a high time-frame perspective, has been in an up-only trend since the start of 2023. BTC has ignored many sell signals due to the likelihood of an Exchange-Traded Fund approval. With the holidays around the corner, falling liquidity could see BTC discounted from its current level, hovering around the $37,000 region.
Read full analysis