BECOME AN INFLATION EXPERT
---
A. What is Inflation?
Inflation is a sustained rise in the general price level. Although it's common knowledge that prices go up over time, the general public doesn't quite understand the forces behind inflation. Inflation can manifest in many different ways and finds its roots in different aspects of the economy. Moreover, different people have different understandings of what inflation is, and accordingly, there are many ways to measure and estimate inflation.
What causes inflation? How does inflation manifest? What does inflation mean for a nation's currency? How does it affect my standard of living? In the end, is it bad or good for the economy?
Let's start answering these questions by taking a closer look to the different types of inflation and their main causes.
Inflation can start rising as a result of unchecked growth in an economy. This happens when aggregate demand is growing at an unsustainable rate leading to increased pressure on scarce resources. Extra money is then necessary because consumers are taking money out of their bank accounts and purchasing products. It can be expected that workers' wages will increase as well as businesses are bringing in larger revenues and profits. As wages increase, consumers go out and buy even more goods making producers raise their prices again aiming for bigger profit margins.
This usually occurs in growing economies when there is full employment of resources and short-run aggregate supply is inelastic, meaning there are not enough goods to cover the existent demand. If this spiral is not contained, then the actual economic growth can be in danger because people have more money, but at some point the money buys less goods due to rising prices.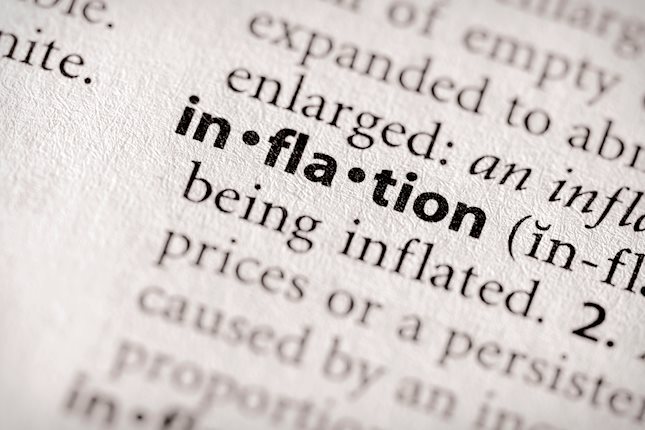 What are the main causes of Demand-Pull Inflation?
Direct or indirect taxes:
If taxes are reduced, consumers have more disposable income which causes a rising demand. Tax breaks for mortgage interest rates, for example, increase demand for housing.
Discretionary fiscal policy:
Higher government spending and increased borrowing can also create extra demand in the economy, for example, military spending raises prices for military equipment, and this in turn raises the costs of materials and associated products.
Brands:
Marketing campaigns can create high demand for certain products, like Apple products, which are higher priced than comparable products.
Changes in the exchange rate:
A fall in the exchange rate of the domestic currency makes imported goods more expensive (foreign currencies rise), and at the same time increases the competitiveness of exports (domestic goods are cheaper internationally) which can affect the level of demand and output.
Monetary stimulus:
Low interest rates may stimulate the demand for loans and lead to housing price inflation.
Technological innovation:
A company developing a new technology will have the entire market to grow until other companies cope with the innovations. For example, Tesla's electric sports car was a recent technological breakthrough.
Another commonplace view of inflation, cost-push inflation, happens when firms respond to rising costs by increasing prices in order to protect their profit margins. Increased costs can include things such as wages, taxes, or increased costs of imports.
The 1960s was a time when the American standard of living rose to record levels. It was also a period during which a legitimate scarcity in skilled labor in the U.S. resulted in escalating wages. The rise in the cost of labor resulted in a self-perpetuating escalation in a cost-push style of inflation with wages being the source.
What are the main causes of Demand-Pull Inflation?
Raw material costs:
Inflation can be set off by an increase in the price of just one crucial item, such as energy. If the price of oil goes up, for example, many other items that use oil in their production process will increase in price, eroding the purchasing power of the currency. The same with copper used in manufacturing or agricultural products used in food processing.
Labor costs:
Wage costs, for instance, likely rise when unemployment is low because skilled workers become scarce and this can drive pay levels higher. This is a reason why the Average Hourly Earnings is such a closely monitored piece of data within the Employment Situation Report in the U.S.
Indirect taxes:
A rise in Value Added Tax, for example, may lead suppliers to choose to pass on the burden of the tax onto consumers.
Monopolies:
When dominant firms use their market power to increase prices well above costs, independently of the level of demand. Changes in the exchange rate: a fall in the exchange rate can increase the prices of imported products such as essential raw materials, components and finished products, making the domestically manufactured products more expensive.