When to sit on your hands in trading [Video]
Markus is a self-made multi-millionaire who was born in Germany. He came to the US in 2002 with $30,000 in his pocket and a dream to become a successful trader.
Over the past 20 years, he traded and invested his way to success in the stock and real estate market, making millions of dollars in the process.
Markus has written three best-selling books about trading and investing that have been translated into multiple languages. His youtube channel with over 4 million views is dedicated to his favorite topic — which is trading stocks and options.
He lives in Austin, TX where he enjoys spending time on the lake watching his kids racing their sailboats.
Now, as you know, I like to use the PowerX Optimizer to find the best trades according to the PowerX strategy, along with The Wheel Strategy.
So here's my morning routine. Usually, I'm in front of the computer at 8 a.m. Central Time. That is 30 minutes before the US markets open. I run the scanner on PowerX Optimizer, and it finds possible trades based on my criteria.
My Criteria For Finding Stocks
My criteria, for starters, is I like to look for long and short signals because I like to play the markets both ways. I want to see at least a 60% return on my investment. I also want to see stocks that have a closing price between $5 and $250, because I don't like to trade stocks that are below $5.
I want to see a profit factor that is higher than 3. This means that for every dollar that I would have lost trading the strategy, I would have made $3. I also want a risk-reward ratio of at least 2%. Usually, there are anywhere between 4 & 8 stocks that come up on my scanner every day.
I use three criteria to find A-plus trades. So here's what I'm looking for.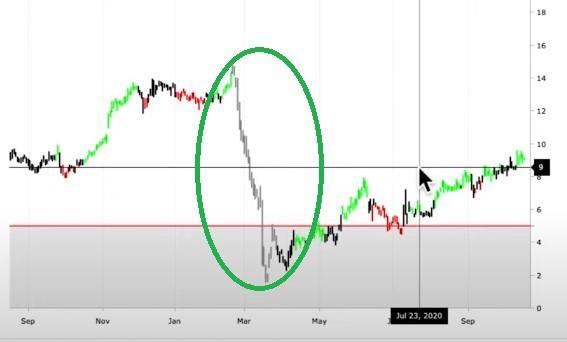 Number one, I'm looking for gappiness. I look back to see if the stock had a lot of gaps over the past year. I look back over the past 13 months.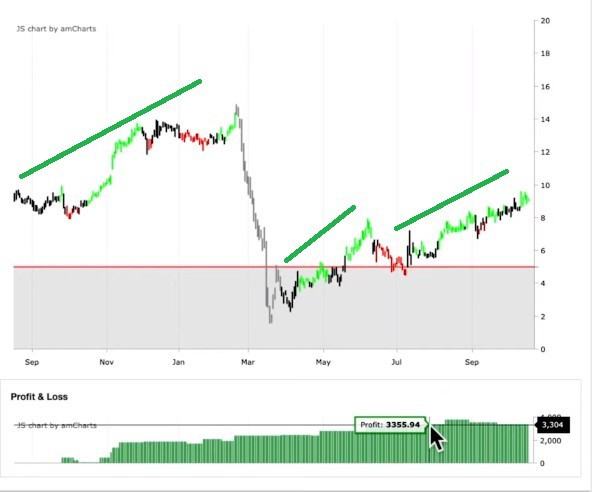 Number two, I'm looking for is trendability. What does trendability mean? It means that I want to see nice trends to the upside and the downside.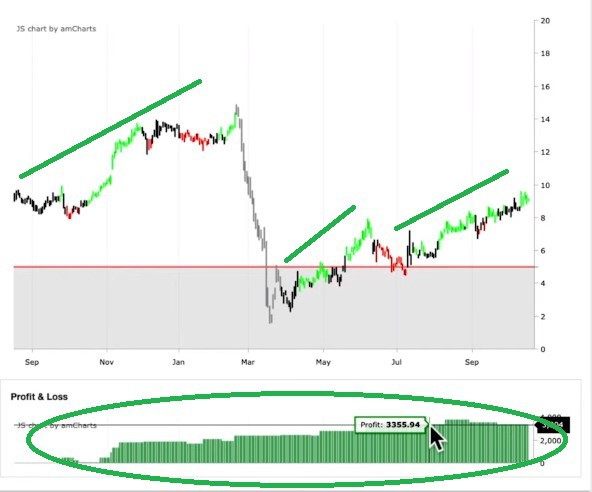 And the last thing, number three, is I'm looking at the P&L chart. What does the P&L chart mean? Now, this is one of the strengths of the PowerX Optimizer software, and this is why I use it every single day. The P&L chart basically shows you what would have happened if I had traded this stock according to the rules of the PowerX strategy over the past year.
So I can take a look at the trading report where I see for the past few trades, what I would have made in profits & losses.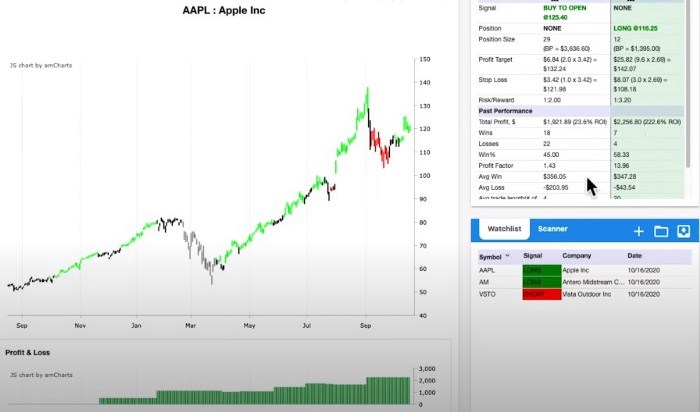 Here is a trade I was in with AAPL a few months back. Let me show you what I want to see in the P&L chart. I want to see that over the past year, if I had traded Apple according to the PowerX strategy, is it nicely going up, and in this case absolutely. So here I would have had 7 winning trades, 4 losing trades for a total of 60%, and a 220% ROI.
So this is what I'm looking for.
When To Sit On Your Hands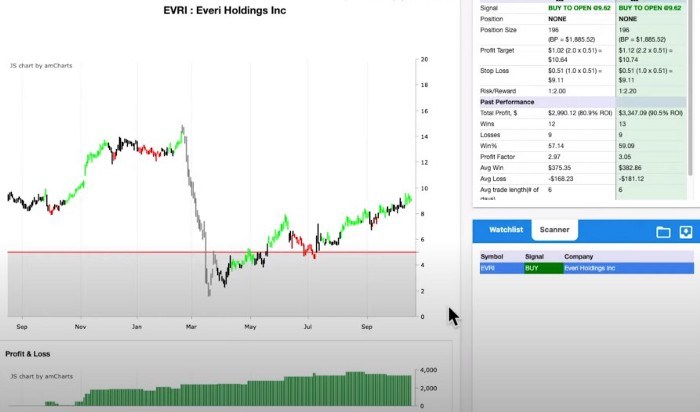 Anyhow, this morning (at the time of this writing) I just saw EVRI on my scanner and it passed MOST of my criteria. First of all, it did pass all my scanner criteria, otherwise, it wouldn't have come up here. Also, it did pass 2 out of my 3 criteria in terms of gappiness and trendability.
But when it came to the P&L chart, it didn't meet my criteria. So this is where this morning I did the most difficult thing for a trader. I was sitting on my hands. You see, at the beginning of my trading career, I had this little voice in my head and this little voice in my head said, "If you don't trade, you don't make any money."
Well after I forced some trades, I realized, well, if you don't trade, you also don't lose any money. This is why it's so important. In the beginning when I got a new tool, or when I had a new trading strategy, I wanted to trade it. All I wanted to do was trade. However, when there's nothing to trade, DON'T TRADE.
This is why I use the PowerX Optimizer. It a fantastic job of keeping you out of trouble.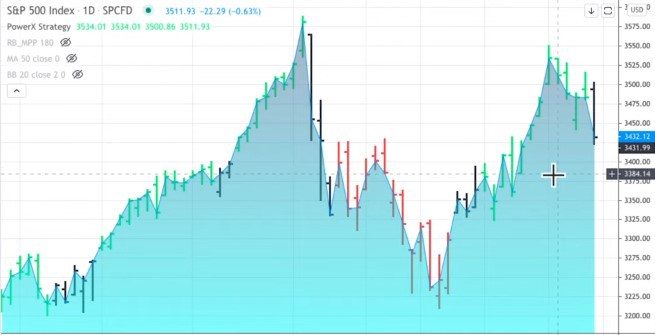 So as you can see, this is a chart of the S&P 500 (from the time of this writing), and for a whole week, there was a lot of uncertainty. We didn't really have a defined downtrend overall in the markets, or a defined uptrend. We are, in fact, just diddling along. The markets are just teetering.
So now, as you know, I am trading two strategies. In addition to trading the PowerX strategy, I'm also trading the Wheel. So also for the Wheel, I started looking for trades. Let me show you what I was looking for this morning. One of the trades that I thought, ahh you know what, this might actually be a decent trade was Marriott, MAR, but when I looked, however, there wasn't enough premium in there to sell according to the Wheel.
I looked at another stock that came up on my radar this morning, which was PENN. There was some great premium in there but PENN sounded rather risky. You see, for me, it is very, very important that I have a great track record.
Now at the beginning of my trading career, I would have forced these trades. I would have said, "Oh my gosh, I cannot be done working after one hour," because this is what happens sometimes in the morning. I sit down in front of the computer at 8 o'clock, which is half an hour before the open, and I run through the PowerX Optimizer, and don't find anything.
Now, one of the things that of course, I do every single day, is that I check my open positions, and in the PowerX Optimizer, I have my watch list.
So first I look for new trades, and secondly, manage my existing trades. I don't, however, need to overmanage my account when there are days where there is nothing to trade. What I used to do way back when I was still new to trading, and nothing would come up, I would adjust my criteria.
I said, yeah, you know what? Instead of getting a 60% return on my investment, why don't I lower it to 50%, or why don't I lower the winning percentage to 35%. Maybe lower the volume to 200,000. I had to learn the hard way early in my career not to do this.
Summary
So anyhow, in summary, there will be days when you're all excited, but you see, in order to make money with trading, two conditions have to be met.
Number one, you have to be ready, and number two, the markets have to be ready. You may be ready but if the markets are not ready, you got to sit on your hands. The beautiful thing as traders, it's not that today is the trading opportunity of a century. No, tomorrow there will be more trades, on Wednesday will be more trades, on Thursday. Every single day I'm running the scanner according to PowerX Optimizer and I will find more opportunities to trade.
So today, one of the hardest lessons, and this is why I wanted to share it with you, sit on your hands. Anyhow, if you enjoyed this video, do me a favor and click on like so that more people will see it.
Trading Futures, options on futures and retail off-exchange foreign currency transactions involves substantial risk of loss and is not suitable for all investors. You should carefully consider whether trading is suitable for you in light of your circumstances, knowledge, and financial resources. You may lose all or more of your initial investment. The lower the day trade margin, the higher the leverage and riskier the trade. Leverage can work for you as well as against you; it magnifies gains as well as losses. Past performance is not necessarily indicative of future results.
Education feed
---
Editors' Picks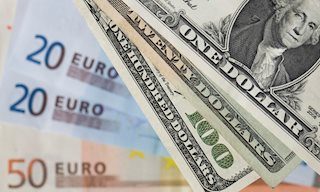 EUR/USD has dipped below 1.21, some 70 pips down on the day as the dollar recovers alongside Treasury yields. US Consumer Sentiment beat estimates with 86.4 points.
EUR/USD News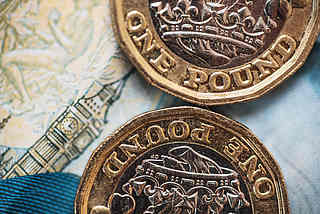 GBP/USD is hovering around 1.4150, down on the day. UK GDP missed with 2.3% in April and a four-week delay to Britain's reopening is speculated. The greenback is gaining some ground.
GBP/USD News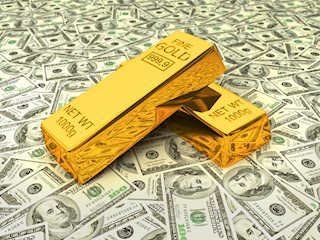 Gold price has retraced below the $1900 mark once again, having tested Tuesday's high near $1903. The latest leg down in gold price comes on the back of a tepid bounce staged by the US dollar, as the Treasury yields trim losses across the curve.
Gold News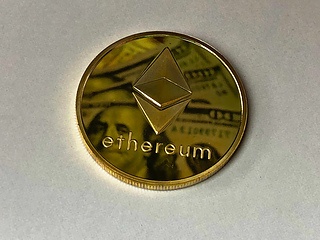 Ethereum price seems prime to revisit $3,000. Although ETH faces resistance at $2,300, the upswing seems imminent. A downswing below $2,000 could invalidate the bullish thesis.
Read more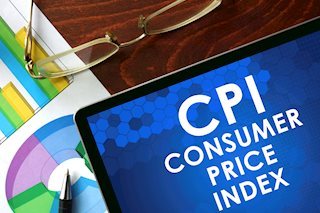 Americans are seeing the fastest price increases since their seventh-graders were born as inflation builds into the US economy from the disruptions of the pandemic lockdowns. Core CPI at 3.8% is the steepest gain in 29 years.
Read more
RECOMMENDED LESSONS
Discover how to make money in forex is easy if you know how the bankers trade!
In the fast moving world of currency markets, it is extremely important for new traders to know the list of important forex news...
Chart patterns are one of the most effective trading tools for a trader. They are pure price-action, and form on the basis of underlying buying and...
The forex industry is recently seeing more and more scams. Here are 7 ways to avoid losing your money in such scams: Forex scams are becoming frequent. Michael Greenberg reports on luxurious expenses, including a submarine bought from the money taken from forex traders. Here's another report of a forex fraud. So, how can we avoid falling in such forex scams?
Trading is exciting. Trading is hard. Trading is extremely hard. Some say that it takes more than 10,000 hours to master. Others believe that trading is the way to quick riches. They might be both wrong. What is important to know that no matter how experienced you are, mistakes will be part of the trading process.
---