What to Do About All-Time Market Highs?
While most investors are enjoying the returns they are receiving from this bullish market, everyone knows that it cannot last forever. The big question that many are asking is where is the top? Normally, prices would reverse and drop from levels of supply on the higher time frames. When the markets are trading at all time highs, however, there are no supply zones with which to identify the turning points.
Strategies for Trading All-time Highs
There are two possibilities for traders trying to determine when to sell bullish positions or enter shorts. The first is to wait until the bearish trend has been confirmed. The second is to use a technical tool called Fibonacci Extensions to project potential turning points for price.
There are definite advantages and drawbacks to each method. Waiting for the trend change to confirm itself offers a higher probability but will cause you to give up some of your profits from your longs and will cut your profits down a bit on your shorts. Using the Fibonacci tools will get you out of longs closer to the top and increase your profits on your shorts, but you run the risk of entering too soon and getting stopped out for small losses.
You must weigh the rewards and weaknesses of the techniques and decide for yourself which you will use. Neither is necessarily better than the other. You just need to be comfortable with what you select and stay committed to it.
Identifying a Trend Change
When evaluating the trend change, you must remember the definition of a trend and objectively read price action to ensure what you are seeing meets the criteria. An uptrend is a series of higher lows in price followed by higher highs. A downtrend is lower highs followed by lower lows. Be careful not to look at every high and low. The trick is to be able to identify the impulse and corrective movements in the markets. The starts and ends of those movements are the highs and lows you want to use.
Looking at the trend change from 2007 into 2008's bear market, prices were making higher lows and highs on the weekly chart until late 2007. Once price made a lower low in January 2008, the bearish trend was confirmed. At this point, long positions should have been exited and shorts entered.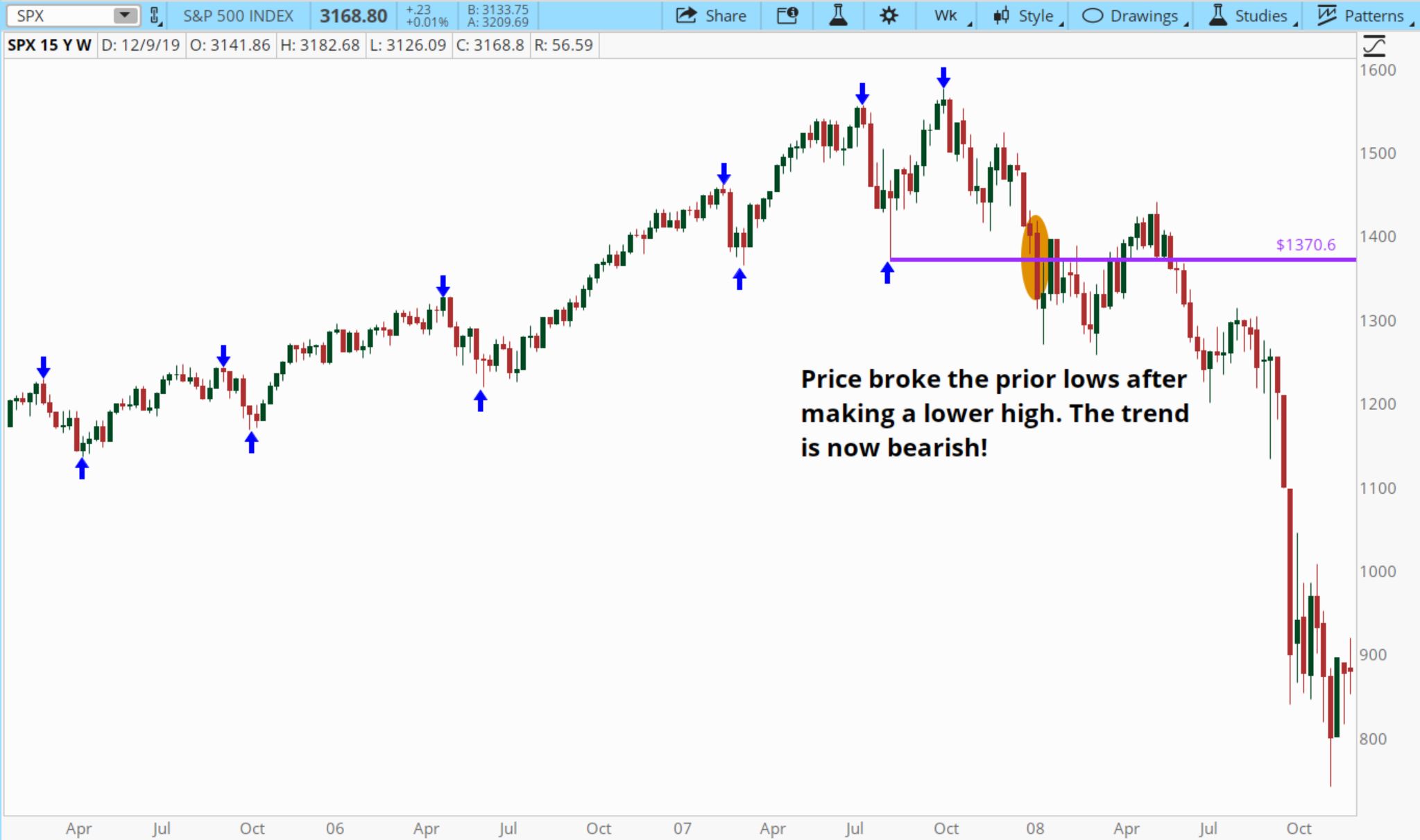 From time to time, there may be false signals given from price. Looking back to the weekly chart of the tech bubble in 1999-2000, prices gave a false signal before truly reversing. This is one of the disadvantages of using the trend change method.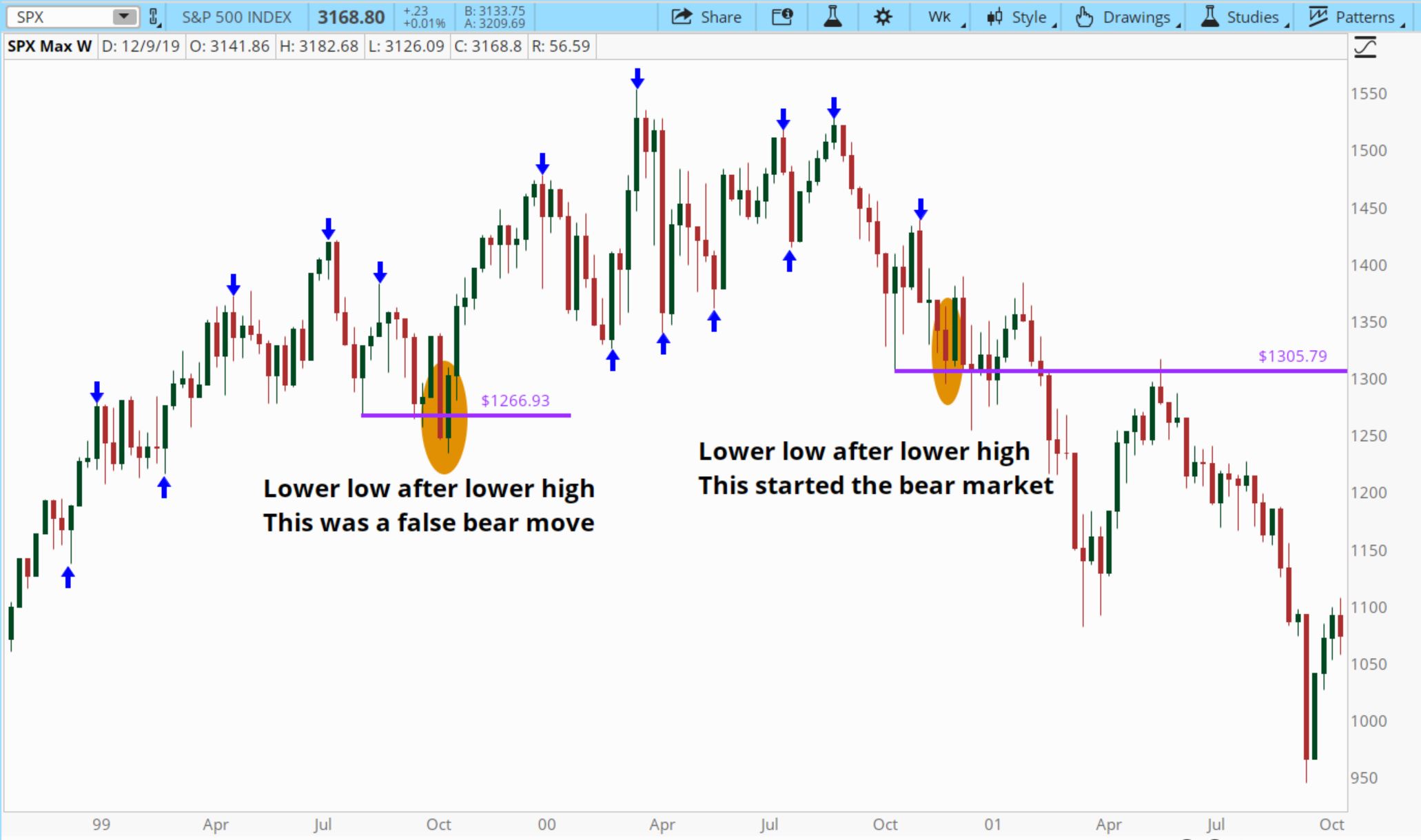 Using Fibonacci Extensions
Fibonacci tools are based on a numerical sequence. There are certain ratios that hold importance and can be used to estimate potential turning points for price action. When we are making all-time highs, price is said to be impulsing higher. This impulse will follow a correction of a previous impulse. To predict where the impulse is likely to end, the Fibonacci Extension tool multiplies the preceding impulse by certain ratios and projects that measurement from the recent retracement point.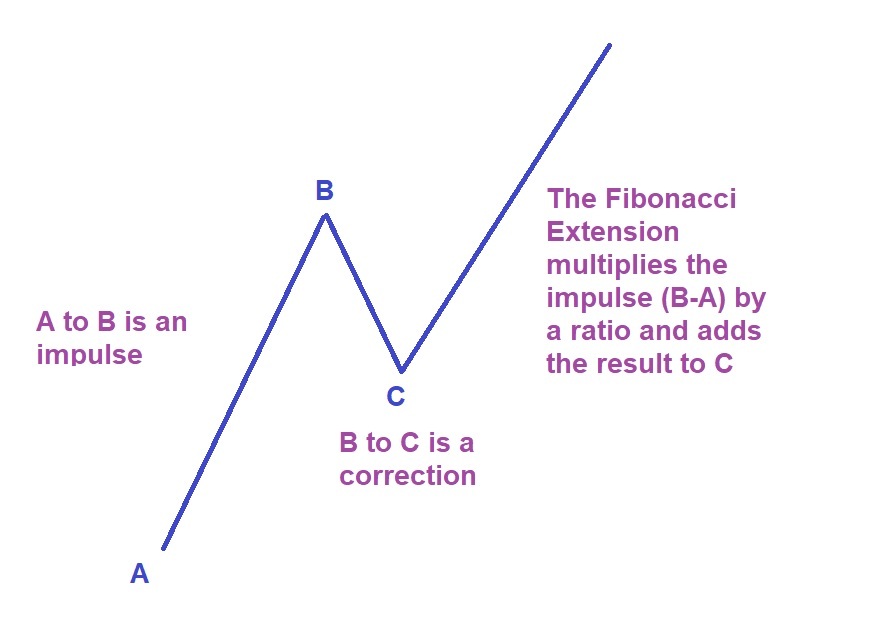 So, we can apply the Fibonacci Extension tool to the large time frame chart or the markets and estimate where we will see the trend reverse. Looking at the market highs in 1999 and 2007, the Fibonacci Extensions predicted the turning points for both peaks at a 61.8% extension.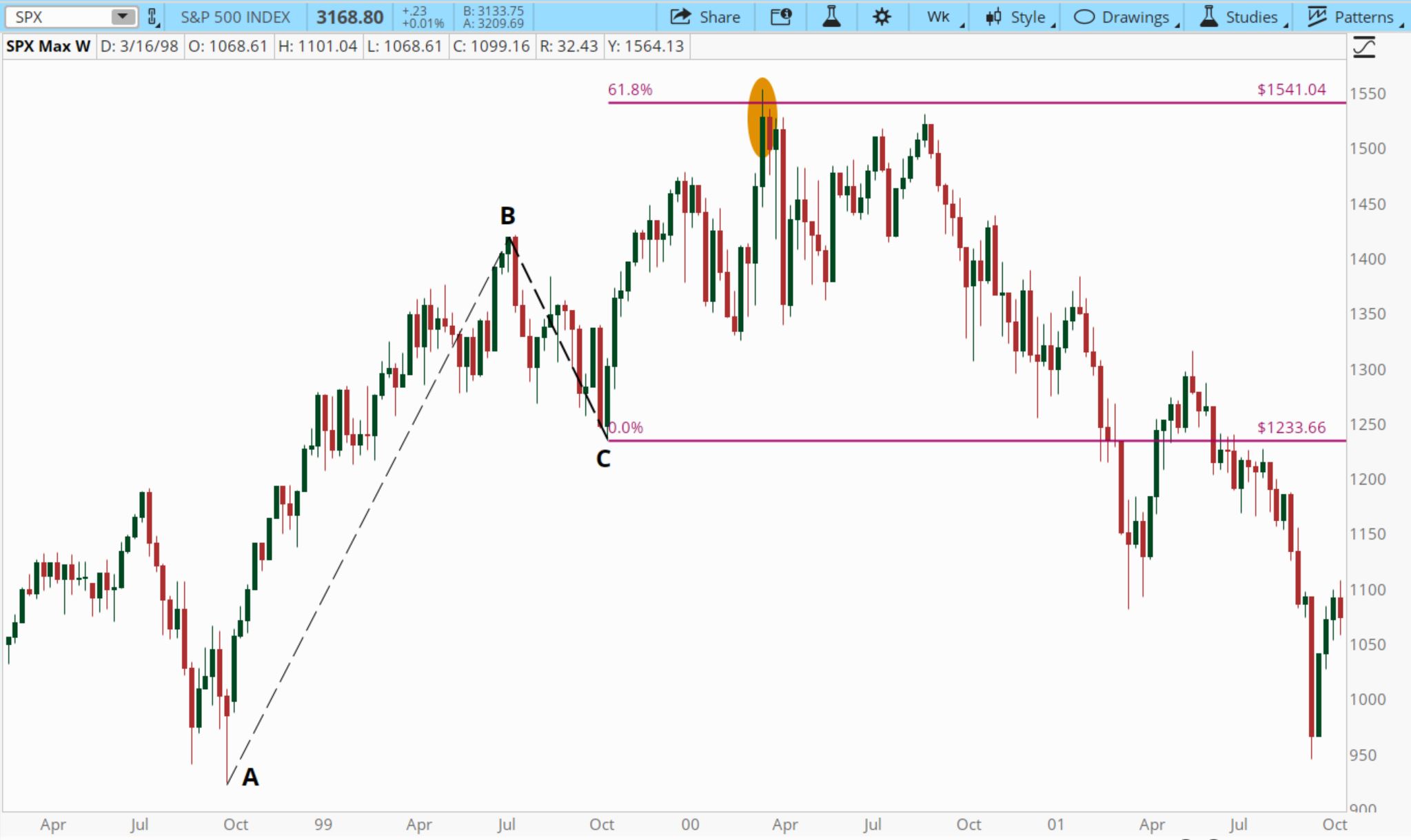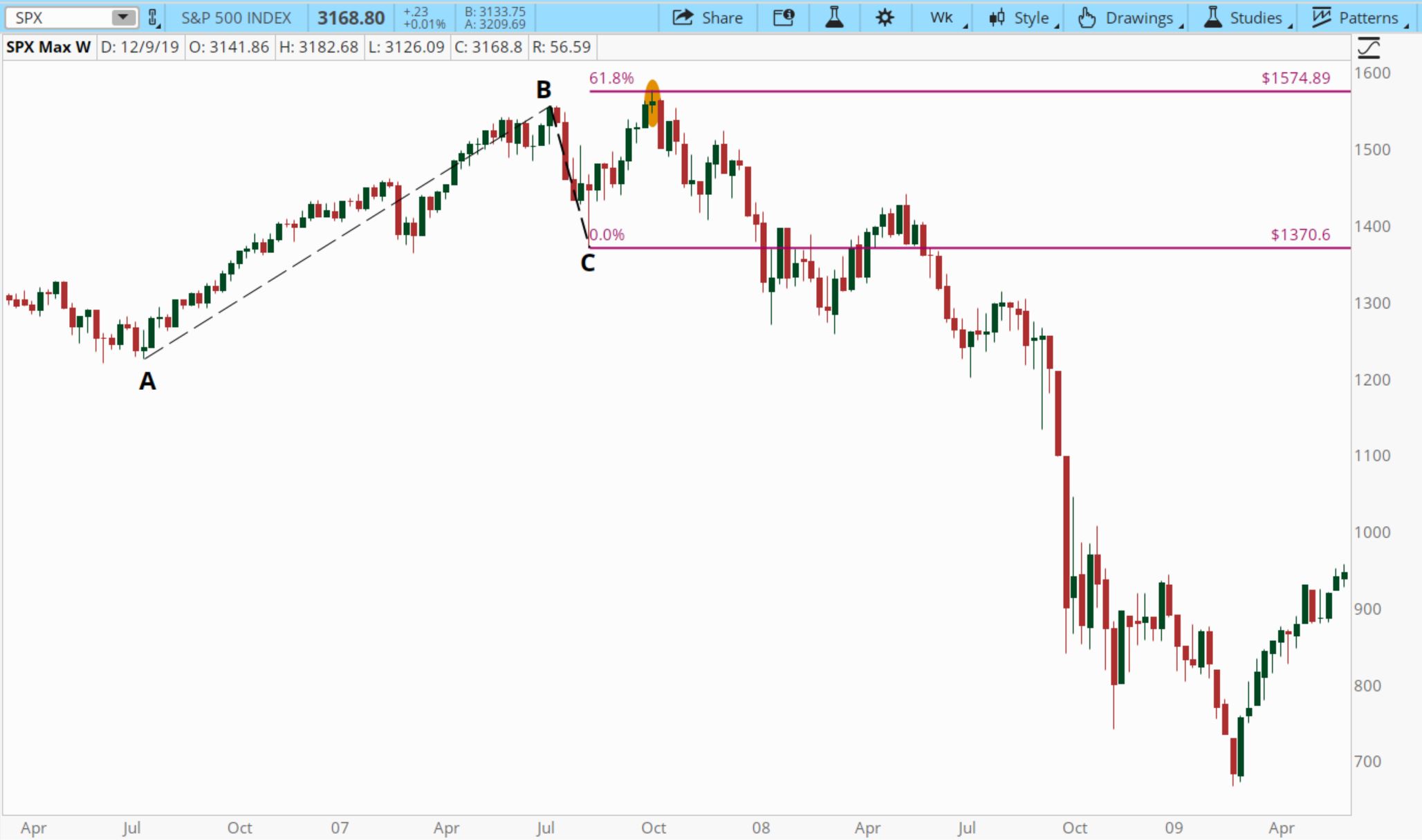 So whichever strategy you select for timing the top of the markets, be sure to exercise risk management. There are losses possible in the markets but with the proper knowledge and skill, most can navigate them properly. The markets will eventually turn down; learn the skills you need to properly identify when and where they will do this.
I will be monitoring the broad markets and applying these techniques to anticipate the market turns just as I did in 2007 and 1999. To see more of my analysis, you can follow me on Twitter: @traderbdub. Of course, more training and skill building is available at your local Online Trading Academy center.
I want to wish everyone a happy holiday and prosperous new year! See you in 2020!
This content is intended to provide educational information only. This information should not be construed as individual or customized legal, tax, financial or investment services. As each individual's situation is unique, a qualified professional should be consulted before making legal, tax, financial and investment decisions. The educational information provided in this article does not comprise any course or a part of any course that may be used as an educational credit for any certification purpose and will not prepare any User to be accredited for any licenses in any industry and will not prepare any User to get a job. Reproduced by permission from OTAcademy.com click here for Terms of Use: https://www.otacademy.com/about/terms
Education feed
---
Editors' Picks
RECOMMENDED LESSONS
Discover how to make money in forex is easy if you know how the bankers trade!
In the fast moving world of currency markets, it is extremely important for new traders to know the list of important forex news...
Chart patterns are one of the most effective trading tools for a trader. They are pure price-action, and form on the basis of underlying buying and...
The forex industry is recently seeing more and more scams. Here are 7 ways to avoid losing your money in such scams: Forex scams are becoming frequent. Michael Greenberg reports on luxurious expenses, including a submarine bought from the money taken from forex traders. Here's another report of a forex fraud. So, how can we avoid falling in such forex scams?
Trading is exciting. Trading is hard. Trading is extremely hard. Some say that it takes more than 10,000 hours to master. Others believe that trading is the way to quick riches. They might be both wrong. What is important to know that no matter how experienced you are, mistakes will be part of the trading process.
---