Tragedy strikes the trading world [Video]
*Disclaimer*
Before discussing this trading tragedy, I want to make a few things clear…
What happened to this young man is an absolute tragedy. If you or someone you know is in crisis, please get help. Call the National Suicide Prevention Lifeline at 800–273-TALK or text TALK to 741741.
Everything expressed in the article is my own personal opinion.
The conclusion I have reached comes after spending countless hours researching exactly what could have happened.
Trading Tragedy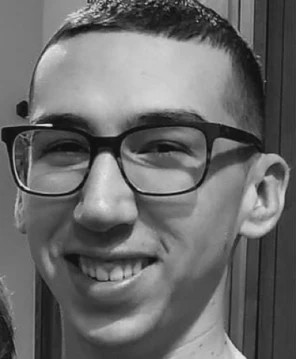 Alex Kearns
On June 12th, a young trader named Alex Kearns took his own life.
Why is it believed that Alex took his own life?
In his own words he stated, "he did not understand how a 20-year-old with no income was able to get assigned almost a million dollars worth of leverage."

Alex was assigned several option contracts and his Robinhood trading account showed a negative balance of $730,165.72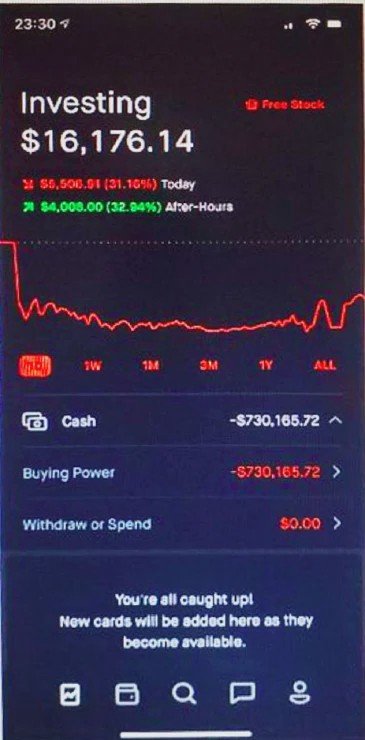 Alex didn't believe that he would be able to financially recover from such a large loss and took his own life.
Was it really a loss? Or could this have been a misunderstanding?
In this article we will discuss exactly what I believe happened to Alex and how this trading tragedy unfolded.
My goal is to discuss the strategy Alex was using, what went wrong, and how to prevent another trading tragedy.
What happened?
After the options assignment, Alex's Robinhood app showed a negative buying power of $730,000 dollars.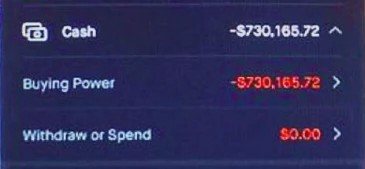 Alex was more than likely trading "Bull Put Spreads" on a larger stock like Amazon.
I went to the RobinTrack Leaderboard and reviewed the most popular stocks traders own.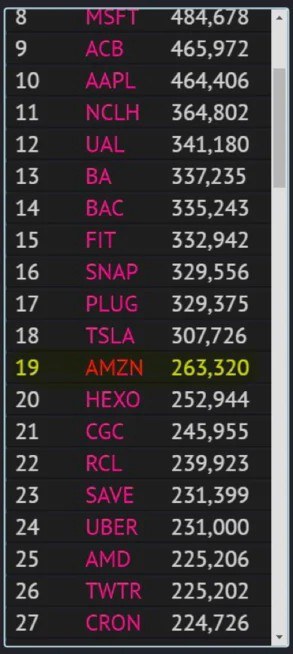 Amazon is number 19 on most popular stocks owned by Robinhood Traders
When I was considering these stocks, I went back to the day that Alex died. I looked at each stock's movement.
Amazon was the only stock that made sense. I noticed a large downward movement of Amazon around the same time period.
I traced the stock back several days prior and noticed that it had recently had new All-Time Highs.
It is typical for newer traders to believe a stock will continue in an uptrend after reaching new all-time highs.
Trading "Bull Put Spreads" means that you believe the position will stay neutral or go higher.
In this position, I believe that Alex probably sold the 2550 puts and bought 2445 puts for protection.
It is likely that Alex believed that Amazon would have stayed above the 2550 strike price.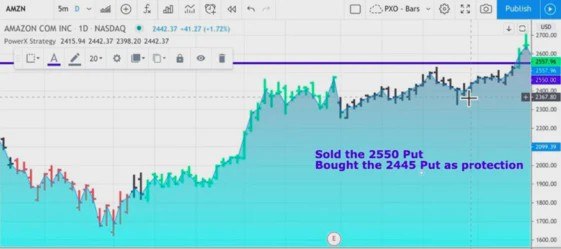 When the options contract expired, Amazon's stock price was 2545.02.
This means that Alex's option contracts were assigned. And that he was responsible for buying approximately 3 contracts of Amazon stock.
If Alex did indeed sell the 2550 puts, he would have had to buy them back.
The assignment price would have been 100 x 2500, or $255,000 per contract. If he traded only 3 contracts, it would have totaled $765,000.
It's likely that Alex thought he was protected by the 2445 puts he had purchased. He stated in his suicide note that "it should have canceled out."
Alex may not have understood that he was responsible for paying the difference between the 2550 strike price and the price it was sold at.
His broker likely closed the position Monday morning at $2,526. Alex would have been responsible for 24 dollars of risk, per share.
Or $2,400 multiplied by 300 shares, totaling $7,200. This would have been the actual risk to Alex's account.
There's an important lesson to be learned in this example.
What happens if you're trading "Bull Put Spreads" and they're in the money (ITM)?
You MUST close the option contract or you WILL be assigned.
When the option contracts are assigned, your broker will sell the shares. And as a result, you are at risk of capital.
This is the difference between the put contracts you sold, and the price of the stock when sold by your broker.
As a result of Alex being assigned these contracts, It's likely that Alex believed he would not be able to recover financially.
This is what led up to what the news is now referring to as a "trading tragedy."

Alex Kearns Suicide Note
There are a few more lessons we can take away from this trading tragedy…
1. Know what you are doing. Many people would have you believe that trading is easy. However, the simple answer is that it is not. You must educate yourself and understand what you're doing.
2. You must have a plan! The plan tells you what to trade, when to enter and when to exit. Many people end up in trades without knowing how to exit. It's important to understand how to exit the trades.
You MUST have an exit strategy for every trade you take.
3. Do NOT get assigned option contracts… unless you really want to own the stock. Always close out options that are in the money. If you don't, you will wake up with a bunch of shares that you don't want and probably can't afford. When you see your options near the money, you must close the position. Even if the option is in the money, take the loss and close the position.
Remember that hope is not a strategy. Do not hope that the stock will recover.
Take your win if there's a win.
Take your loss if there's a loss.
Leave a few dollars on the table if you have to, but you must close the position!
It may be difficult, but this is the nature of the business.
Trading Tragedy or not, please remember: If you or someone you know is in crisis, please get help immediately. Call the National Suicide Prevention Lifeline at 800–273-TALK or text TALK to 741741.
Resources for this video:
Bill Brewster's Twitter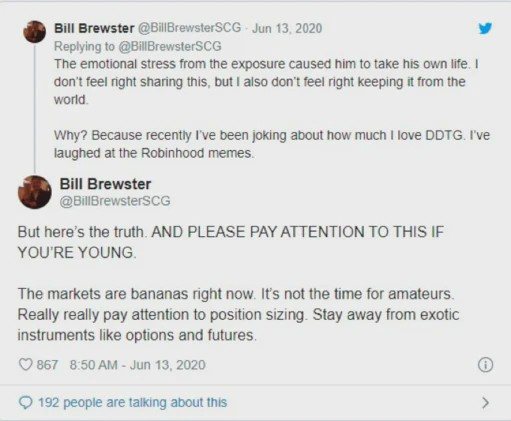 Trading Futures, options on futures and retail off-exchange foreign currency transactions involves substantial risk of loss and is not suitable for all investors. You should carefully consider whether trading is suitable for you in light of your circumstances, knowledge, and financial resources. You may lose all or more of your initial investment. The lower the day trade margin, the higher the leverage and riskier the trade. Leverage can work for you as well as against you; it magnifies gains as well as losses. Past performance is not necessarily indicative of future results.
Education feed
---
Editors' Picks
RECOMMENDED LESSONS
Discover how to make money in forex is easy if you know how the bankers trade!
In the fast moving world of currency markets, it is extremely important for new traders to know the list of important forex news...
Chart patterns are one of the most effective trading tools for a trader. They are pure price-action, and form on the basis of underlying buying and...
The forex industry is recently seeing more and more scams. Here are 7 ways to avoid losing your money in such scams: Forex scams are becoming frequent. Michael Greenberg reports on luxurious expenses, including a submarine bought from the money taken from forex traders. Here's another report of a forex fraud. So, how can we avoid falling in such forex scams?
Trading is exciting. Trading is hard. Trading is extremely hard. Some say that it takes more than 10,000 hours to master. Others believe that trading is the way to quick riches. They might be both wrong. What is important to know that no matter how experienced you are, mistakes will be part of the trading process.
---