Stock Float: What Traders Need to Know About Float
When a company wants to raise capital to expand operations, they have several options available to them. One of the most popular methods for raising a lot of money in a short period of time is to take the company public. When a company goes public, they issue shares of stock. This is also known as going public, (Initial Public Offering or IPO). The shares represent a portion of ownership in the company.
What Is Stock Float?
The float of a stock is simply the number of shares available for trading by the general public. When a company goes public, the insiders of the company, including the board, president, CEO, etc., will obviously want to hold onto most of the shares to keep control of the company. Many shares will also be given to the brokerages who helped the company with going public as part of their payment. The remainder of shares that are available to the general public to purchase are known as the float.
Stock float is often overlooked but can offer some great information into how the stock will trade and even if the stock is one you should include in your portfolio.
How Is Stock Float Calculated?
Float is calculated by subtracting the restricted shares from the outstanding shares. Restricted shares are those shares held by insiders of the company, who are usually restricted in how and when they may sell those shares. If a company has ten million shares outstanding, (issued during the IPO) and three million are held by insiders, the float would be seven million shares. 10,000,000 total shares – 3,000,000 restricted shares = 7,000,000 public shares (float)
The float can usually be found easily as many financial websites publish the number. For example, looking at Yahoo Finance you can get a quote on a stock. Once the quote is showing, select Statistics and scroll down on the resulting page to see Float under Share Statistics.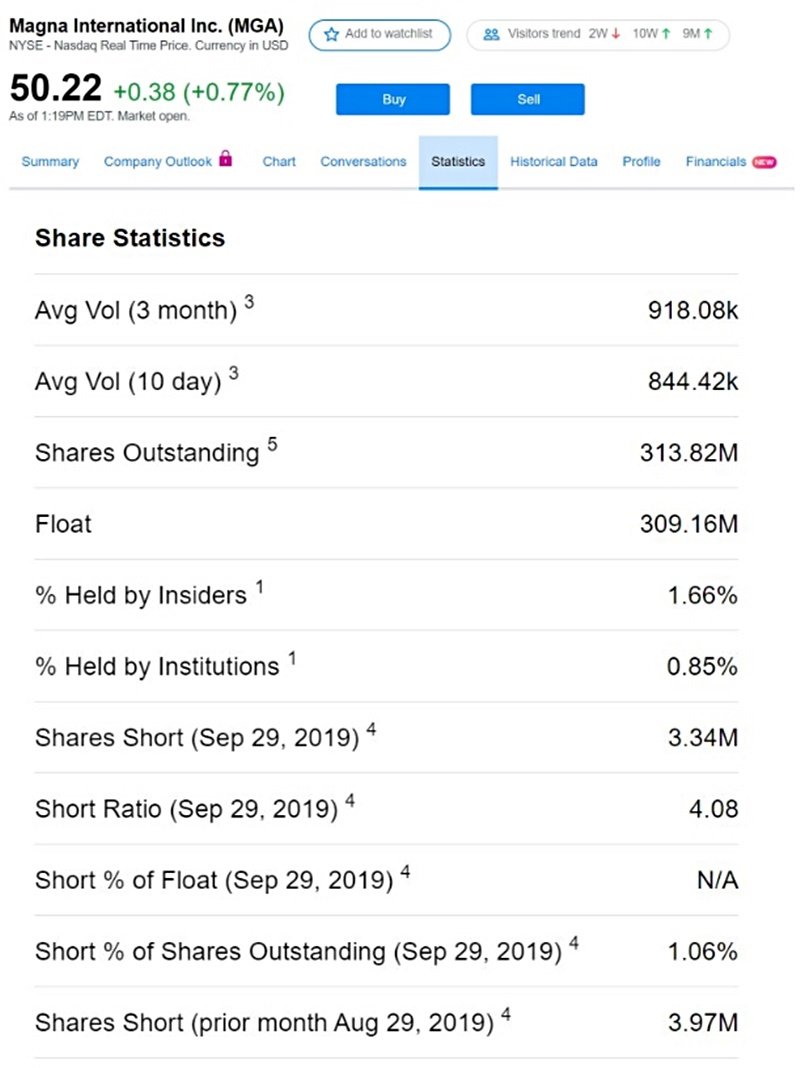 How Float Can Affect Stock Behavior
Stocks have personalities, like people. If you understand the stock's personality, you have a higher probability of correctly predicting its future behavior. As mentioned previously, the float will also dictate many characteristics of the stock's personality.
The first characteristic is volatility. The float and stock's volatility have an inverse relationship. When there is a low float, the stock is more likely to have high volatility and wilder price swings. While price swings are fun and profitable when in your favor, a low float and big price moves could increase your losses due to slippage on your stops.
While there is not a specific definition for a low float, a stock with less than 10 to 20 million shares is considered to be a low float. Looking at the following stock, you can easily see the issue with charting a low float stock. AMCON Distributing Company (DIT), has a very low float of 194,000 shares.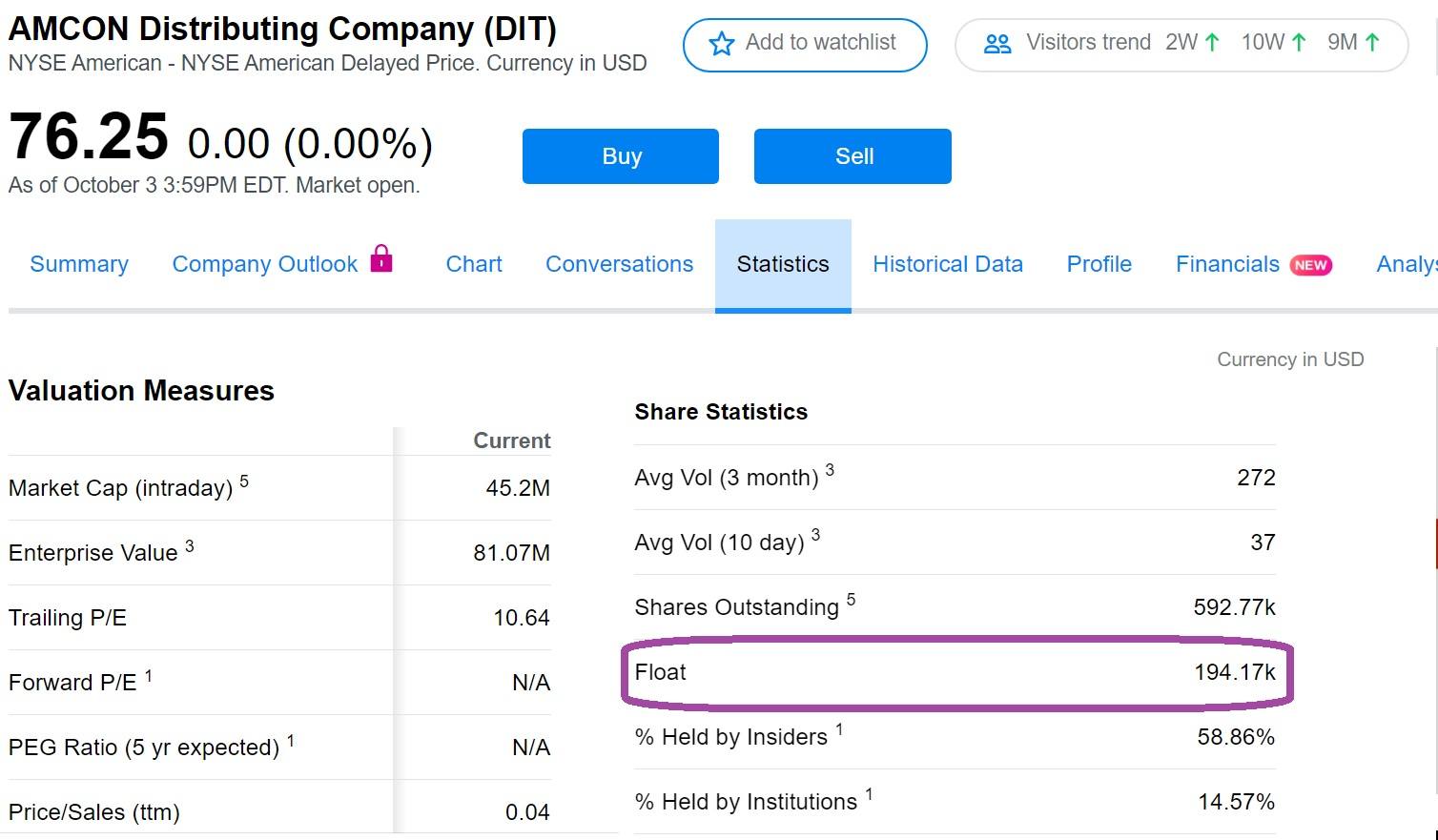 When looking at the chart, the average true range of $2 per day seems attractive. But there are large gaps in the price chart due to very low float and low volume. You are likely to get a worse price on your stop loss because prices can gap beyond your intended stop price.
The high volatility that creates higher risk can also be an opportunity for profits when trading. Companies with a low float will have a more pronounced reaction to news on the company than companies with a higher float. If you expect a positive or negative announcement on a low float company and are able to enter a position prior to the announcement, you stand the chance of a larger price move in your favor because prices on low float stocks can move much further on lower volume.
Some traders do very well trading and investing in low float companies. although most prefer the higher predictability of larger float companies. Remember, Online Trading Academy's Core Strategy relies on being able to identify and trade with the institutions and, more importantly, anticipate where their order flow will cause prices to move. Looking at the following low float stock, Village Bank and Trust Financial Corp. (VBFC), the float is only a little over 610,000 shares.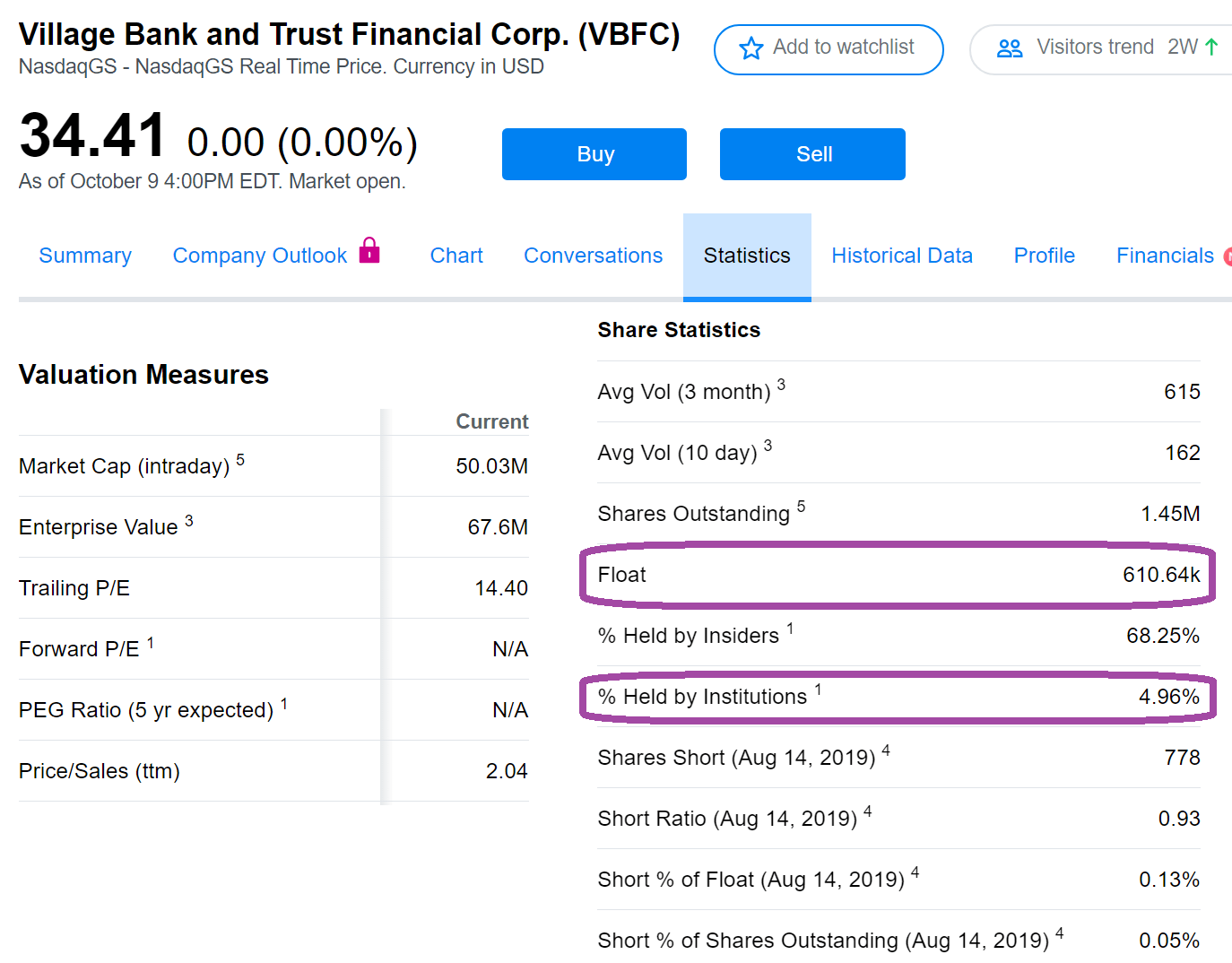 The institutional participation is only 4.96% of the float. That means that most of the price action is likely to be caused by the general public and could be unpredictable.
This content is intended to provide educational information only. This information should not be construed as individual or customized legal, tax, financial or investment services. As each individual's situation is unique, a qualified professional should be consulted before making legal, tax, financial and investment decisions. The educational information provided in this article does not comprise any course or a part of any course that may be used as an educational credit for any certification purpose and will not prepare any User to be accredited for any licenses in any industry and will not prepare any User to get a job. Reproduced by permission from OTAcademy.com click here for Terms of Use: https://www.otacademy.com/about/terms
Education feed
---
Editors' Picks
RECOMMENDED LESSONS
Discover how to make money in forex is easy if you know how the bankers trade!
In the fast moving world of currency markets, it is extremely important for new traders to know the list of important forex news...
Chart patterns are one of the most effective trading tools for a trader. They are pure price-action, and form on the basis of underlying buying and...
The forex industry is recently seeing more and more scams. Here are 7 ways to avoid losing your money in such scams: Forex scams are becoming frequent. Michael Greenberg reports on luxurious expenses, including a submarine bought from the money taken from forex traders. Here's another report of a forex fraud. So, how can we avoid falling in such forex scams?
Trading is exciting. Trading is hard. Trading is extremely hard. Some say that it takes more than 10,000 hours to master. Others believe that trading is the way to quick riches. They might be both wrong. What is important to know that no matter how experienced you are, mistakes will be part of the trading process.
---