Options Vs Stocks — Which Is Better? [Video]
Markus is a self-made multi-millionaire who was born in Germany. He came to the US in 2002 with $30,000 in his pocket and a dream to become a successful trader.
Over the past 20 years, he traded and invested his way to success in the stock and real estate market, making millions of dollars in the process.
Markus has written three best-selling books about trading and investing that have been translated into multiple languages. His youtube channel with over 4 million views is dedicated to his favorite topic — which is trading stocks and options.
He lives in Austin, TX where he enjoys spending time on the lake watching his kids racing their sailboats.
If you are wondering whether to trade options vs stocks, then this article is for you. There's no simple answer to that question because it depends on how much money you have and your risk tolerance level.
This blog post will cover the 7 topics that you need to know to answer the question "Is Options Trading Better Than Stocks?"
1. What Is The Difference Between Buying Stocks and Buying Options?
Let's keep it simple:
When you buy a stock, then you own a share of the company and get paid dividends.
Buying options, on the other hand, means that you only have the right to buy or sell a stock at a specific price before the option expires. But you don't own the stock (yet).
As you will see in a few moments, options trading requires much less capital than buying a stock, and therefore it's very attractive.
But it can also very confusing. My goal is to make it simple for you.
Let's start with an example:
2. Which Is Better: To Buy A Call Option On A Stock Or To Buy A Stock?
Let's use Apple (AAPL) as an example. Right now, the market price of AAPL is 128.70.
Let's assume, you are bullish on Apple and expect AAPL to go higher.
So you could buy 100 shares of AAPL, but this would come with a high price:
100 shares * 128.70 per share = $12,870
If you have a small account, this might be too high of an investment.
The good news: You can trade options instead.
When you buy a CALL option, you have the right to buy 100 shares of AAPL at a set price (the strike price) on or before the expiration date of the option.
Let's take a look at an options chain:
You could buy a call option that expires on June 18th. Today is May 6th, so you have 43 days before this option expires worthless
The price of the option is $3.75.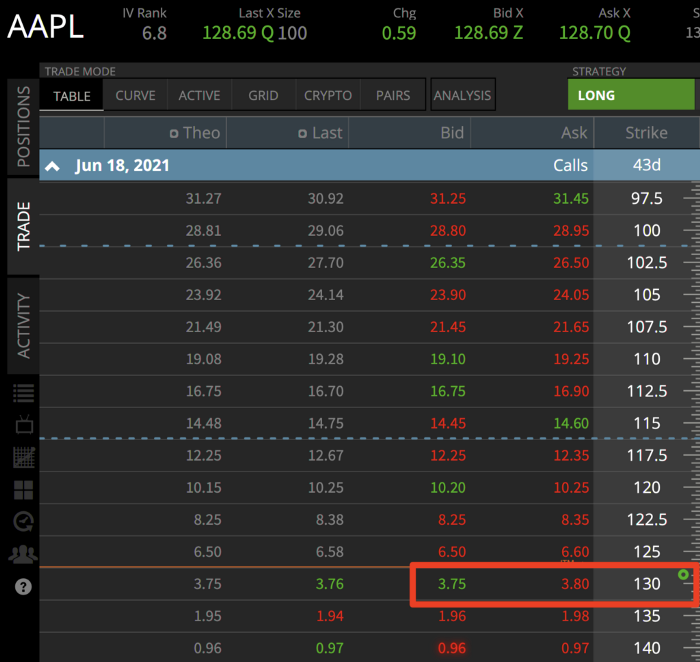 Options come in "100 packs", so your investment to buy this call option is only $3.75 * 100 = $375
Why Buy Options Instead Of Stocks?
First of all, it's much cheaper:
Compared to the investment of 12,807 to buy 100 shares, that's only 3% of the money that's required.
And because of that, options more profitable than stocks.
Let me explain:
3. Are Options More Profitable Than Stocks?
Since you are bullish on AAPL, you expect the stock to go up.
Let's say that over the next few weeks, the stock goes to 140: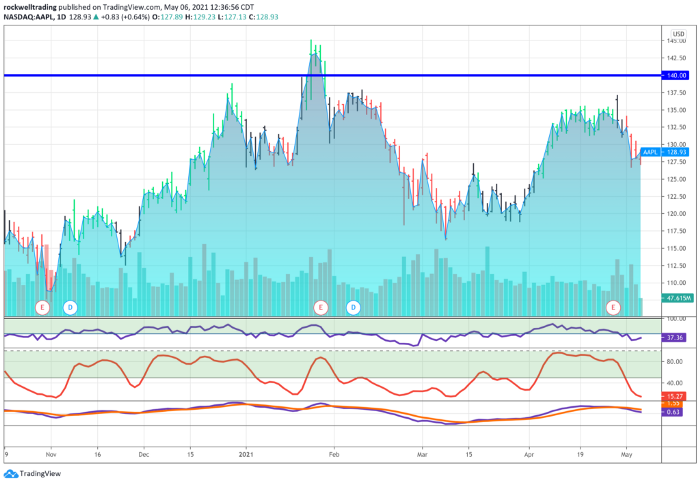 Let's take a look at the profits from your stocks first:
You bought 100 shares of AAPL at a price of $128.70 per share.
Now each share is worth $140.
So your profit is 140–128.70 = 11.30 per share * 100 shares = 1,130.
Based on your investment of $12,870, that's 8.8% Return on Investment (ROI).
That's not bad, but let's take a look at the call option:
How Are Options More Profitable Than Stocks?
The call option that you bought gives you the right to BUY 100 shares of AAPL for $130 before June 18th.
So if AAPL shares move up to $140, you can buy 100 shares of AAPL at $130 and sell them immediately at $140.
This means that your profit per share is 140–130 = 10.
And since you are trading 100 shares, your profit would be $1,000.
But keep in mind: You paid $375 for the right to do this, so you need to subtract this from your profits:
1000–375 = 625.
Your total profit is $625. Doesn't sound much, but based on your $375 investment, that's 167% return on investment (ROI).
In summary:
You made more money in terms of absolute dollars on the stock ($1,130 vs. $625), but the money you needed to make this profit was much less: $375 vs. $12,870.
And that's why your ROI is 167% when trading the option vs 8.8% when trading the stock — even though the stock price is exactly the same.
Pretty cool, huh?
4. How Much Money Do You Need For Options Trading?
As you can see from the previous example, you need MUCH less money when trading options vs trading stocks.
When trading options, you can get started with as little as $2,000.
Check with your broker about the minimum requirements to open an options trading account.
So if you have a smaller account, trading options might be much better for you than stock trading.
5. Can You Lose Money Trading Options?
Let's talk about the risks of options trading, specifically the question "Can you lose money trading options?"
The answer: YES, of course!
In the example above, you could lose the premium you paid for the option, i.e. $375, if the stock price does not move above the strike price of $130.
If AAPL remains below $130 until the expiration date of June 18th, your option expires worthless.
And here's why:
With a call option, you have the right to BUY 100 shares of AAPL for $130.
If AAPL is trading below $130, let's say at $128, you don't want to exercise your right to buy AAPL at $130. Because then you would pay MORE for the stock than you would if you bought it right away.
Making sense?
So if AAPL stays below $130 until expiration, your option expires worthless and you lose the premium you paid for the right to buy the stock.
Can You Lose More Than You Invest In Options?
When you are BUYING options, you can not lose more than the premium that you pay when buying options. So that's good.
However, when you are SELLING options, that's a different story, and we will cover that later.
So in summary: When BUYING options, the maximum amount that you could lose is the premium you pay when buying the option.
6. What Are The Risks Of Options Trading?
YES, there are risks when trading options:
a) Selling Options Can Be Dangerous.
As you have seen, when BUYING options your risk is limited to the premium you pay when buying the option.
However, as a seller, there's a lot more risk. In some cases, you can have UNLIMITED risk.
We will cover this in detail in a later article.
b) Buying Out Of The Money Options.
Risky before the probabilities are low.
c) Know What You're Doing
When trading options, there are a few more things to consider:
Call options vs put options
Strike Prices
Expiration Dates
… and then there are also these pesky "Greeks" like delta, gamma, theta, rho, etc.
And when you have more things to consider, there are more possibilities to make mistakes.
So make sure that you understand all these factors before you start trading options. We will talk about "The Greeks" later.
Are Options Riskier Than Stocks?
YES.
Because it's easier to lose ALL of your investment.
Let's continue our example from above:
Trading Stocks
You bought AAPL at $128.70 per share.
If AAPL drops to $125, then you would lose $3.70 per share, or $370 for 100 shares. Based on your initial investment, that's only 2.9%
Trading Options
You bought the 130 Call Option for $3.75.
If AAPL doesn't move above 130, you lose ALL of your investment, i.e. 100%.
Yes, the investment is much lower, but instead of losing 2.9% as you would when trading stocks, you would lose 100%.
Selling Options
And when selling options, you can lose A LOT of money.
Selling options can be very profitable. In fact, I made more than $75,000 in less than 5 months selling options…
… BUT it's also very risky.
Compare options vs stocks like riding a bicycle and riding a motorcycle:
Riding a motorcycle gets you to your destination quicker. And it can be more fun. But it's also much riskier than riding a bicycle.
7. Can You Really Make Money Trading Options?
Absolutely!
There are many advantages to trading options, and it is possible to make money with options.
Is there a safe way to trade options?
You need to know what you are doing, and you need to have a solid trading strategy.
Find a strategy that you understand and then practice it on a simulator. And when you are ready, start making money with it.
Can Option Trading make you rich?
When trading options, you will often see returns of 167%, 200% or even 300%.
Therefore, it's easy to believe that options trading can make you rich.
But keep in mind: With these high returns, comes high risk.
Yes, you can make 200% or 300% when trading options.
And you can lose ALL your investment, as you have seen above.
Don't think of options trading as a "get-rich-quick-scheme".
But when used correctly, options trading is perfect to grow a small account into a bigger one.
Summary: Should I Trade Options
YES!
Should I trade stocks or options?
Why not do both? Best of both worlds!
Is options trading worth it?
YES! It can be very rewarding! As we just covered with trading options, there are many, many advantages. If you are not trading options yet, I highly recommend that you start looking into them.
Trading Futures, options on futures and retail off-exchange foreign currency transactions involves substantial risk of loss and is not suitable for all investors. You should carefully consider whether trading is suitable for you in light of your circumstances, knowledge, and financial resources. You may lose all or more of your initial investment. The lower the day trade margin, the higher the leverage and riskier the trade. Leverage can work for you as well as against you; it magnifies gains as well as losses. Past performance is not necessarily indicative of future results.
Education feed
---
Editors' Picks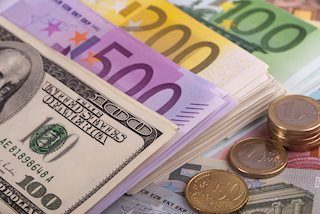 EUR/USD seesaws after rising the most in two weeks. EUR/USD grinds higher around the weekly top following the biggest daily jump in a fortnight, taking rounds to 1.1350-40 during the early Asian session on Thursday.
EUR/USD News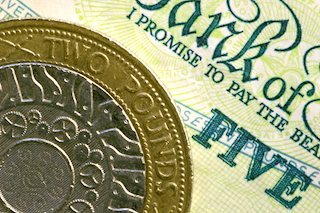 GBP/USD fades corrective pullback from 2021 bottom, down for third consecutive day. GBP/USD hovers around 1.3200 following a failed attempt to bounce off the 2021 bottom, marked the previous day, during the initial Asian session on Thursday.
GBP/USD News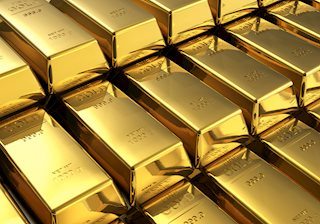 Gold is flat and sideways in consolidating markets awaiting a catalyst. Gold is consolidating in the $1,779 and $1,793 range with markets trying to assess the outlook with regards to inflation, central banks and the uncertainty surrounding the Covid-19 variant.
Gold News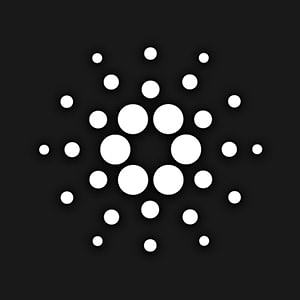 A brief technical and on-chain analysis on Cardano price. Here, FXStreet's analysts evaluate different patterns and indicators that suggest ADA is primed to advance further.
Read more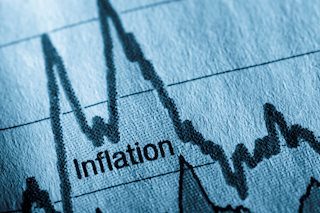 Inflation on Friday is forecast to be a little higher, but at the same time, voices are raised about the Fed acting prematurely and triggering a recession. Yesterday former TreasSec Summers put the probability of a recession at 30-40%.
Read more
RECOMMENDED LESSONS
Discover how to make money in forex is easy if you know how the bankers trade!
In the fast moving world of currency markets, it is extremely important for new traders to know the list of important forex news...
Chart patterns are one of the most effective trading tools for a trader. They are pure price-action, and form on the basis of underlying buying and...
The forex industry is recently seeing more and more scams. Here are 7 ways to avoid losing your money in such scams: Forex scams are becoming frequent. Michael Greenberg reports on luxurious expenses, including a submarine bought from the money taken from forex traders. Here's another report of a forex fraud. So, how can we avoid falling in such forex scams?
Trading is exciting. Trading is hard. Trading is extremely hard. Some say that it takes more than 10,000 hours to master. Others believe that trading is the way to quick riches. They might be both wrong. What is important to know that no matter how experienced you are, mistakes will be part of the trading process.
---