A New Season for Trading Opportunities
Unless you live in a region that is always frigid and white with ice and snow, like near the poles, or perpetually hot, like the tropical areas… then you have seasons. Granted, your seasons may not be as distinct as the ones in the upper latitudes of Europe or the US where there are four separate and distinct seasons, from the biting cold of winter, to the flush of new fauna signaling spring, to the hot days of summer and the calico colors of fall. Regardless, the important thing for traders to understand is that the weather patterns that usher in the changing temperatures also make way for opportunities and pitfalls as the markets become susceptible to seasonal changes as well.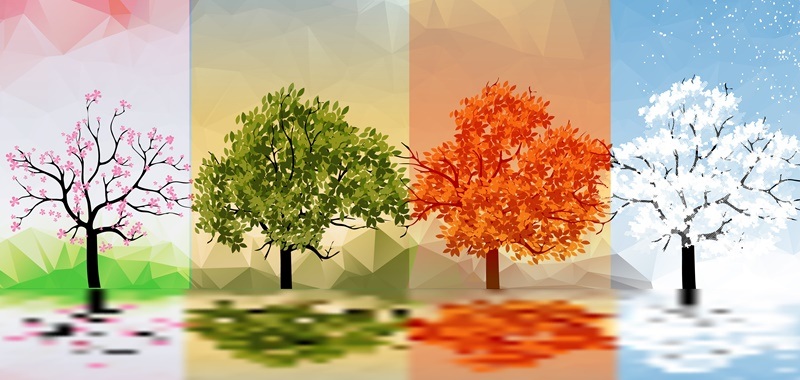 The Weather and the Markets
Futures is a market that is most especially impacted by changes in the weather as commodities go in and out of season or are affected by natural disasters and the like. In fact, most commodity prices have a relationship to the changing seasons. Take energy, for example. The value of energy, whether fossil or alternative, changes dramatically with changes in weather patterns and temperature. There are a number of things which could influence the value of energy, however, some of which are not tied to the weather.
Even if the commodity is selling at highs and the business is booming today, producers are always analyzing the energy trends for tomorrow. This is where the seasons become a major factor. As seasonal patterns begin the change, the markets have already started to factor in the affects as they relate to any number of energy variables; such as production, refinement and distribution. These and other variables help traders to project the future supply and demand levels and use them to determine where prices may be headed.
Looking more closely, the demand for natural gas tends to increase and peak price in cold weather, mostly during the fall and the beginning of the winter months. Smart traders will watch for big cold fronts forming in the artic that will roll on down to the states, causing a spike in demand and prices. Crude oil is not entirely different from natural gas in terms of weather patterns impacting price patterns but appreciation and depreciation ramp up and down during the North American spring/summer and fall/winter months. High demand seems to spike for refined fuel products in most cities during the beginning of Memorial Day and the end of Labor Day, creating a price slump for those companies whose business is crude.
Additional Weather Related Considerations
Your risk tolerance is no exception as risk management as it relates to energy, agribusiness and other commodities should take weather patterns into account.
Businesses have unique challenges that come on the heels of weather changes as well. For example, the climate can affect the volume and uses of a product, reducing sales but not necessarily affecting the price. This can be seen during exceptionally cold summers when hotels may be empty. Conversely, during a warm winter, heat needs decrease which negatively affect the energy company's sales. Yet, even though energy prices may change depending on the high or low demand, energy prices may not change and often they will not cover lost revenues.
One thing is for sure, weather challenges are near impossible to control; and even with changes in meteorological forecasts, it's still hard to consistently and accurately predict weather changes.
As you can see there are myriad ways the patterns of weather change and affect the stock market and economy. At these times, it is incumbent upon traders to be self-aware as it relates to emotional volatility in the markets and whether or not they are susceptible to fear and greed. With this in mind it is just as important to be prepared to not only uncover your emotional upheaval in these types of situations, but to use one of the state-shifting tools that we share in order to manage your mind-set, your state and the potential distress you feel at being so emotionally impacted by the chart instabilities. It is highly difficult, if not impossible, to predict weather changes but you can learn and begin to use the Mastering the Mental Game tools and techniques to get into and remain as much as possible in an aligned state, prepared both mentally and physically to take advantage of trade opportunities that are ripe for snatching but that require the fierce focus and iron-clad commitment to prevail.
As we can see in the above, the importance of remaining focused on what-matters-most while maintaining your A-Game at the platform cannot be overstated. Even in the face of market conditions that could really support your ability to see positive results, it is just as important to remain in the Now of the trade while ensuring that you are keying into what's most important for your trading performance.
This content is intended to provide educational information only. This information should not be construed as individual or customized legal, tax, financial or investment services. As each individual's situation is unique, a qualified professional should be consulted before making legal, tax, financial and investment decisions. The educational information provided in this article does not comprise any course or a part of any course that may be used as an educational credit for any certification purpose and will not prepare any User to be accredited for any licenses in any industry and will not prepare any User to get a job. Reproduced by permission from OTAcademy.com click here for Terms of Use: https://www.otacademy.com/about/terms
Education feed
---
Editors' Picks
RECOMMENDED LESSONS
Discover how to make money in forex is easy if you know how the bankers trade!
In the fast moving world of currency markets, it is extremely important for new traders to know the list of important forex news...
Chart patterns are one of the most effective trading tools for a trader. They are pure price-action, and form on the basis of underlying buying and...
The forex industry is recently seeing more and more scams. Here are 7 ways to avoid losing your money in such scams: Forex scams are becoming frequent. Michael Greenberg reports on luxurious expenses, including a submarine bought from the money taken from forex traders. Here's another report of a forex fraud. So, how can we avoid falling in such forex scams?
Trading is exciting. Trading is hard. Trading is extremely hard. Some say that it takes more than 10,000 hours to master. Others believe that trading is the way to quick riches. They might be both wrong. What is important to know that no matter how experienced you are, mistakes will be part of the trading process.
---