Time to Trade CFDs on Cryptos with Plus500
Never traded CFDs on Bitcoin? In this article, you will find information about trading CFDs on Bitcoin and other cryptocurrencies.
Note: CFDs are complex financial products and should only be used by people with financial market experience. Remember that CFDs are a leveraged product and can result in the loss of your entire capital. Please ensure you fully understand the risks involved. "Availability subject to regulation." .
---
First of all, open an account
While there are several ways to trade Bitcoin, the easiest way is to open an account with a fast, reliable broker such as Plus500, which provides traders the chance to take advantage of trading opportunities in the cryptocurrencies market using CFDs.
Compared to other services to trade cryptocurrencies, Plus500 offers leverage and the possibility to open short positions in Bitcoin, thus profiting from market declines.
Opening an account at Plus 500 is an easy process, just follow these simple steps:
1 Visit Plus500 and click on Start Trading Now (CFD Service. Your capital is at risk.):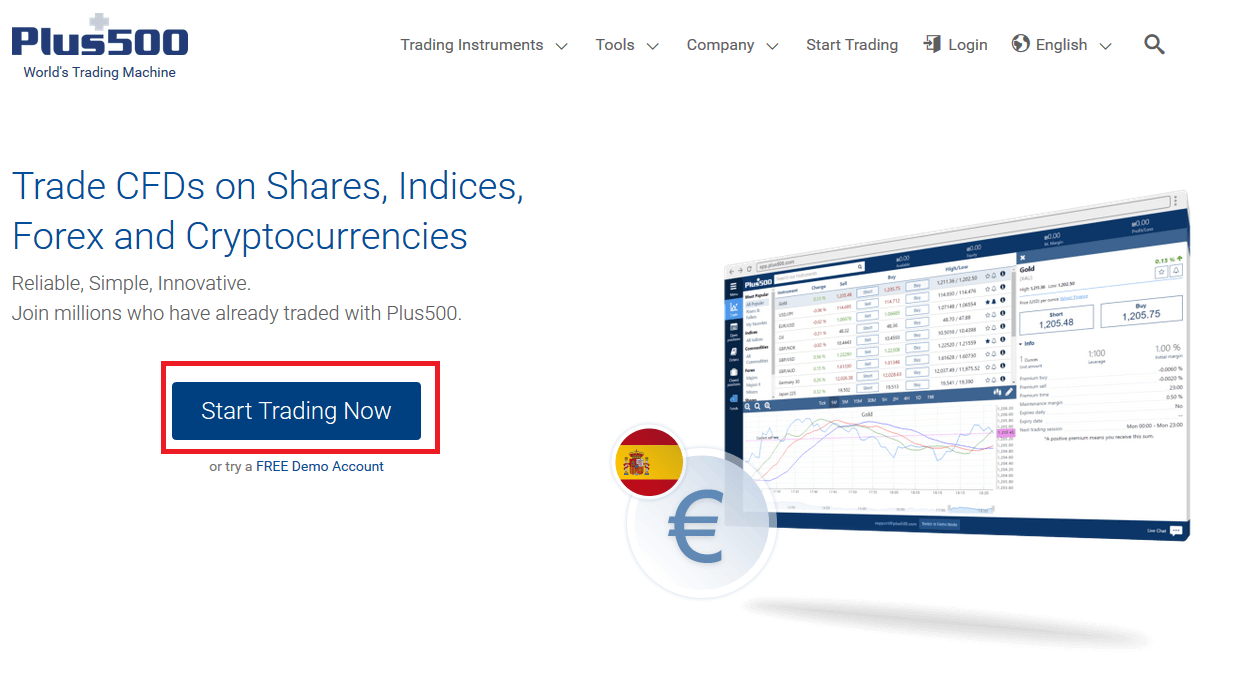 2 On the next page choose Real Money: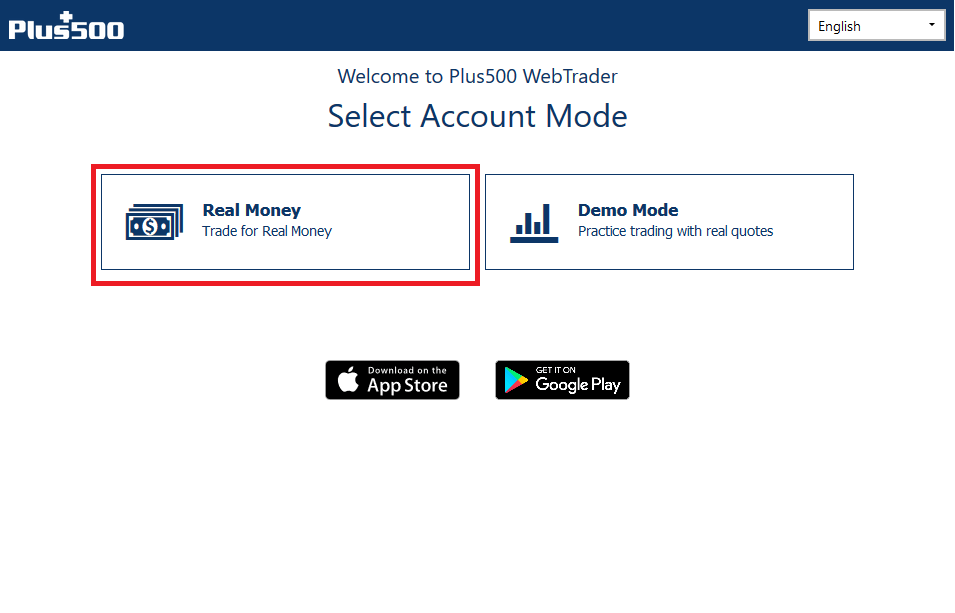 3 In the form just enter your email address and a password of your choice, and click on Create Account: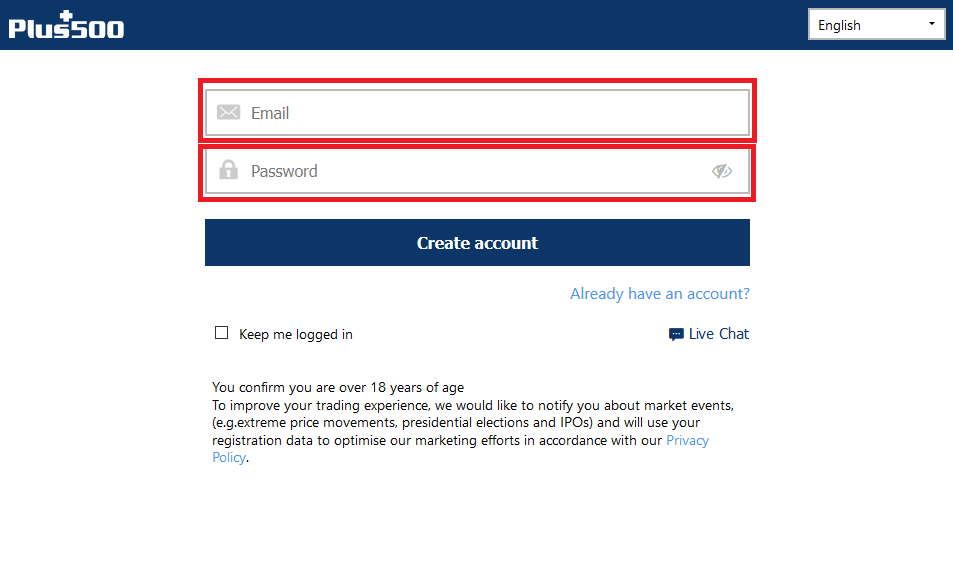 4 In order to activate your account, you will have to provide your personal details as well as documentation to verify your identity: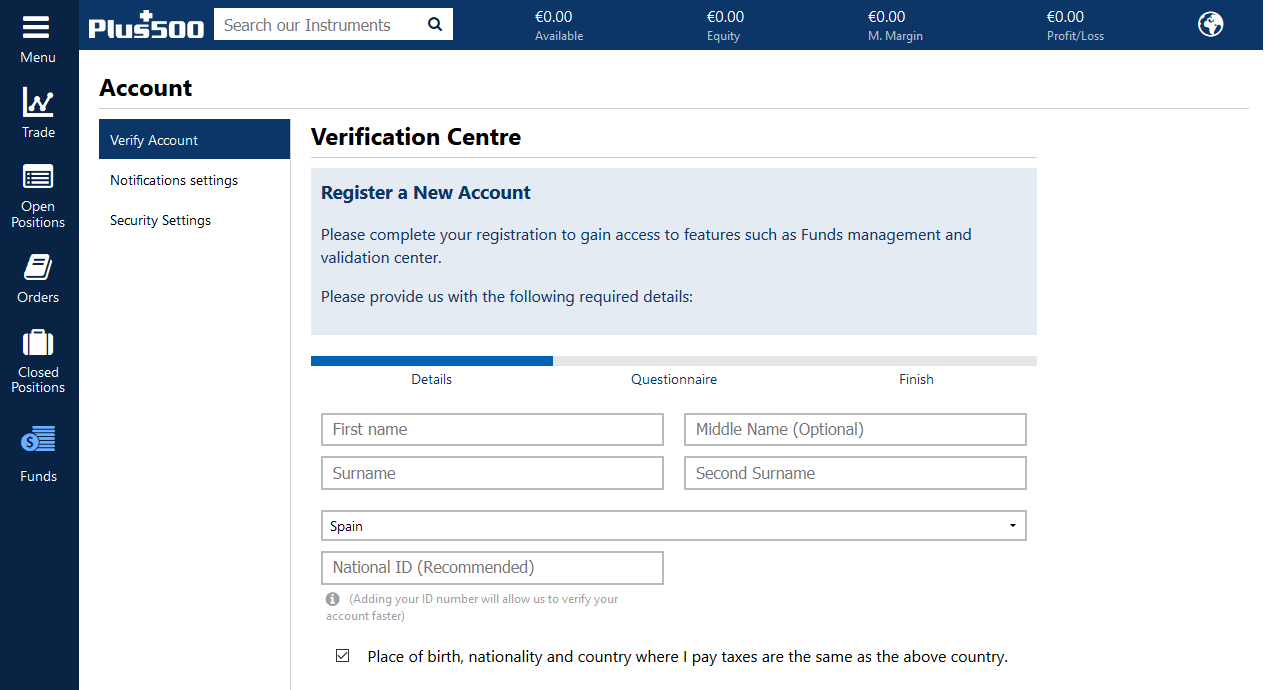 5 Once your account has been approved, you will be able to deposit funds. Plus500 offers traders the ability to deposit funds using a bank transfer, credit and debit cards, as well as Paypal and Skrill accounts:

6 Once your account is funded, you're ready to trade Bitcoin as well as other cryptos. Just click on 'Trade' and choose 'Crypto Currencies' to get the full list of CFDs on cryptocurrencies you can trade and take a look at some charts: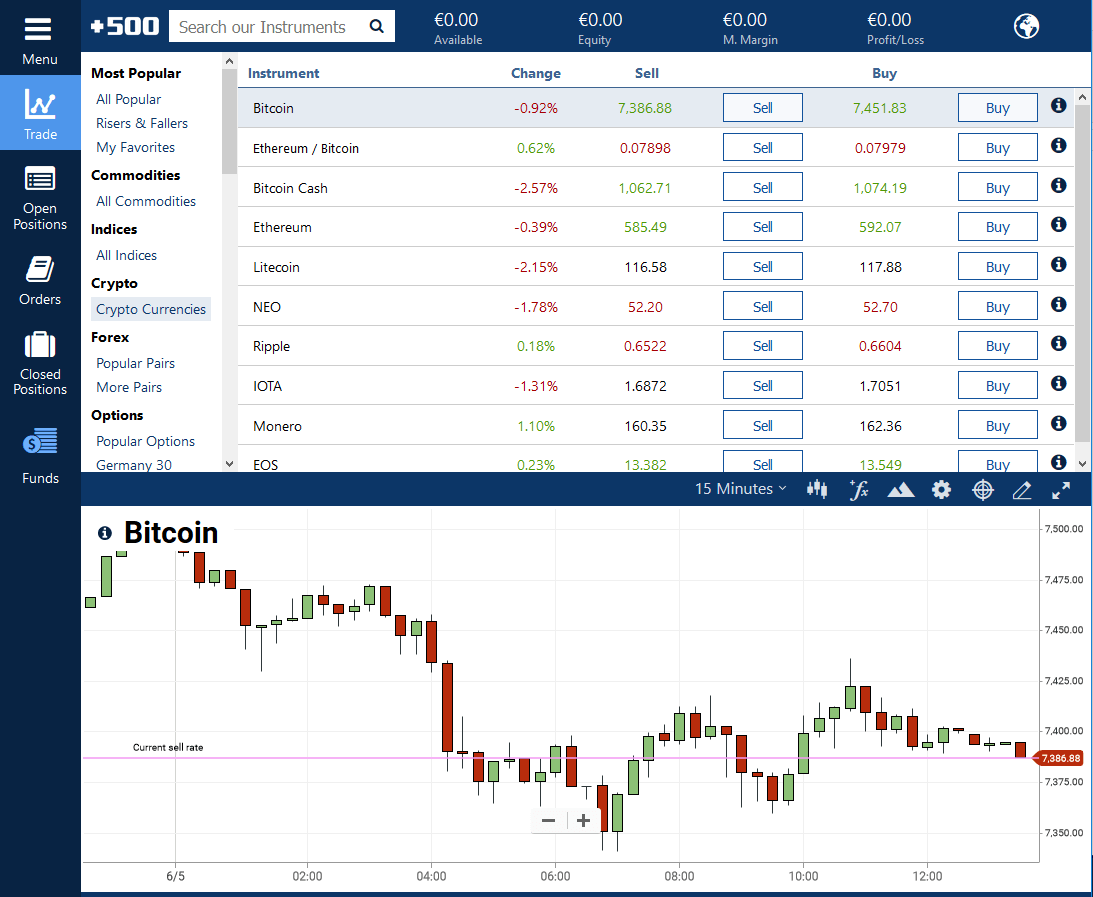 * Prices showed on the image are just illustrative
---
It's Time to Buy and Sell
The Plus500 easy-to-use platform allows to quickly buy and sell cryptocurrency CFDs by choosing the right button.

* Prices showed on the image are just illustrative
For example, if you want to buy Bitcoin, just hit 'Buy'. A new window will appear where you'll be able to set up the parameters of your order including the number of contracts, as well as the take profit and stop loss levels. The required margin for the trading position is quickly updated as you modify the size of the contract. Once your order is ready, just click the Buy button to open a position.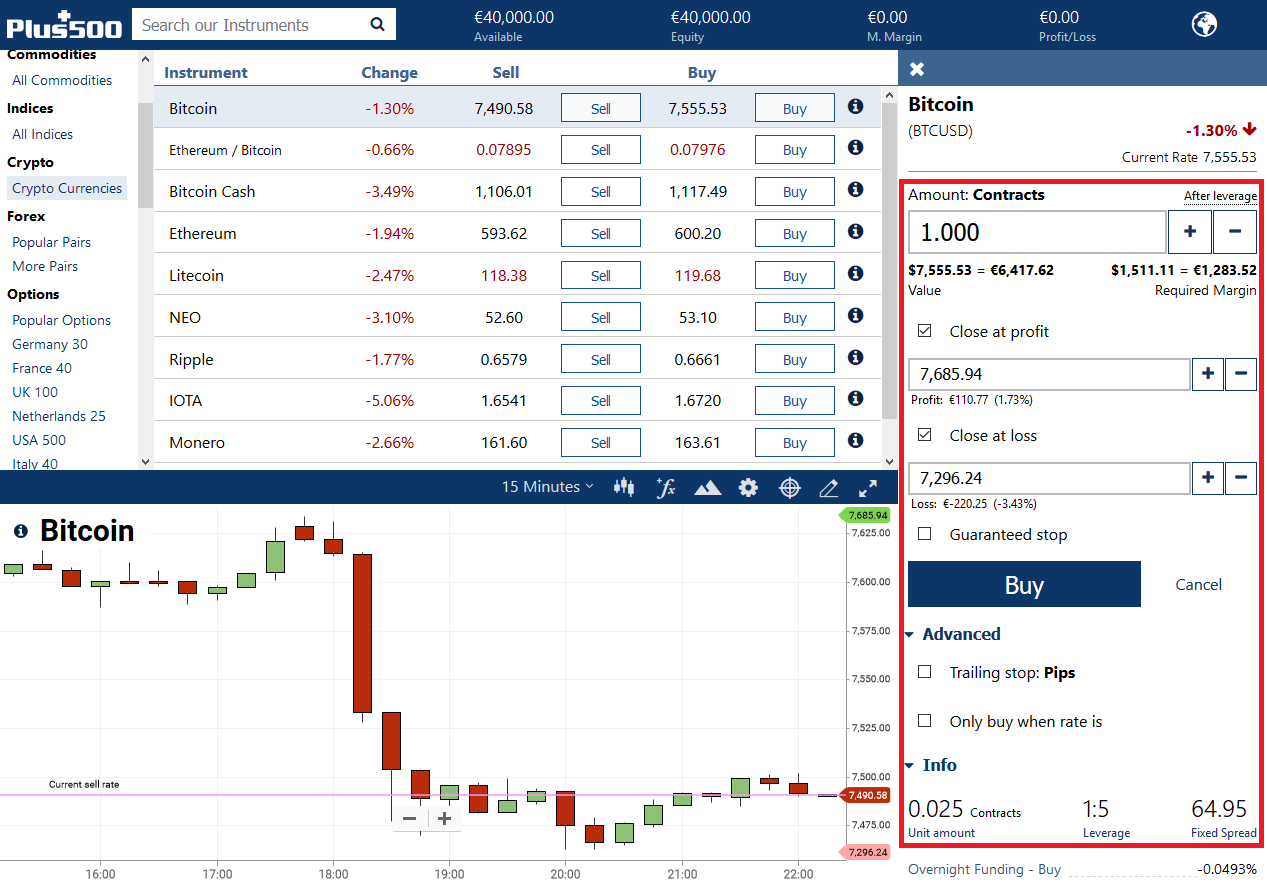 * Prices showed on the image are just illustrative
Once your order has filled you will get real-time information about your open position, including the required margin, the profit or loss and the available funds to trade. Closing your position is straightforward: just click on the 'Close' button that appears next to your position.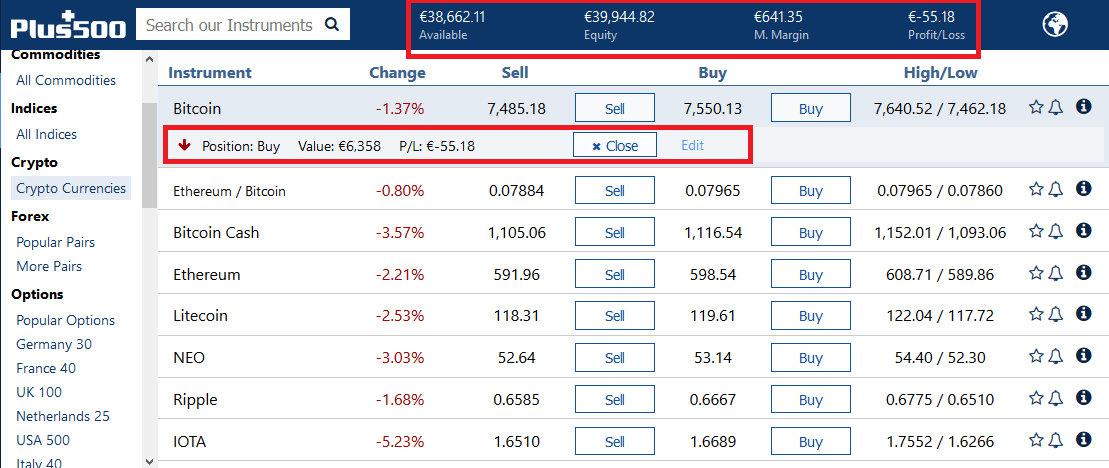 * Prices showed on the image are just illustrative
In addition to Bitcoin, there are other cryptocurrency CFDs you can trade at Plus500 as well. These include CFDs on Ethereum, Bitcoin Cash, Litecoin, Ripple, Monero, IOTA, EOS and NEO. This is definitely a whole new world of assets to explore and find good trading opportunities.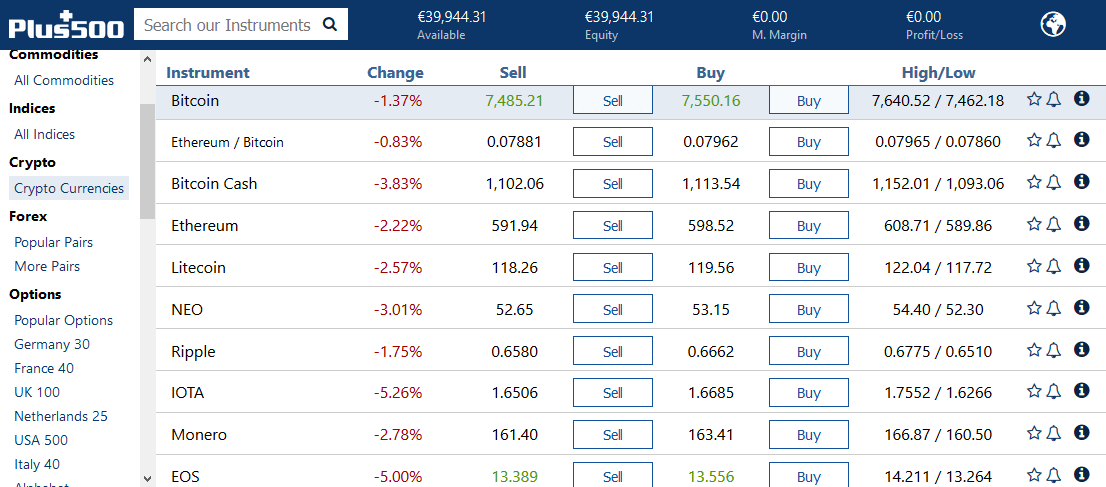 * Prices showed on the image are just illustrative
Shape your strategy
Before positioning yourself in the market, take advantage of all the FXStreet resources to make smarter decisions:
Learn more about trading strategies in our Education section.
Read about the fundamentals of cryptos, the technical analysis and how to design a trading strategy.
Discover the clusters of support and resistance lines where the price is affected and use them for your entries, stops and take profits.
Have a clear view of the market action, explained by FXStreet experts, understanding which are the forces driving the price right now.
Trade safe!
The information provided by FXStreet does not constitute investment or trading advice and should be just treated for informational purposes. Our content may also include affiliate links or advertising from other websites, however we are not responsible or liable for any actions of other websites. Investing in Cryptocurrencies involves a great deal of risk, including the loss of all your investment, as well as emotional distress.