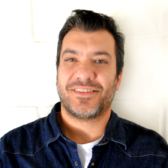 Matías Salord
News Editor FXStreet
Thanks for following this author!
At the start of each trading session, you will receive an email with the author's new posts.
You've unfollowed this author.
You won't receive any more email notifications from this author.
---
Short Bio
Matías started in financial markets in 2008, after graduating in Economics. He was trained in chart analysis and then became an educator. He also studied Journalism. He started writing analyses for specialized websites before joining FXStreet. He held webinars about economics, fundamental and technical analysis. After many years of also covering international politics, he has become an expert in markets who combines technical and fundamental perspectives.
Current work at FXStreet
Matías has been working at FXStreet since 2009. During that time, he has produced live webinars, exclusive analysis, and real-time information. Matías is currently a news writer and analyst, specializing in the Foreign Exchange market. He also covers emerging markets, commodities and bonds. His writing offers information about current events and gives traders perspective. Matías also writes for FXStreet's Spanish website.
Previous financial experience
Matias wrote for several local publications in Argentina about agricultural markets and economics. He also worked for MolFX.
Educational background
Matías graduated in Economics from the Universidad Nacional de Córdoba, in Argentina. He also studied Social Communication there.
"Featured quote"
You've got to know when to hold 'em
Know when to fold 'em
Know when to walk away
And know when to run
You never count your money
When you're sittin' at the table
There'll be time enough for countin'
When the dealin's done
The Gambler, song written by Don Schiltz, popularized by Kenny Rogers.
Extra-curricular activities
Matías enjoys practising sports. He also likes to write about life, politics, stories and economy. He loves all kinds of music, from classical to country. He taught economics and accounting in high school.