Execs Are Betting on Blockchain You Should, Too
I talk to a lot of investors. And while most of them know about Bitcoin and other cryptocurrencies, there is wide spread misunderstanding about the underlying technology behind them. That technology being blockchain.
This misunderstanding, combined with the clobbering that cryptocurrencies endured in 2018, has caused most investors to ignore the tsunami of business that blockchain service providers are enjoying.
And this is a BIG mistake!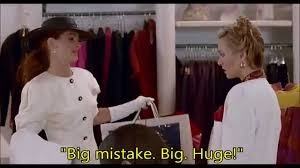 Cryptocurrencies are just one application of blockchain technology. In fact, blockchain tech is already being used to improvea vastrange of industries.
But before we look into those — and the companies benefitting the most from blockchain — let's review the basics.
Blockchain 101
In simple terms, blockchain is a digital system of securely recording transactions.
Blockchain— also known as Distributed Ledger Technology (DLT) — is an open-source software composed of recorded transactions.With traditional databases, transactions are in a central server. With blockchain, however, those transactions are replicated, shared and synchronized to thousands of different locations using peer-to-peer protocol in near real-time.
Each computer individually processes and verifies every transaction.Then, verified transactions are bundled into a "block" and broadcast to all other computers in the network.
This process ensures that transactions are fair without the need for a centralized authority. It also ensures neither party can rewrite the terms once a "deal" is made.
Here's a neat chart that shows the process step-by-step.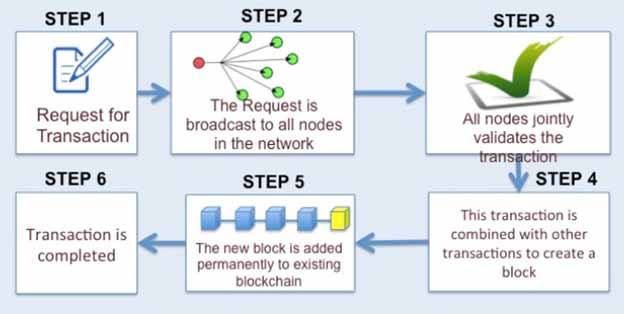 A final benefit to blockchain's consensus mechanismis it prevents cyber criminals from stealing your data as well as your cryptocurrency coins.
Essentially,blockchain makes it possible to trust people that you don't know.
It's a simple idea, but an invaluable asset that can benefit industries well beyond the crypto sphere.
And I'm not the only one to notice. The blockchain business is about to take off like a rocket.
Deloitte, one of the Big Four accounting companies, surveyed.more than 1,000 blockchain-savvy executives around the world.Their findings, compiled in their most recent Global Blockchain Survey Report, show that:
A whopping 95% of those surveyed are investing in blockchain initiatives.

26% are investing between $1 to $5 million on blockchain projects this year and 23% are investing $5 to $10 million.

84% said that blockchain will eventually achieve mainstream adoption.

68% expect to lose a competitive advantage if they don't adopt blockchain technology.

69% believe that blockchain technology will end up replacing traditional systems of record keeping.

84% think that blockchain technology offers superior security than current cybersecurity offerings.
In short: Those numbers prove executives have a lot of confidence in blockchain's ability to disrupt current systems. And that means profits for whoever gets there first.According to Deloitte:
The only real mistake we believe organizations can make regarding blockchain right now is to do nothing ... considering that adoption is getting closer to its breakout moment every day.
Deloitte is speaking from abusiness standpoint. From aninvestor'sstandpoint, I believe the only real mistake you can make is to not include blockchain stocks in your investment portfolio.
There are hundreds of publicly-traded companies throwing massive amounts of manpower — along with mountains of dollars — to get to the front of the blockchain line.
Investing in the right blockchain pioneers could make you very rich. And NOW is the time to invest in them.
When it comes to which companies to invest in, you should look to the Weiss Crypto Investor. Juan Villaverde and I cover what you need to know in the crypto sphere and what stocks leveraged to blockchain you should get behind.
I am confident that you'll be delighted with the results.
Weiss Ratings does not accept any form of compensation from creators, issuers or sponsors of cryptocurrencies. Nor are the Weiss Cryptocurrency Ratings intended to endorse or promote an investment in any specific cryptocurrency. Cryptocurrencies carry a high degree of risk. The SEC, CFTC and other regulators have expressed concerns with the volatility of the market and the actions of sponsors of specific cryptocurrencies. Be sure to review their official consumer alerts such as the public statement on cryptocurrencies by the SEC.
Education feed
---
Editors' Picks
RECOMMENDED LESSONS
Discover how to make money in forex is easy if you know how the bankers trade!
In the fast moving world of currency markets, it is extremely important for new traders to know the list of important forex news...
Chart patterns are one of the most effective trading tools for a trader. They are pure price-action, and form on the basis of underlying buying and...
The forex industry is recently seeing more and more scams. Here are 7 ways to avoid losing your money in such scams: Forex scams are becoming frequent. Michael Greenberg reports on luxurious expenses, including a submarine bought from the money taken from forex traders. Here's another report of a forex fraud. So, how can we avoid falling in such forex scams?
Trading is exciting. Trading is hard. Trading is extremely hard. Some say that it takes more than 10,000 hours to master. Others believe that trading is the way to quick riches. They might be both wrong. What is important to know that no matter how experienced you are, mistakes will be part of the trading process.
---