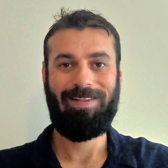 Eren Sengezer
European Session Lead Analyst FXStreet
Thanks for following this author!
At the start of each trading session, you will receive an email with the author's new posts.
You've unfollowed this author.
You won't receive any more email notifications from this author.
---
Short Bio
As an economist at heart, Eren Sengezer specializes in the assessment of the short-term and long-term impacts of macroeconomic data, central bank policies and political developments on financial assets. Eren is deeply interested in using inter-market correlations to have a better understanding of the big picture.
Current work at FXStreet
Eren works as the Lead Analyst for the European session. His responsibilities include writing previews of upcoming events, keeping news reporters up-to-date with the latest market developments, taking part in live coverages and ensuring visitors are provided with relevant and timely content that can help them make the right trading decisions.
Other profiles
Previous financial experience
Eren worked as an analyst and the director of operations at an FX Brokerage firm before joining FXStreet in 2012. After publishing news and analyses for FXStreet Turkiye for five years, he joined the English news team.
Awards
Eren has achieved Dean's List status three times while studying at California State University, Northridge (CSUN). He also received the CSUN's prestigious "Certificate of Distinction in Study of Economics" award in 2009.
Educational background
Eren graduated from CSUN with a BA in Economics.
Top content
"Featured quote"
Economics is a study of cause-and-effect relationships in an economy. Its purpose is to discern the consequences of various ways of allocating resources which have alternative uses. It has nothing to say about philosophy or values, anymore than it has to say about music or literature." ― Thomas Sowell, Basic Economics: A Citizen's Guide to the Economy
Extra-curricular activities
Eren plays basketball regularly and loves spearfishing. He is a big fan of Formula 1, NBA and UFC.