CRASH COURSE TO BECOME AN NFP EXPERT
---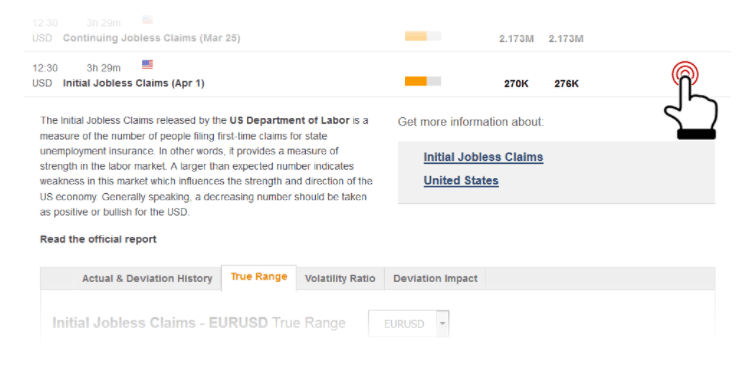 A. What to do BEFORE the NFP release?
The modelling on related macro-economic data will enable you to elaborate a fundamental analysis to estimate the next NFP release. All the reports we are going to describe take different approaches to determine whether labor-market conditions are improving or deteriorating. At the end of the section you will be geared with a checklist to do your own NFP Prognosis.
Most of this data is available on Economic Calendar. Make sure you are familiar with it. Each of the Calendar rows is clickable and this is where the data is to be found. Besides you have a link to the official report below, which in some cases will be needed.
What it is:
NFP stands for Non-Farm Payrolls, which is actually part of the Employment Situation report, released by the US Department of Labor, which also includes the Labor Force Participation Rate, the Unemployment Rate, Average Hourly Earnings and Average Workweek Hours, among many other statistics. The NFP component seems to get the most attention because it measures the actual number of paid employees (full and part time) in the business and government establishments.

Why is it important?
Basically because it provides a a fresh insight into the health of the U.S. economy in general, and the labor-market conditions in particular. If the labor market is growing, that means more people are making money, and the more spending there will be. More spending results in a higher Gross Domestic Product which is the broadest measure of the economy. Employment figures can also have an impact on interest rates, as higher employment will lead to higher interest rates because of central bank policies aimed at balancing inflation with growth. And as you probably know, interest rates is a significant factor for Forex traders
How to read it?
To be accurate, the Non-Farm Payrolls (NFP) number is the total number of employees in all sectors, farming industries excluded, while the RELEASED figure is the monthly changes to this figure. One should therefore use the expression "changes to the NFP number" more than "the NFP number". It measures the number of jobs created or lost in the U.S. economy over the prior month. For instance -200k means 200k jobs were lost in all non-agricultural business. A look at the history of NFP releases is a good starting point to get a feel for the jobs situation.. Try to detect the long-term trend in the NFP figures, if it is rising of falling. (The chart above, taken in June 2017, shows a weakening trend made of lower highs). Look also at the ranges: were recent reports close to historic highs or lows?
Are expectations for the next release far from the last figures or are they too modest? In both cases we might have room for surprises, which we will deal with in the second part of this study.
Where to find it?
On FXStreet's calendar, you can find the report showing its data series on a chart. It is released usually on the first Friday of each month, at 8:30 EST.
Revisions
The number is subject to revision for two months, and those reviews also tend to trigger volatility in the Forex board as we will explain further below.
What it is:
This report, released monthly by Challenger, Grey & Christmas, provides information on the number of announced corporate layoffs by industry and region.
Why is it important?
Because the CGC reflects companies' future plans, its release tends to be more forward-looking than most economic reports. The data is based on previous corporate announcements but it aggregates upcoming layoffs and hirings. Layoff announcements shouldn't be utilized as a sole leading indicator of the NFP, but because of its forward-looking quality, it provides useful hints on where the job market is headed.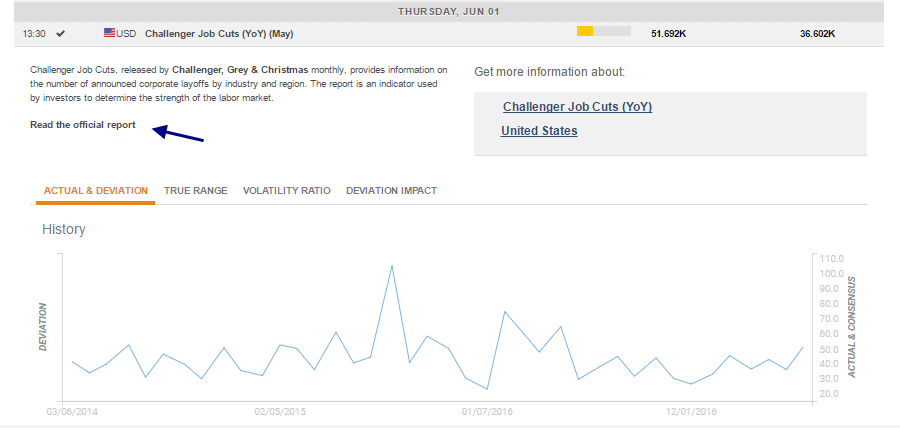 How to read it?
As an NFP expert, you take the numbers and look for a consistent pattern together with the rest of leading indicators. For example, a large and unexpected jump in layoffs, i.e. a high reading, is a bad omen for the job situation and hence for future NFP releases. This is especially true if it happens in a context of economic weakness as expressed in a weak employment component of the ISM manufacturing.
Use this number to discount after you estimate your headline number. For example, if your model suggests 300K jobs at NFP, but the average Challenger Report is 50K job cuts, then reduce your estimation to 250K.
Where to find it?
You can find the report and its historical charts on FXStreet's calendar. It is usually published the first week after the end of the reference month and it is expressed in number of persons (thousands).
Revisions
There have been very few revisions to previously released data. One of these was in May 2017, which was higher at 51,692 than the 36,602 figure in April and the highest since April of 2016. 20,000 of those job cuts were supposedly announced by Ford Motor Company but later this number was reduced to 1,400. Ford had reached out and informed CGC that the 20,000 number was incorrectly reported several weeks before.
As an expert, you might check the original source for the finer readings of the data.