Understanding and using ichimoku
Ichimoku Kinko Hyo (often refered to as Ichimoku or simply Ichi), is a method of technical analysis developed by a Japanese journalist. Here's everything you need to know about it…
Advantages of using Ichimoku
Ichimoku merges three indicators on one graph to provide a clear picture of the market. It simultaneously provides the trader with an eye on previous price trends, clear cross-over points to initiate a position, as well as an indication on the strength of the entry points.

It is a technique which really utilises the power of information, allowing the trader to make very well informed decisions.
Let's jump in at the deep end…
At first sight the combination of three indicators on one graph can be a little overwhelming, but it's a good idea to simply have quick glance at a Ichimoku graph featuring all three indicators. This will give us something to dissect – one indicator at a time – as well as something to refer back to.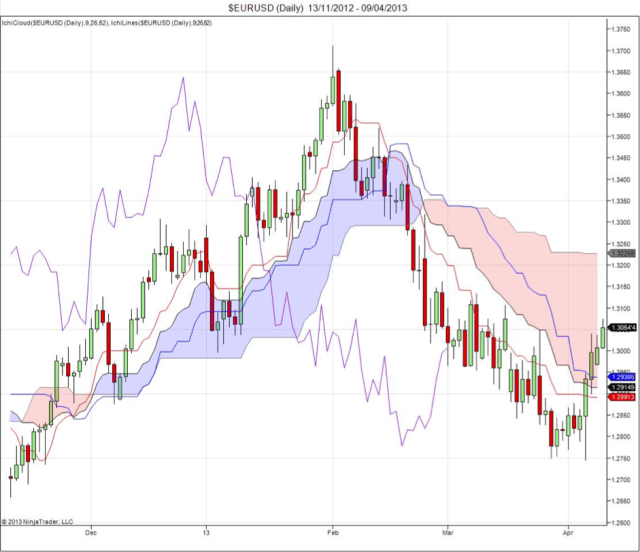 Understanding the three indicators
Kijun-Sen & Tenkan-Sen
Below is the very familiar candlestick chart, with the addition of a red line (Tenkan-Sen) and a blue line (Kijun-Sen); these are our first indicators.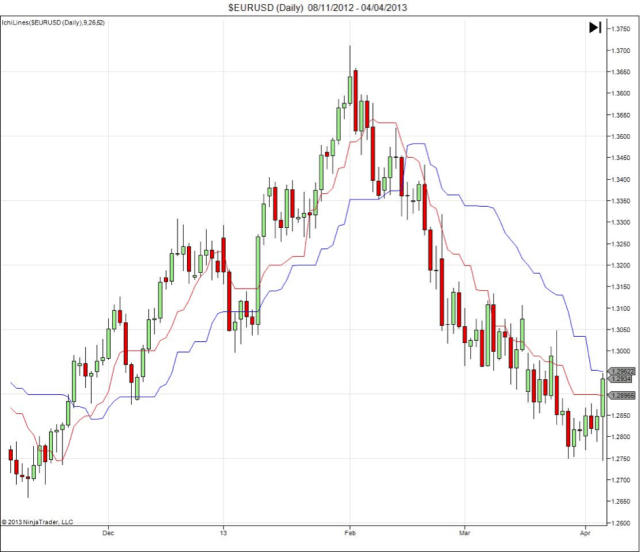 The first thing to understand is that a red over blue line indicates a bullish market, and a blue over red line indicates a bearish market.
However the most critical thing the Tenkan-Sen & Kijun-Sen lines reveal is a clear cross-over point; this is the point at which a trader should consider initiating a position.
Chikou Span
The Chikou Span is represented in the initial graph (and the graph below) by a purple line. When this sits above the price line, it is a bullish market. When it sits below the price line, it is a bearish market.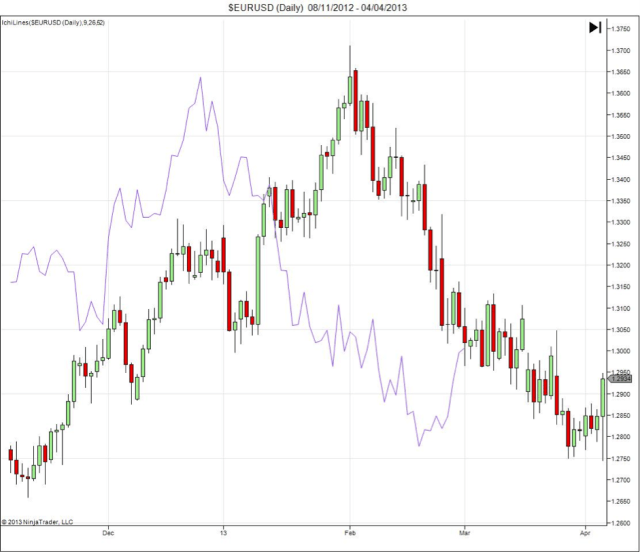 The Chikou Span is directly translated as the lagging line. This is because it is not an up-to-date indicator and always lags at least 24 candles behind the current price – see above.
It is intended to give the trader an eye on previous price trends and give a clue to any potential upcoming trends. For example, if the current close price is lower than 24 candles ago, it would indicate that there is a more bearish price action to come and vise versa.
Clouds
This is potentially the most important indicator of the of Ichimoku strategy.
As with the previous indicators, the first thing to understand is that price above the cloud indicates a bullish market, and price below the cloud indicates bearish. Anything inside the cloud is considered neutral, as resistance is being tested.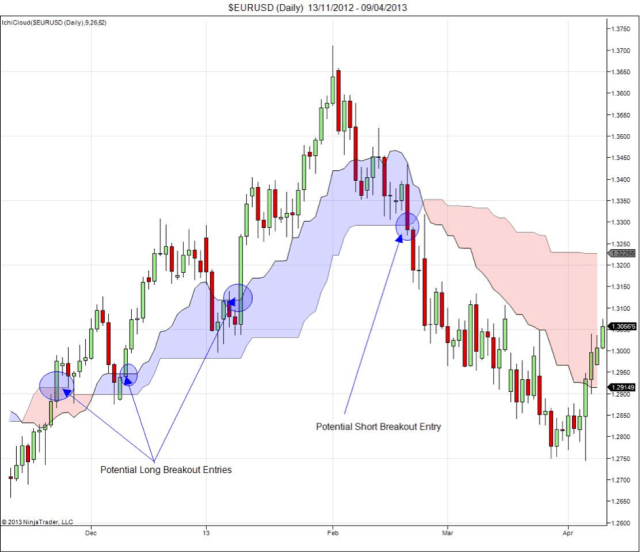 The cloud is a measure of support and resistance and is used to identify potential breakout points. It becomes extremely powerful when it is used alongside the cross-over points provided by the red and blue lines of the Tenkan-Sen & Kijun-Sen.
Note that a cross-over point is the point at which a trader should consider initiating a position.
Below is a graph featuring all three indicators.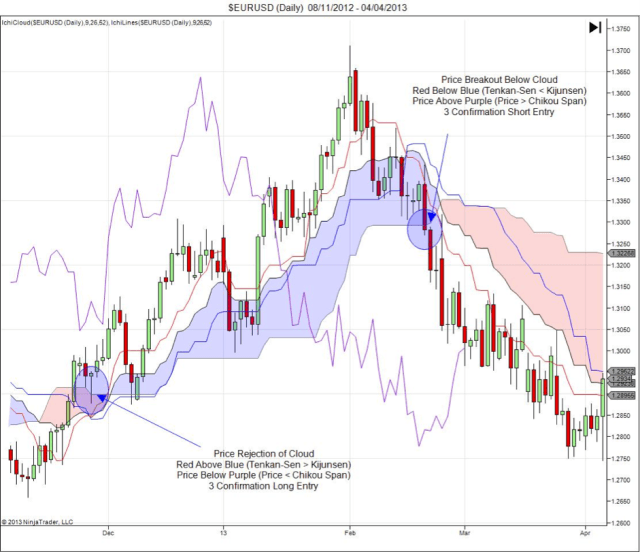 The first cross-over which takes place indicates an upward trend (red crosses over blue), which is supported by the graph. The cloud gives the trader further insight as the cross-over takes place at the bottom end of the cloud (bottom end of resistance), which indicates that the upward trend will have average strength.
A cross-over below the cloud indicates weak strength, and a cross-over above the cloud is the strongest indicator, as it is clear of resistance.
Hopefully this hasn't been too confusing due to the various components of the strategy, but its almost fool-proof indicators will allow you to capture some very profitable trends.
All comments, charts and analysis on this website are purely provided to demonstrate our own personal thoughts and views of the market and should in no way be treated as recommendations or advice. Please do not trade based solely on any information provided within this site, always do your own analysis.
---
Follow us on Telegram
Stay updated of all the news
Editors' Picks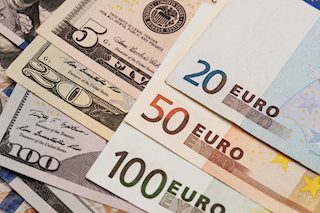 Following the sharp decline witnessed in the European session, EUR/USD has managed to recover modestly and seems to have stabilized above 1.0750 amid an improvement seen in market mood. The pair remains on track to end the week modestly higher.
EUR/USD News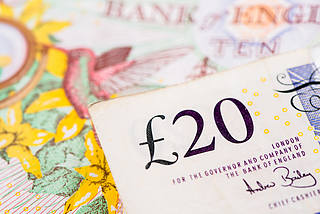 GBP/USD retraced a small part of its daily decline in the American session after having tested 1.2200 earlier in the day. The US Dollar has lost some strength with Wall Street's main indexes rebounding from opening lows, allowing the pair to limit its losses.
GBP/USD News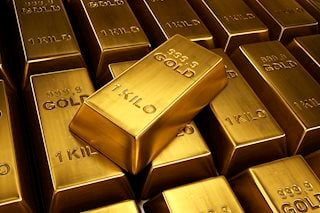 Gold price climbed above $2,000 in the early American session but reversed its direction. With the benchmark 10-year US Treasury bond yield recovering from daily lows after Wall Street's opening bell, XAU/USD struggles to keep its footing and trades at around $1,990.
Gold News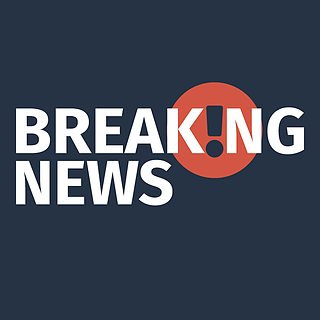 Binance, one of the world's largest cryptocurrency exchanges by trading volume, announced that it halted spot trading. The announcement from the exchange caused BTC and ETH to drop by nearly 3% and 4%.
Read more

Deutsche Bank (DB) is the newest bank that has the market worried. Shares opened down more than 6% on Friday and at the time of writing are trading off -6.8% at $8.99.
Read more
RECOMMENDED LESSONS
Discover how to make money in forex is easy if you know how the bankers trade!
In the fast moving world of currency markets, it is extremely important for new traders to know the list of important forex news...
Chart patterns are one of the most effective trading tools for a trader. They are pure price-action, and form on the basis of underlying buying and...
The forex industry is recently seeing more and more scams. Here are 7 ways to avoid losing your money in such scams: Forex scams are becoming frequent. Michael Greenberg reports on luxurious expenses, including a submarine bought from the money taken from forex traders. Here's another report of a forex fraud. So, how can we avoid falling in such forex scams?
Trading is exciting. Trading is hard. Trading is extremely hard. Some say that it takes more than 10,000 hours to master. Others believe that trading is the way to quick riches. They might be both wrong. What is important to know that no matter how experienced you are, mistakes will be part of the trading process.
---