eToroX

The Leader Enters the Crypto Exchange Business
Launched in April, eToroX is cryptocurrency trading exchange developed by one of the biggest names in the trading industry: eToro. Regulated by the Gibraltar Financial Services Commission (which mimics FCA…), eToroX is one of the few regulated exchanges that have been granted a distributed ledger technology (DLT) license.
Currently, the exchange offers trading in 71 pairs, including Bitcoin, Ethereum, Ripple, Bitcoin Cash, Litecoin and Stellar, as well as the tokenized versions of fiat currencies and precious metals.
exchange profile
Exchange Name

Country

Gibraltar

Yes (using eToro wallet)

US Dollar, Euro, Pound Sterling, Swiss Franc

Cryptocurrencies Accepted:

Bitcoin (BTC), Ethereum (ETH), Bitcoin Cash (BCH), Ripple (XRP), Litecoin (LTC), as well as 12 eToro native stablecoins – 10 pegged to fiat currencies (USDEX, GBPX, EURX, CHFX, CNYX, RUBX, CADX, AUDX, NZDX and JPYX) and 2 pegged to precious metals (GOLDX, SLVRX)

Deposit Methods

Cryptocurrencies

Cryptocurrency Trading Fees

Trading fees are tiered, beginning at 0.10% for takers and 0.24% for makers. In case the monthly volume is above $100,000, both takers and makers will receive rebates. More info can be found at https://www.etorox.com/about/fees/exchange-fees/

Deposit and Withdrawal Fees

Only withdrawals are subject to fees. More details at: https://www.etorox.com/about/fees/exchange-fees/

Support email

Banned countries

Afghanistan, Albania, Belarus, Bosnia and Herzegovina, Botswana, Burundi, Canada, Chad, Congo Republic, Cuba, Ethiopia, Guinea, Guinea Bissau, Guyana, Iran, Japan, Laos, Libya, Mali, Mynamar, Namibia, Nicaragua, North Korea, Palau, Puerto Rico, Samoa, Serbia, Somalia, Sudan, Syria, Turkey, Uganda, United States, US Virgin Islands, Yemen.
---
eToroX
What is eToroX?
eToroX, the company behind the Exchange, is the blockchain division of eToro Group, a group that amongst other services includes the renowned global investment platform, with over 10 million registered users and more than 11 years experience in the financial markets.
eToroX is established in Gibraltar and has been granted a distributed ledger technology (DLT) license from the Gibraltar Financial Services Commission (GFSC). Currently eToroX offers trading in 71 pairs including Bitcoin, Ethereum, Bitcoin Cash, Ripple, Litecoin and Stellar. It is also possible to trade with ten other fiat-based tokenized assets besides the US Dollar, as well as the tokenized versions of Gold and Silver, something relatively uncommon in other crypto exchanges but not at eToroX. The main focus of the company is tokenizing assets on the blockchain, thus providing a bridge between traditional investments and the new world of digital assets.
Opening an Account
Creating an account at eToroX is a straightforward process: just enter your email address, choose a password and follow the step by step KYC process. And that's it. Alternatively, if you are already a fully verified eToro client, you can simply log in directly using your existing eToro credentials.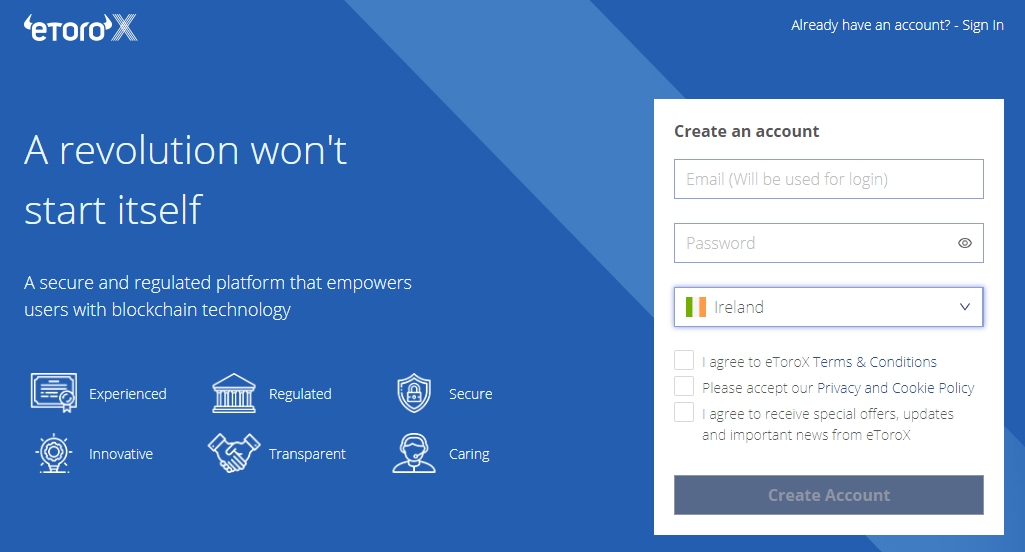 Trading at eToroX
At the time of writing this review, it is possible to trade the following pairs at eToroX:
Bitcoin Pairs: BTC/AUDX, BTC/CADX, BTC/CHFX, BTC/EURX, BTC/GBPX, BTC/JPYX, BTC/NZDX, BTC/USDEX.
Ethereum Pairs: ETH/BTC, ETH/AUDX, ETH/CADX, ETH/CHFX, ETH/EURX, ETH/GBPX, ETH/JPYX, ETH/USDEX.
Ripple Pairs:XRP/ETH, XRP/AUDX, XRP/CADX, XRP/CHFX, XRP/EURX, XRP/GBPX, XRP/JPYX, XRP/USDEX.
Litecoin Pairs: LTC/BTC, LTC/ETH, LTC/XRP, LTC/AUDX, LTC/CADX, LTC/CHFX, LTC/EURX, LTC/GBPX, LTC/JPYX, LTC/NZDX, LTC/USDEX.
Bitcoin Cash Pairs:BCH/BTC, BCH/ETH, BCH/XRP, BCH/CADX, BCH/EURX, BCH/GBPX, BCH/JPYX, BCH/USDEX.
Stellar Pairs: XLM/AUDX, XLM/CHFX, XLM/EURX, XLM/GBPX, XLM/JPYX, XLM/NZDX.
Traders can also operate the following crosses between eToro native stablecoins:
AUDX/USDEX, EURX/AUDX, EURX/CADX, EURX/CHFX, EURX/GBPX, EURX/JPYX, EURX/NZDX, EURX/USDEX, GBPX/AUDX, GBPX/CADX, GBPX/CHFX, GBPX/JPYX, GBPX/NZDX, GBPX/USDEX, NZDX/USDEX, USDEX/CADX, USDEX/CHFX, USDEX/CNYX, USDEX/JPYX, USDEX/RUBX, GOLDX/USDEX, SLVRX/USDEX
Regarding the eToroX trading platform, the interface is clean and user-friendly. Sections are with clearly delimited and can be set up as desired – disabling and resizing the modules so you can customize the interface to your needs.
The charts' look and feel will be familiar to most traders as they are based on the Tradingview API – enabling a quick learning curve as they are similar to those on other crypto trading platforms. As usual, you can use a lot of technical indicators as well as several drawing tools to build your trading strategy rules and set your entry and exit points.
The Order Book has good liquidity across all pairs. eToroX currently works with several market makers, aggregating liquidity from the top 15 cryptoexchanges.
On the other hand, the New Order module seems rather simple, making it ideal for beginners. However, professional traders will be missing many features available in other platforms such as stop orders, as well as the possibility to set stop loss and take profit levels. A program addressing the needs of professional traders is set to be released in the near future.
Trading Fees
eToroX uses a Tiered Fees approach, rewarding traders who trade large volumes. By default, traders are subject to Tier 1 (a lower monthly volume than $100,000), so takers (traders executing market orders) are charged 0.24% per trade, while makers (traders providing liquidity using limit orders) get lower fees, paying 0.10% per trade. When a trader's monthly volume is above $100,000, they get rebates according to the following table:
The rebate calculation is per calendar month and is paid in ETH during the first week of the month.
Deposits and Withdrawals
Users can easily manage their funds, view their past trading history, and even make quick conversions from the Balance window.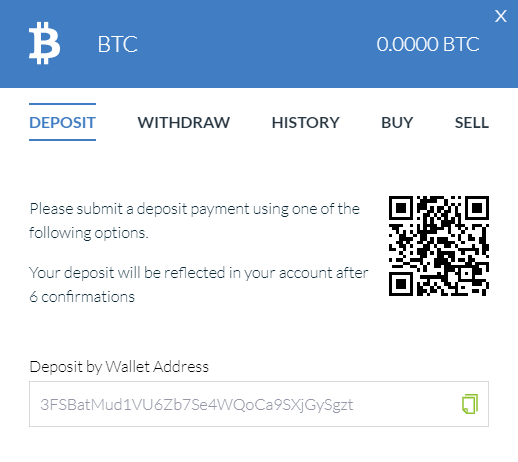 There are no charges for deposits at eToroX. For withdrawal limits and fees please see table below: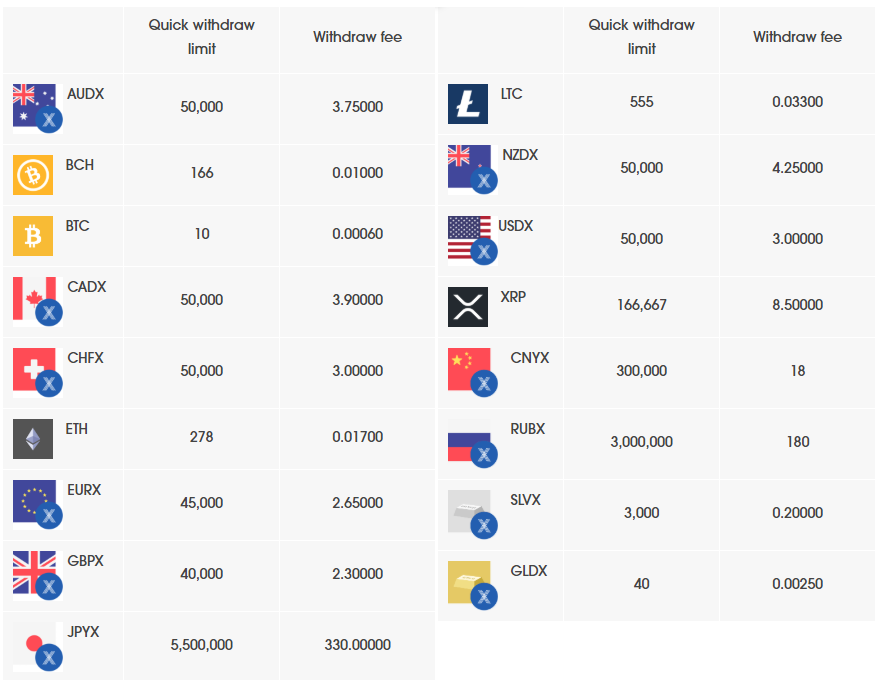 The Quick Withdraw Limit shown in the table above is the maximum amount that can be withdrawn automatically. Higher amounts can also be withdrawn but require approval by eToroX Operations and Compliance departments.
Safety of Funds
As a regulated entity in Gibraltar, eToroX enforces strict security measures to protect its users. In particular, eToroX compels its users to enable Google Two-Factor Authentication (2FA) before they are able to trade, deposit, or withdraw their coins.
Also, eToroX users' funds are stored in cold wallets, thereby minimizing the risk of a hacker stealing crypto assets.
Finally, eToroX offers eToro Wallet, a Multisignature Wallet where it's possible to store your crypto assets while enjoying a higher degree of security, as private keys are segregated into three separate secure environments.
Conclusion
Considering the extensive knowledge and experience of the parent company in the financial markets, eToroX will soon become a relevant competitor in the crypto exchange arena. While some improvements in its platform would be welcome, the security measures that have been taken by the company to protect users' funds, together with the introduction of tokenized versions of fiat currencies and precious metals, undoubtedly make a difference.
To conclude, eToroX provides a safe trading environment, a regulated crypto exchange, and has the support and backing of one of the leading brokers in the world.
Open Account
FXStreet aims to provide useful and reliable information about third parties and companies but terms may change frequently. Despite our best efforts, it is possible that some information may be out of date or contain errors. We recommend consulting their official website. We may also include affiliate links from other websites, however we are not responsible or liable for any actions of other websites. Investing in Cryptocurrencies involves a great deal of risk, including the loss of all your investment, as well as emotional distress.
Crypto Experience

eToro Exchange Experence

Cut through the crowded digital marketplace and work with a leading, regulated financial company. We provide a new kind of crypto experience, with an advanced exchange for the buying & selling of an ever-growing list of cryptoassets. Driven by a powerful engine where your transactions are conducted in the blink of an eye, where high volume brings tight spreads and security need never be a concern, we welcome you to the future of digital exchanges.

Guarantees
No trading/ withdrawal fees
Web & Mobile App trading
Innovative crypto indexes
Best customer experience