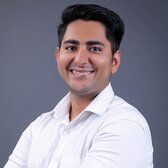 Sagar Dua
Editor FXStreet
Thanks for following this author!
At the start of each trading session, you will receive an email with the author's new posts.
You've unfollowed this author.
You won't receive any more email notifications from this author.
---
Short Bio
Sagar Dua is associated with the financial markets from his college days. Along with pursuing post-graduation in Commerce in 2014, he started his markets training with chart analysis. Eventually, he got well-versed with fundamental concepts and technical analysis. Later, he became an Assistant Professor in a public university and served one year in teaching Business School students. Sagar has been a mentor to various financial markets aspirants. He conducts seminars and webinars on Forex markets and is a motivational speaker.
Current work at FXStreet
Sagar joined FXStreet in 2022 as a News Editor. He specializes in covering articles on the FX domain, base metals, crude oil, and bullions. He also covers news associated with Asian markets. His writing offers information on current status of the FX markets and provides handy information for taking informed decisions to investors and traders.
Previous financial experience
Sagar worked for Invest19 for a couple of years as a ghost writer. He covered the blog section, provided content for social media, and wrote daily and weekly Forex reports for brokers and retail investors.
Educational background
Sagar completed his graduation and post-graduation in Commerce from Maharishi Dayanand University (MDU), India. He is an all-India NET (National Eligibility Test) qualified.
Bibliography
"Featured quote"
Once you have a plan, always invest within the boundaries and parameters of your plan. Never bend your rules to accommodate your guts.
Naved Abdali
Extra-curricular activities
Sagar likes practicing yoga, meditation, power-lifting, skipping and other physical activities. In his leisure time, he cooks Indian food, make cocktails, and spend time with family and friends. Apart from that, he loves playing Poker and reading books on Indian mythology.