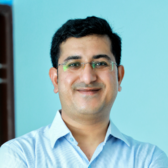 Anil Panchal
Editor FXStreet
Thanks for following this author!
At the start of each trading session, you will receive an email with the author's new posts.
You've unfollowed this author.
You won't receive any more email notifications from this author.
---
Short Bio
Anil Panchal has nearly 15 years of experience in tracking financial markets. With a keen interest in macroeconomics, Anil aptly tracks global news/updates and stays well-informed about the global financial moves and their implications. Additionally, an urge to learn more also enables him to keep track to geopolitical and natural catalysts that recently shook markets.
Current work at FXStreet
Anil Panchal writes news over a range of financial assets, be it fundamental or technical in nature. He also covers macroeconomic updates and shares some key reports, if they appear useful for readers. Being an Asian Session Editor, he also keeps track of the early-day market facts and analyzes the options behavior, yields, etc. to offer the variety and generate interest in financial readings.
Educational background
Anil holds a masters degree in Finance from Ahmedabad University.