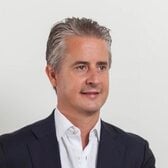 Andrea Zanon
CEO and Founder Empower Capital
Thanks for following this author!
At the start of each trading session, you will receive an email with the author's new posts.
You've unfollowed this author.
You won't receive any more email notifications from this author.
---
Andrea Zanon has 25 years of professional experience as a senior risk management, investment advisor, and Environmental Social and Governance (ESG) Specialist. Mr. Zanon has advised heads of states, ministers of finances and CEOs in over 20 countries in the Middle East and Latin America. Mr. Zanon is now focused on providing risk management, sustainability and investment advice to countries and companies to ensure financial resilience and growth. Mr. Zanon has also spearheaded women entrepreneurship promotion across 15 countries through his foundation and has promoted sustainability via his philanthropic project. Mr. Zanon has a bachelor in Languages and Philosophy from the University of Bologna and a Master of Science and Foreign Service from Georgetown University.