The market expects the Fed to do more
Outlook:
Today is going to scare a lot of people. Judy Shelton may be approved by the Senate for the Fed board, proving the body is riddled with political bias and stupidity. The number of Covid-19 cases is going to surpass 4 million. Initial claims for unemployment benefits may remain near the average of recent weeks, about 1.3 million, or could rise a bit, but will not be falling. Bloomberg Economics predicts initial claims will rise to 1.5 million and continuing claims "may have edged down to 17.1 million from 17.3 million."
So what? The chief takeaway from a worsening in jobs numbers is that the surge in pandemic cases is causing the recovery to stall. Activity will retreat. It may be evident in today's leading index (which is hardly ever right). It may even be evident in tomorrow's retail sales and certainly in purchasing managers indices to come out next week. Again, we are still in Wave 1 and not exiting, let alone having prepared for Wave 2.
Comparisons with data after the Great Recession are becoming more commonplace. The amount of loan loss reserves reported by banks is less than right after that crisis. The year-over-year drop in existing home sales is not as severe as in 2010 and 2011. The FT points out "The real yield on the 10-year Treasury, however, settled at minus 0.92 per cent, a level last recorded in the aftermath of the eurozone debt crisis nearly eight years ago. Such an extreme reading has only once been seen on an intraday basis in the past eight years, at the depth of the market turmoil in March this year." This means, according to some, the market expects the Fed to do more (nobody sees inflation as a problem).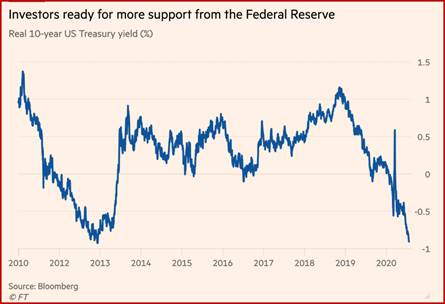 Congress is going to do more. Senate Republicans are getting the message that doing nothing is harming their re-election hopes and cobbling together some spending, like $100 billion to schools and one-time checks to citizens, but not in agreement on the total package, which will likely not come close to the Dems $3.5 trillion. The Tea Party is already up in arms about the likely Senate amount of $1 trillion. Unknown is extension of unemployment bonuses and Trump's cut in payroll taxes. We are supposed to get the news today but don't hold your breath.
The biggest unknown is relations between the US and China. China has been picking fights with others and not just the US—the UK, India—but when China warns the US to think hard about its relationship with China, that's a little scary. China has a big head, not least because today it sent an explorer to Mars. On the back burner is an effort by a small group to expose Chinese companies listed in the US as frauds, despite the SEC far behind and hindered by its own US laws and regs. According to an article in Institutional Investor today, fraud is deep and wide. Luckin is only the tip of an iceberg.
Bottom line—none of these factors is likely to derail the dollar rout. None of them, so far, rise to the level of a Shock.
Stock Market Tidbit: Sorkin at the NYTimes like to poke the stock market: "The five largest stocks now account for 22 percent of the S&P 500's market cap. That bumper performance from Alphabet, Amazon, Apple, Facebook and Microsoft — which all set new highs this month — has led to a record degree of market concentration, according to a new research note from Goldman Sachs full of eye-catching numbers.
So far this year, the top five stocks are up 35 percent collectively. The index's other 495 companies are down 5 percent.

Said five stocks account for 15 percent of the S&P 500's total earnings.

They're trading at a valuation of 31 times next year's estimated earnings, compared with 18 times for the rest of the index."
Separately, the Daily Shot passes on work by Scotia Capital: "Half the stocks in the S&P 500 are lagging the index by over 10%. Only 22% of the members are outperforming by more than 10%. Such divergence is highly unusual."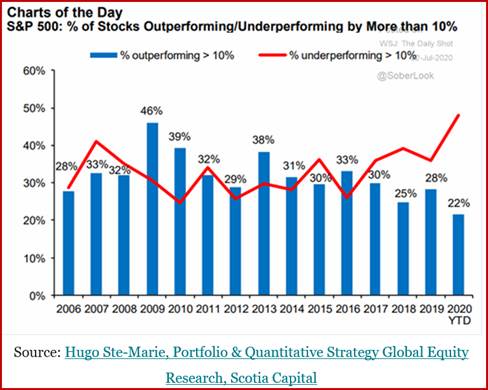 Fun Tidbit: Tesla got a 4th quarter of profits for the first time. The NYT throws some cold water on the news by noting "Tesla sold around 91,000 vehicles in its latest quarter, down 5 percent from the same time last year. Its profits were hugely lifted by sales of emissions credits to other automakers, which were nearly four times higher than in the same quarter last year." Not pertinent to FX but too much fun not to mention.
Tidbit: On the political front, Trump is trying to distract attention from his failures by copying Nixon as the law-and-order guy and sending federal troops uninvited into Portland, OR so far and Chicago and Albuquerque next. He says cities are "far worse than Afghanistan" and riddled with thugs, killers and violent anarchists. Moreover, Biden is their representative and favors defunding the police (not true).
The civil rights protesters are taking the bait—the mayor of Portland, trying to join the protesters last night, was tear-gassed by federal agents. While the overall protests in the 1960's were far bigger, it seems the crime and vandalism component this time is also bigger. Gee, might the GOP be paying criminals and vandals to create the excuse to put on the show? In other words, a false flag.
Alas, it might work, although defending statues of Confederate generals and the names of military bases is popular only among a minority. In the background is the suspicion that unless Trump loses the electoral vote by a big number, he will claim the election was rigged and refuse to step down. Serious people are talking about this out loud on TV.
Meanwhile, even 538.com reports the collective polls have Trump with only a 40.3 approval rating and Biden with 55.7, a 15-point lead. Trump's big donors are leaking away while Biden is getting bigger campaign donations.
Bloomberg reports "Trump's receipts from high-dollar donors plunged 61% in the second quarter, to just $27 million, as he declined to appear on a livestream. Biden's big-donor committee took in more than three times as much -- $86.4 million -- after launching in late April. He attended almost all of the events virtually, talks to donors and invites reporters to listen in." But NPR, surely an honest source, notes that Trump still raised more in total than Trump, meaning the small donor universe. As of July 20, Biden had raised $633 million and Trump, $1.08 billion. Be careful what you read.
---
This is an excerpt from "The Rockefeller Morning Briefing," which is far larger (about 10 pages). The Briefing has been published every day for over 25 years and represents experienced analysis and insight. The report offers deep background and is not intended to guide FX trading. Rockefeller produces other reports (in spot and futures) for trading purposes.
To get a two-week trial of the full reports plus traders advice for only $3.95. Click here!
This morning FX briefing is an information service, not a trading system. All trade recommendations are included in the afternoon report.
Analysis feed
---
Latest Forex Analysis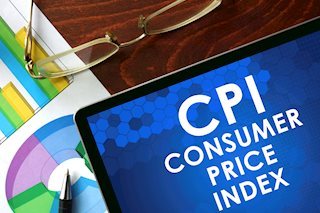 Consumer prices are forecast to stabilize in July following the pandemic collapse in March and April and the partial recovery in the three months since. Inflation quiet despite Federal Reserve emergency liquidity.
Read more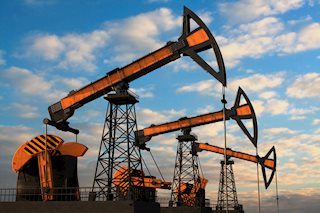 WTI could soon witness a big move in either direction. That's because, the spread between Bollinger bands – volatility indicators placed 2 standard deviations above and below the 20-day simple moving average of price - has narrowed ...
Oil News
---