Ireland or Spain – Which economy is ahead
The chart below shows that having been the started from the same base in 1990 Ireland's GDP per capita, adjusted for prices, is about twice that of Spain. Ireland's GDP figures are overstated due to the inclusion of multinational profits but if we knock off 25% to adjust for this we are still looking Ireland at about 50% ahead of Spain - say, US$65k versus US$43k per capita.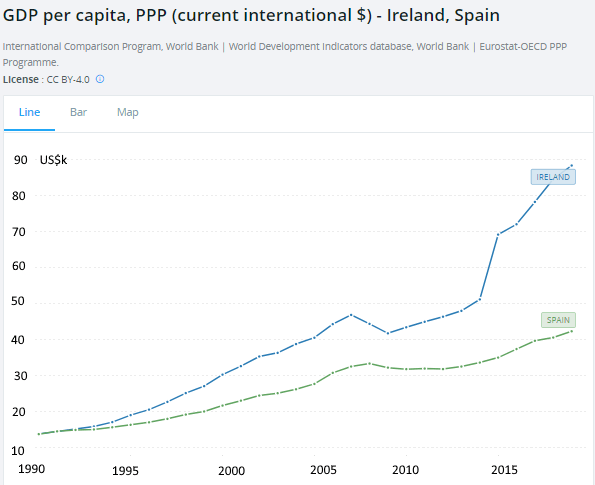 Is this justified? Well there are a number of factors. Ireland has a higher ratio of workers with specialist qualifications in the ICT, Med/Pharma and Financial sectors especially. In Spain a lot of employment in the international sector is in the hospitality sector where qualifications are, on average, lower.
However if we look at other factors the picture is not so clear. Spain's housing stock is about 26m units versus just over 2m units in Ireland so it has 30% more housing units per capita. Spain has Europe's longest high speed rail network whereas Ireland's trains still trundle along 19th century track. Spain has eight cities with a Metro whereas Ireland doesn't have any. Cities with underground lines include Granada, Malaga and Seville where the taxable base represented by the numbers of professional workers is only a fraction of Dublin's.
Another important factor is that most of Spain's manufacturing and internationally traded sectors are indigenous whereas in Ireland multinational companies predominate. That means that while Ireland has overall a higher level of quality international employment it is at the gift of external companies who could one day bestow their gift elsewhere. Thus the internationally traded sector in Spain is more firmly rooted having evolved endogenously.
Some of the factors that affect the Spanish economy are:
(i) Housing - any visitor to Spain will note the predominance of flats in any construction over the last seven or eight decades. Whatever one may think regarding the aesthetics of monotonous breeze blocks (as compared with monotonous housing estates) there is no doubt that they do solve the problem of supply and the higher densities make public transport more functional. In Ireland the planning system evolved to support local & vested interests rather than being for the benefit of the greater good which significantly adds to costs and makes it more difficult to change.
(ii) Insurance - costs in Spain are only a fraction of Ireland's and the main reason is that Quantum is controlled by Parliament whereas in Ireland it is in the hands of the Courts and a runaway train. In Spain and the rest of the EU except Ireland a Book of Quantum for insurance claims is published by the Government and the Courts are bound by this which means that overall levels of compensation, and hence costs, are under Government control. In Ireland the Courts set damages independently such that claims and costs are outside of Government control.
(iii) Health - health coverage in Spain is better and costs less.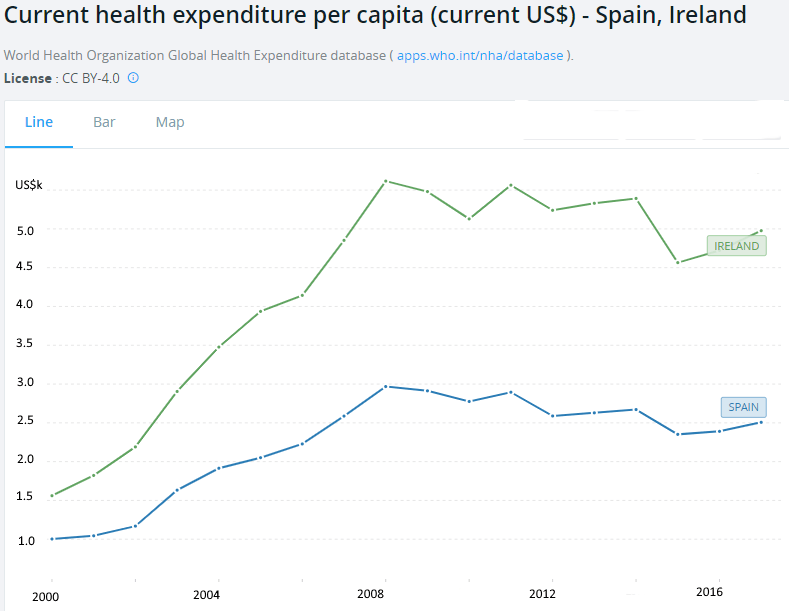 In other words Ireland's lead over Spain is due to the multinational sector only and the prosperity derived from this sector means the political system is able to continually defer taking tough decisions on domestic issues. If Ireland were to fix it's urban and residential planning, transportation, health and insurance issues, which are purely in the realm of domestic policy, it would go a long way to putting the economy on a more stable long term footing. Spain achieves more with less.
Latin Report is not legally responsible for any decisions taken based on the views offered here or in our Reports.
Feed news
Join Telegram
---
Recommended Content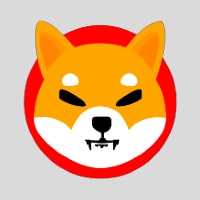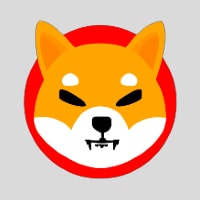 Shytoshi Kusama, the project lead for Shiba Inu, has dropped a teaser about Shiba Eternity games for the SHIB community. Proponents expect the launch of the collectible card game to be a bullish catalyst for Shiba Inu price.
Read more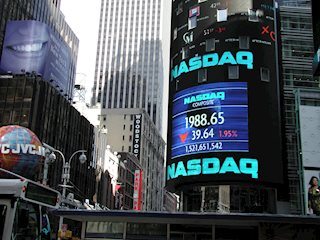 Equity markets remain at the precipice of a technical collapse, which we examine in the weekly long-term chart below. The overall picture remains one of nervousness ahead of the upcoming Q3 earnings season.
Read more
---