What will happen to the FX market if the GameStop (GME Stock) story keeps going on?
Outlook
Today we get personal income and spending, already pretty much known quantities. Income was down 1.1% last time and expected at +0.1% this time, while spending is expected to be the same 0.4% contraction. The PCE deflator may be a little higher at 1.2% from 1.1%, but not even close to the Fed's 2% target. Core PCE is was -1.4% last time and may be -1.3% today. Nobody is expecting any of this information to be market-moving.
We also get Dec pending home sales, the Jan University of Michigan sentiment. And the Baker Hughes rig count . Two Feds are speakers (Dallas Kaplan and San Francisco Daly).
What is market-moving is the developing stock "manipulation" saga in equities. Poor RobinHood had to seek more capital—a billion--because volumes overwhelmed, the reason behind the temporary suspension of trading. The shortfall comes from the clearing hub, the Depository Trust and Clearing Corporation, demanding billions more in cash or credit. The NYT explains this is collateral, not a payout. "Robinhood, which had already drawn millions from its credit lines to meet margin requirements, turned to existing investors for additional capital so it wouldn't have to impose further limits on customer trades." It's a little interesting that a top guy at RobinHood is a former SEC official.
Other bigger brokers suspended or restricted trading, too, but nobody is suggesting capital inadequacy there, at least not yet. Suspension of trading triggered a class-action lawsuit and attention from politicians, including the Senate Banking Committee. The NYT reports comments from various politicians that amply demonstrate we have elected a bunch of nitwits. No less a famous figure than Mark Mobius says leave it all alone and let the markets work. We agree. Note that silver is the latest darling of the "amateurs," who haven't discovered the Commitment of Traders report yet.
The mini-crisis brings forth a bagful of interesting ideas, including the downtrodden vs. the elite and freedom of speech vs. market stability. The so-called amateur traders are not doing anything that the self-styled professionals do not do. In fact, a few of those professionals are getting caught in the bursting bubble, with more to be disclosed. This brings to light that most so-called professionals are not any smarter or more experienced or better trained or less sheep-like than the newbies.
This is the main reason we hardly ever bother to follow the Merrill Lynch fund manager survey. There is never anything in it that a thorough reading of the WSJ and FT doesn't deliver. The fund managers never identify anything we don't already know, or should already know, so their allocations are entirely predictable and just as right or wrong as the rankest of amateurs. The fund managers failed to worry about the taper tantrum in 2013, for example. They failed to expect the stock market meltdown last March, either.
The cases are numerous and show up every 3 to 5 years. We had clients who went out of business when Mr. Greenspan surprised with an unexpected rate hike back in the mid-90's. The most famous case, of course, is the Nobel laureates who failed to see the Asian crisis contaminating all emerging markets, including those Russian assets that were the downfall of Long-Term Capital. In FX, a big case was those who liked the borrow cheap to get into high-yielding Greek bonds, neglecting to perform the logical deduction that if they needed to exit fast, the drachma would have zero liquidity. And zero it was.
What happens to the FX market? If the RobinHood/GameStop story keeps going and gets messier, as seems likely, perception of general all-markets riskiness has only one way to go—up. Risk-on is generally dollar favorable, so we can accept the dollar pushback upward against the bigger dollar pullback downward. For a while. It's still a temporary crisis that will get resolved and conditions will return to the status beforehand. Unless it doesn't and this the start of one of those Big Crises. Then the dollar's resilience will persist. The worst-case scenario is that this sets off a March 2020-level correction in the whole stock market.
Thinking about GDP: Just like last time, the data is confusing and reports can nudge your sentiment toward growth simply by changing the statistical reporting method. WolfStreet has one of the few reports that emphasizes you can get hoodwinked, or hoodwink yourself, depending on how the data is presented.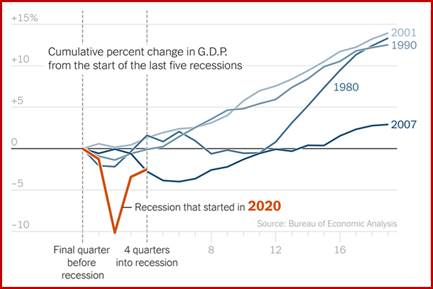 The main report is GDP rose 4%. What does 4% mean? See the charts. The first one is from the NYT and is presented in a hopeful mode. If the recovery proceeds somewhere near the paths of earlier recoveries, we're all right, Jack. Now see the WolfStreet version and repent your sins. These show Q4 GDP grew a measly 1% from the third quarter, adjusted for inflation but not annualized, and that's a decline of 2.5% from Q4 the year before. 4% doesn't appear anywhere. You have to "annualize" the 1% q/q rate to arrive at 4%. It's not a good number.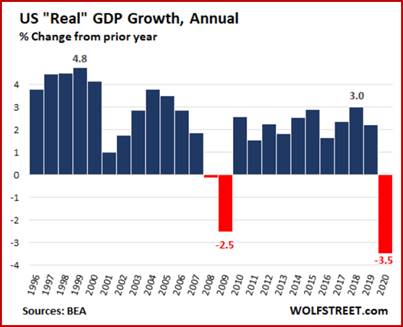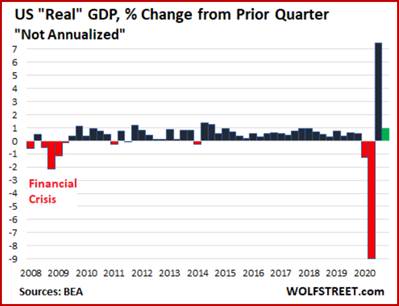 Politics: The US national security agencies are issuing memos to Congress and to the public warning about armed right-wing extremists, mostly white supremacists, endangering elected officials and their families as well as the public at large. They have found infiltration into the police and armed forces, something Germany discovered last year. The latest story from Germany is the conviction and life sentence for a neo-Nazi who shot and killed a politician. The extremists have killed foreigners, especially Muslims, in both places.
Separately, the NYT reports investigations into members of Congress with past connections to the white supremacists groups known to have played a part in the Jan 6 attempted insurrection. They are from the West and South. Most are back-peddling as hard as they can now, but not all, including the Arizona representative whose own family turned him in. In case anyone has any illusions about "change from within" the Republican party, consider that House minority leader McCarthy visited Trump in Florida yesterday and reports Trump promised to help the party win 2022 mid-term elections. Oh, dear.
---
This is an excerpt from "The Rockefeller Morning Briefing," which is far larger (about 10 pages). The Briefing has been published every day for over 25 years and represents experienced analysis and insight. The report offers deep background and is not intended to guide FX trading. Rockefeller produces other reports (in spot and futures) for trading purposes.
To get a two-week trial of the full reports plus traders advice for only $3.95. Click here!
This morning FX briefing is an information service, not a trading system. All trade recommendations are included in the afternoon report.
Feed news
Join Telegram
---
Recommended Content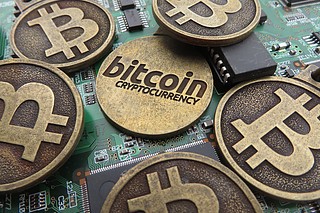 Crypto markets moves higher. Placing a countertrend short is still ill-advised. Higher targets remain possible for all assets. BTC tests the lower half of an ascending channel for the third time. ETH continues displaying bearish divergence but underline market strength remains. XRP in a make-or-break situation.
Read more

Tap into our 20 years Forex trading experience and get ahead of the markets. Maximize our actionable content, be part of our community, and chat with our experts. Join FXStreet Premium today!
BECOME PREMIUM
---