Retail Sales Data Rose by The Largest Amount
Retail sales rose by the largest amount in four months in July, a sign that consumer spending remained firm ahead of the recent escalation in international trade. In spite of the fall in manufacturing output, two regional Fed indices were higher than expected in August.
Dollar index continued to shock upward, and stand above the 98 level. The below support is in the vicinity of 97.90 today, and the above pressure is in 98.60 line.
The rebound in the dollar index weighed on the euro and market expectations for the ECB's September rate cut remained 100 per cent, with a 10 basis point cut of 16.7 per cent and a 20 basis point cut of 83.3 per cent, compared with less than 50 per cent in the previous session.
The euro came under pressure against the dollar at the 1.1100 level, with upward pressure around 1.1140 today and downward support around 1.1050.
British retail sales data lifted the market, with sterling up more than 0.5 per cent. But a second referendum is unlikely, as Mr Corbyn, Mr Johnson's strongest rival, will struggle to win support from the Brexit opposition. There has been no further news on the outlook for Brexit this week, so the pound has been short of further downward momentum for the time being.
Sterling against the dollar yesterday high back, rebound to 1.2150 intraday, but then fell back to 1.2100 below. Today below support is still at 1.2000 level, above the pressure around 1.2200.
XAU/USD
Treasuries continued to rise across the board, with 10-year yields briefly falling below 1.5 per cent, led by shorter-dated debt. Fed chairman Colin Powell is expected to be ready to cut interest rates again in September as a precaution against a global slowdown. Gold is still seen as the natural haven from which to hedge against bond problems.
The gold price continues to shock upward, constantly challenging the previous high. And the current gold price trading around 1520, put pressure is still at 1535 line, If the breakthrough is expected to see high near 1550, below the short-term support at 1515, then below the support at 1500 level.
USO/USD
The trade situation is clearly adding to recession fears, The U.S. oil and gas continued to fall, breaking the 54 barrier at one point and closing at 54.70 at a low of 53.77. It is now trading around the 55 barrier, with the upper pressure around the 200-day moving average of 56.30 and the lower support at the 54 barrier.
PS: Today Focus
17:00 euro zone quarterly adjusted trade account for June (eur100 million)
20:30 us housing starts in July (%)
20:30 monthly construction permit rate in July (%)
22:00 the preliminary consumer confidence index of the university of Michigan for August
Information of this article contains forward-looking statements that involve risks and uncertainties. Markets and instruments profiled are for informational purposes only and should not in any way come across as a recommendation to buy or sell in these assets. You should do your own thorough research before making any investment decisions. CPT Markets does not accept any liability whatsoever for any loss arising from any use of this article or its contents. This article is not construed as an offer to sell or solicitation of any offer to buy any of the currencies referred to in this article.
Analysis feed
---
Latest Forex Analysis
The US Dollar Index (DXY), which gauges the buck vs. a bundle of its main rivals, is now accelerating the downside and threatens to test the key support at 98.00 the figure.
US Dollar Index News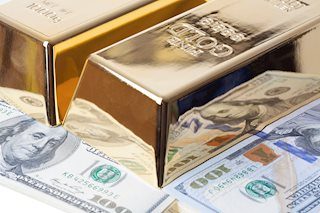 With the geopolitical tension concerning Hong Kong and Iran crossing wires, optimism surrounding the US-CN trade deal seems to fail in luring the Gold sellers. As a result, Gold takes rounds to $1,468 during early Asia.
Gold News
---