Stagflation: What is the effect on the dollar?
Outlook: CPI today and retail sales Friday are the mover-and-shakers, and CPI today could bring drama. Inflation is expected at about 5.2% but the Fed's narrative is that this is temporary spike and will fall back when special one-time factors fade away. The bond boys may be buying it but the general public is not. They think it will persist. The equity guys may agree with the public instead of the Fed, and this bodes ill for the indices.
We are not the only party out there who is genuinely afraid the Fed has it wrong about inflation being temporary. Bloomberg has been making the point relentlessly that supply constraints are here to stay for longer than a few months.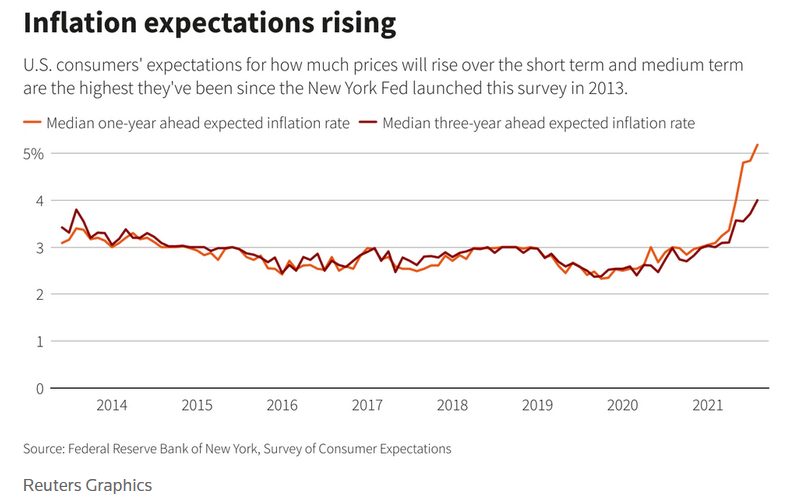 As Reuters reports, "Year-ahead inflation expectations increased for the 10th straight month to a median of 5.2% in August, according to the monthly survey of consumer expectations. Inflation expectations over the next three years increased to a median of 4.0%. Both metrics are at the highest they've ever been for the survey, which was launched in 2013.
As we know, expectations can become a self-fulfilling prophecy when it comes to inflation—the expectation causes the inflation via spending behavior (like hoarding). Sadly, people expect their earnings from wages and salaries not to keep pace and to rise only 2.5% in the one-year horizon. They also expect prices in key categories to exceed 5.2% in housing, energy, food, healthcare and more, and by a lot. WolfStreet finds a juicy nugget—those who are 40-60 expect higher inflation (4.8%) and those under 40 (4.5%). That's experience speaking.
Experience also speaks when we consider oil prices. With the US inventory contracting and even with N. American output from fracking and shale at higher levels now that prices are over $70, it may not be enough. Over the summer some economists spoke of $100 oil. We would not be surprised. It goes without saying that the 9.2% rise in gasoline prices expected in the NY Fed survey is probably nowhere near enough. If food also goes up by the 7.9% forecast, that's a big chunk of the weekly household budget and nurturing an inflation mentality that contributes to inflation.
As noted before, stagflation is looking less preposterous. So, what is the effect on the dollar? We are getting risk-on/risk-off whipsaws during the same day or two, so it's hard to say just yet, but we think we smell a risk-off mood pending. Weirdly, the market can be risk-off in the face of expected rising interest rates and still favor the dollar. But it's Tuesday and time for a pullback from whatever went before, so caution is called for.
---
This is an excerpt from "The Rockefeller Morning Briefing," which is far larger (about 10 pages). The Briefing has been published every day for over 25 years and represents experienced analysis and insight. The report offers deep background and is not intended to guide FX trading. Rockefeller produces other reports (in spot and futures) for trading purposes.
To get a two-week trial of the full reports plus traders advice for only $3.95. Click here!
This morning FX briefing is an information service, not a trading system. All trade recommendations are included in the afternoon report.
Feed news
---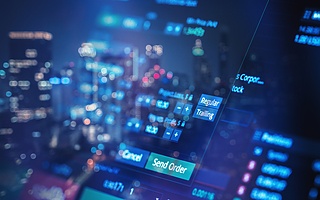 The latest development in the ongoing SEC vs. Ripple lawsuit is that documents are classified as privileged and blocked for public viewing. Though institutional investors are yet to take big bets on the altcoin in 2021, retail investors are actively trading in XRP.
Read more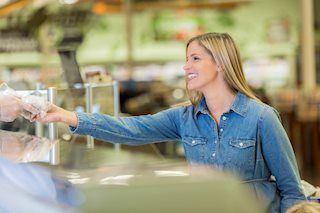 Consumer outlook expected to rebound to 72.2 in September. August's 70.2 was the lowest since December 2011. Inflation and Delta variant wearing on US optimism. Markets face negative dollar risk from fading consumer optimism.
Read more
---