As soon as the China deal falls apart the dollar will rise again
Outlook:
The calendar today includes housing starts and permits, industrial and manufacturing output, and the October Philadelphia Fed survey. All are likely to be named "disappointing" and point to recession on its merry way, almost no matter what the nuance of the data shows. The Philly Fed survey should be watched for employment. And while we might think industrial production is the main focus, it's a smallish and shrinking part of the economy compared to households and their spending. Therefore, the usually neglected housing starts and permits is the more promising place to look for sentiment on the immediate future of the economy. Housing starts is a tiny contributor to the economy, hence the neglect, but perhaps a good bellwether for lower interest rates finally moving into housing finance—it has been slow to reach mortgage rates—as well as sentiment among both homebuilders and home buyers. This is an unconventional way of looking at things, it should go without saying.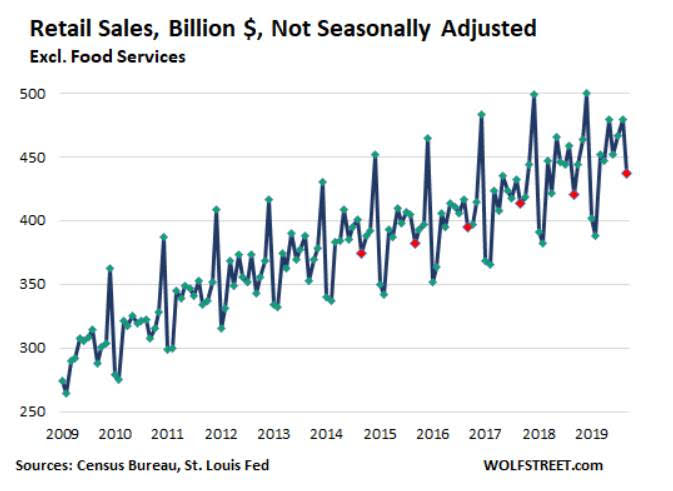 Meanwhile, the "bad" retail sales yesterday prodded Macroeconomic Advisers to cut its Q3 GDP forecast to 1.3% after 2% in Q2 and 3.1% in Q1. The Atlanta Fed was less impressed and revised its Q3 forecast higher, from 1.7% yon Oct 9 to 1.8% yesterday. We always get a kick out of its summary: "After this morning's retail trade reports from the U.S. Census Bureau and last week's price releases from the U.S. Bureau of Labor Statistics, increases in the nowcasts of real personal consumption expenditures growth and real net exports were partially offset by a decrease in the nowcast of real private inventory investment."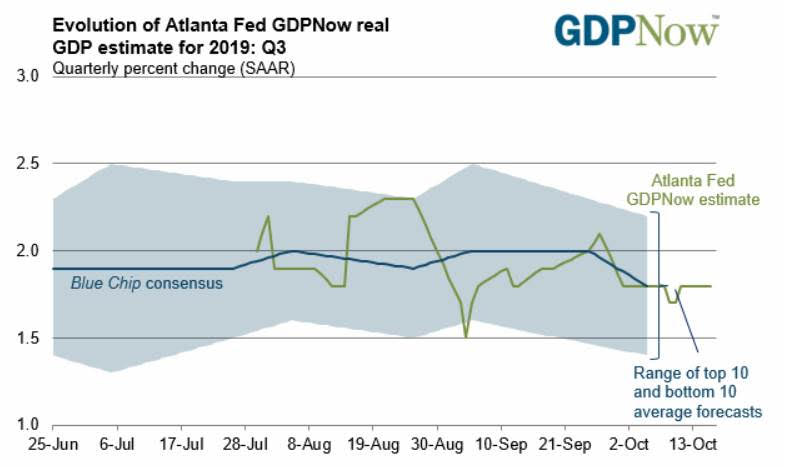 In other words, the consumer and the exporter are still going strong and the weakness lies in inventory builds, presumably because those in a position to build inventories are still expecting a drop in demand—that is not appearing. The Atlanta Fed doesn't say so, but that opens the door for inventory builds if household spending and exporting keeps rising. We get another Atlanta Fed forecast today.
In a nutshell, there is more expectation of slow growth/recession than there is evidence to support the idea. Still, the China trade war is far from resolved and can still fail, so the Fed's use of "uncertainty" as a justification for the Oct 30 rate cut is still valid. And some market players just love the idea of endlessly falling interest rates, down to zero and below, that would trigger yet more stock market rallies. See the chart from the Chicago Mercantile Exchange.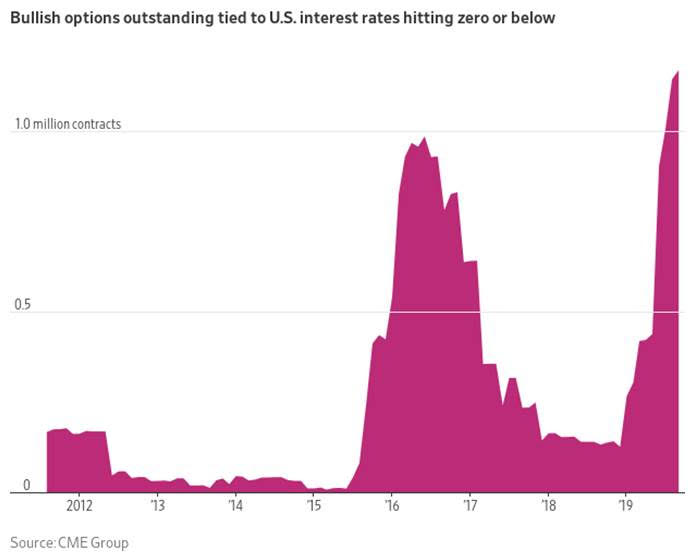 Gee, free money to speculate! We are not hearing a single word from the Fed or regulators about managing margin. Greenspan said he disapproved of raising margin requirements in a falling rate environment because it hits the little guy and doesn't hit the big banks and funds. Besides, you don't know you have a bubble until it bursts. A stupid remark from a smart man. It looks like we are doing it again, too. Some Fed speakers have named a bubble as an unintended consequence of lowering rates, but just because it's unintended doesn't mean it should not be managed.
Where does the dollar go from here? We might wonder if an okay US economy still fades a bit in the face of a recovering European and perhaps UK economy. We guess the dollar is not getting a comeuppance right now, just a correction. As soon as the China deal falls apart—or the Brexit deal, come to that—the dollar will rise again.
US Politics: Trump had a meltdown in the Oval Office, shouting insults at House Speaker Pelosi, who walked out. Senate minority leader Schumer went with her. The subject was abandoning US allies, the Kurds. Trump says all there is over there is sand, lots of sand, and it's fine if Russia wants to become the next target of ISIS. Congress is pretty upset, with Trump supporter Lindsey Graham having his own meltdown on TV. The House passed, with plenty of Republican support, a condemnation of Trump's troop withdrawal.
On the impeachment inquiry front, Trump has demanded no compliance by any administration official to any Congressional request, even a subpoena. The problem, of course, is that Congress has no teeth. It could impose a fine or jail someone for contempt of Congress, but that hasn't been done since 1927. A few are bravely defying the order. Another State Dept official—this one a top aide to the Secretary of State—testified yesterday that he resigned because of the danger to the US' reputation and security of having amateurs with a political agenda managing shadow foreign affair operations. Pressuring Ukraine "to procure negative information on political opponents" would "have a serious impact on foreign service morale and the integrity of our work overseas." No kidding.
Meanwhile, the letter Trump composed and sent to Turkey's Erdogan is an object of ridicule. Trump ends with this warning "Don't be a tough guy. Don't be a fool." The US wants to "keep" Turkey as an ally—it has a bunch of our nukes, for one thing—and Trump has another reason—not only a twin Trump Towers in Istanbul but also investment in over 100 other enterprises in Turkey, according to one source (but we can't find confirmation using plain-vanilla Google). The conflict of interest is obvious with the Towers alone.
An increasing number of analysts are noting that Trump's conduct toward Ukraine and Syria are aiding Putin. What is the background story? Even House Speaker Pelosi said to Trump "Everything with you leads to Putin." A developing narrative has it that Trump (and Rudy et al.) has been snookered by a disinformation campaign from Russia asserting the CIA/FBI "conspiracy" against Trump in the 2016 election and the Biden son corruption story, the two things Trump extorted the Ukraine president about that led to the blossoming of the impeachment inquiry. The con man got conned. We say the best evidence for this version of events is Trump telling the press in Helsinki he believed Putin over his own intelligence services. This makes sense only if Trump believes in the Deep State conspiracy. So, in a sense, the main question about the origin of all this hoo-ha is "Who invented the Deep State conspiracy theory and sold it to Trump?" Note that Roger Stone's trial begins Nov 5 (election day).
Getting a conspiracy theorist to abandon the theory is like getting an addict to quit heroin. It's entirely possible Trump will never let it go, even after he is out of office.
---
This is an excerpt from "The Rockefeller Morning Briefing," which is far larger (about 10 pages). The Briefing has been published every day for over 25 years and represents experienced analysis and insight. The report offers deep background and is not intended to guide FX trading. Rockefeller produces other reports (in spot and futures) for trading purposes.
To get a free trial, please write to [email protected] and you will be added to the mailing list..
This morning FX briefing is an information service, not a trading system. All trade recommendations are included in the afternoon report.
Analysis feed
---
Latest Forex Analysis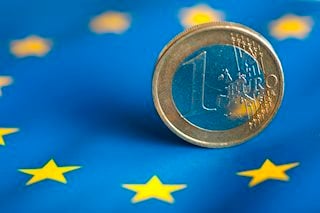 EUR/USD extends the advance above 1.1150, hitting fresh three-month highs amid relentless US dollar selling and the upbeat market mood. The focus remains on the Eurozone/ US PMIs.
EUR/USD News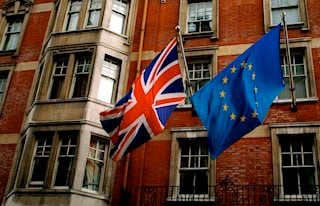 GBP/USD climbs back above 1.2400 as the US dollar sees a fresh leg lower in early Europe. Calls of further help to British employees add to the upside momentum. The UK/US PMIs eyed ahead of Tuesday's Brexit talks.
GBP/USD News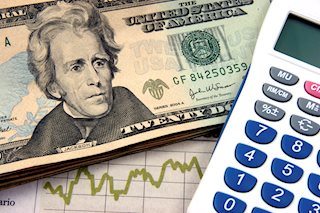 The US dollar took a beating across the board starting out a new month/ week, as markets breathed a sigh of relief on the US' softer stance on China. The dollar weakness was also backed by the escalating riots in the US cities, with curfews imposed on major cities.
Read more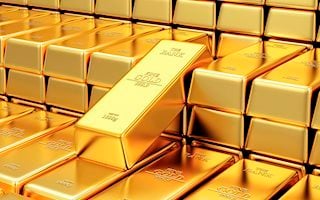 Gold bulls gathering pace for the next push higher. The extension of last week's rally in the yellow metal is mainly driven by the sell-off in the US dollar across the board, in the wake of US-China trade war relief and escalating US riots.
Gold News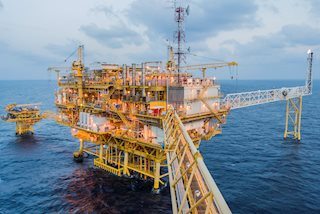 WTI seesaws around 7-week-old resistance line, retreats from highest since March 11. A short-term ascending trend line on the bears' radars during the pullback. 100-day SMA, 61.8% Fibonacci retracement together offers strong upside barrier.
Oil News
---