US inflation report is due today

US stocks close lower
US stock market ended lower Thursday led by energy and industrial shares. The S&P 500 slipped 0.1% to 2853.58. Dow Jones industrial average lost 0.3% to 25509.23. The Nasdaq composite however inched up 0.04% to 7891.78. The dollar resumed strengthening: the live dollar index data show the ICE US Dollar index, a measure of the dollar's strength against a basket of six rival currencies, rose 0.5% to 95.57 and is higher currently. Stock index futures point to lower openings today.
S&P 500 finished lower after mixed economic data: initial jobless claims fell more than expected last week, while the July producer price index was flat, compared with expectations for a 0.2% rise. Today at 16:30 CET July inflation report is due, the headline inflation is expected to remain steady at 2.9%. It is widely believed a slowing inflation may weaken the case for four interest rate hikes this year instead of three as previously planned.
CAC 40 opens lower than main European indices
European stocks edged up on Thursday led by consumer discretionary shares. The euro joined British Pound's decline against the dollar with both currencies lower currently. The Stoxx Europe 600 index added 0.1%. Germany's DAX 30 rose 0.3% to 12676.11. France's CAC 40 ended fractionally higher at 5502.25 while UK's FTSE 100 fell 0.5% to 7741.77.. Indices opened 0.4% - 0.9% lower today.
Pound retreat persists as no light is seen in the end of tunnel with no progress in Brexit talks. Today at 12:30 CET second quarter UK GDP report will be released, Q2 stronger growth is expected compared with the first three months of the year.
Asian indices mixed
Asian stock indices are mostly higher today. Nikkei ended 1.3% lower at 22298.08 led by slumping semiconductor shares despite better than expected GDP report as yen turned higher against the dollar. Chinese stocks are mixed: the Shanghai Composite Index is 0.04% higher while Hong Kong's Hang Seng Index is down 0.9%. Australia's All Ordinaries Index is down 0.3% while Australian dollar's slide against the greenback accelerates.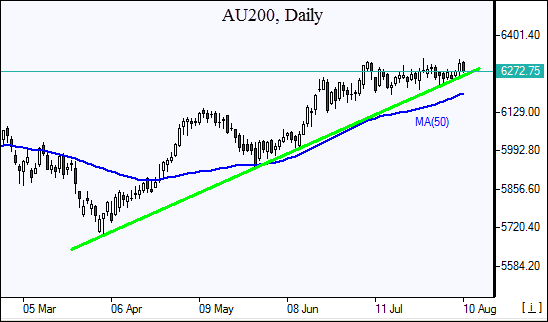 Brent lower
Brent futures prices are extending losses today. Prices ended lower yesterday after report China's crude imports were lower in 2018 due to waning appetite from the country's smaller independent, so-called teapot, refineries. October Brent lost 0.3% to $72.07 a barrel Thursday.
---
For a free one-month trial of our 'Daily Alerts', send a request to sales@quantcycles.com and/or visit our website.
This overview has an informative character and is not financial advice or a recommendation. IFCMarkets. Corp. under any circumstances is not liable for any action taken by someone else after reading this article.