The US and China in the international system
In the aftermath of World War II the United Nations was founded and it embodied the principle of sovereignty which is the basis for the international system today. Every Member State of the UN is sovereign. So what does this mean exactly?
In business parlance a sovereign state is like an independent company whereas a state that is not sovereign (e.g. Florida or Guangdong) is like a subsidiary company which can only make decisions with the consent of it's parent company. In business many independent companies are highly dependent on their main business partners so much so that in a dominant relationship one company may, in practice, dictate to another company with whom they may do business even though the other company is technically independent.
Similarly in the international system there are hierarchies or power and power relationships at multiple levels so that sovereign states choose to align with dominant powers based on a mix of economic and security factors and, in so doing, limit their freedom of decision so as not to alienate the power to which they are aligned.
During the Cold War the US dominated the countries within it's alliance systems as well as other free states which choose to follow the US lead on all matters of substance. Nonetheless, the relationships between the US and it's allies were subject to normal diplomatic rules under the UN concept of sovereignty. These would include protocols governing trade, investment, movement of people etc. Any disputes would be subject to dispute resolution mechanisms.
Since the end of the Cold War, with the reduction in international tension, there has been a certain divergence of foreign policies between the US and it's allies; e.g. in the case of Cuba both the EU and Canada moved to establish normal diplomatic relations whereas the US has barely budged from it's hostility to the regime.
Recently the US has moved beyond the traditional concept of sovereignty and tried to exert influence by secondary sanctions and long arm jurisdiction. In fact the US is heading into the unprecedented territory of not only attempting to limit the sovereignty of it's allies but also in trying to determine the foreign policies of it's adversaries.
This has included:
(i) Threatening individuals and entities who use the US $ for trade with countries the US has blacklisted since such transactions require a correspondent US bank. In practice, this will mean that the US $ will be dropped for these transactions in favour of an alternative currency such as the Euro or the Yuan. Heretofore countries were free to use the US $ without fear of retribution as the US saw it as in it's own interests to encourage it's use.
(ii) Sanctioning companies who sell products (e.g. smartphones) which include US made components such as semiconductors in blacklisted countries. In practice this means that countries such as China will be incentivised to develop their own semiconductors and other components to avoid US extra-territorial reach.
(iii) Sanctioning companies doing business with blacklisted countries. In practice this means that such companies cannot transact business with the US. However it will not be beyond the imagination of countries to create parallel entities; those which trade with blacklisted countries only and those which trade with the rest of the world. Thus these penalties will have little practical effect.
(iv) Using it's position in the Swift payments network to coerce compliance with it's policies. This institution was not designed to be an arm of US foreign policy and using it for this purpose only serves to undermine it. It has thus encouraged the development of blockchain based workarounds to bypass the Swift network.
(v) A principle of international law is that you obey the laws of your own country. The case against the Huawei executive Meng (detained in Canada) is that she broke US laws while operating in Hong Kong. If this were to be followed to it's logical conclusion it would mean that China would have the right to arrest a US executive for breaking a Chinese law he had never heard of while working in his own country. This is clearly diplomatic nonsense.
Where the US tries to exclude a country from international trade altogether it should be noted that that is contrary to the UN Charter and assumes that the US has the power to dictate foreign policies to other countries not within it's natural sphere of interest. Any fines levied on foreign companies for trading with blacklisted countries are a breach of diplomatic protocol and would be subject to counterfines.
Thus the US is starting to behave in a way which is in conflict with the UN Charter and the concept of Sovereign States. It is in this position because it is trying to exert influence that goes beyond it's economic weight. Also note that it is availing of powers that can only be used once. If it continues on this course it will start a new Cold War with China representing the competing power.
This column has argued that China is, in fact, already a much larger economy than the US and if countries are forced to choose between the two they will be more likely to align themselves with where they see their economic interest lying. Twice as many countries have China as their main trading partner compared with the US. The likely outcome is the opposite of what US policies are intended to achieve.
From the chart below it can be seen that China does four times as much maritime trade as the US and this is a good proxy of it's international influence.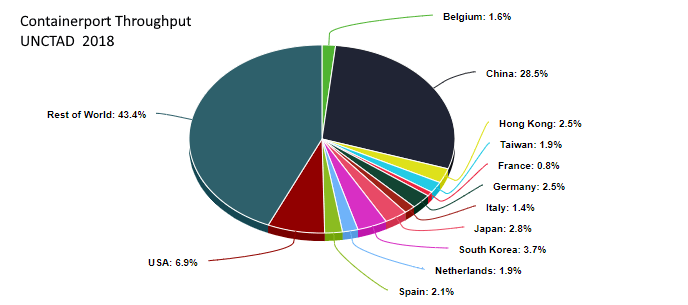 Note that a significant share of US trade crosses it's land borders with Canada and Mexico so it won't show up on this chart. The chart, nonetheless, fairly reflects it's reach beyond NAFTA.
Latin Report is not legally responsible for any decisions taken based on the views offered here or in our Reports.
Feed news
Join Telegram
---
Recommended Content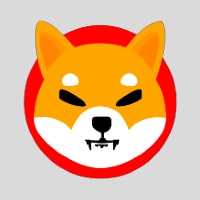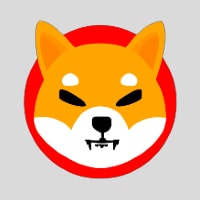 Shytoshi Kusama, the project lead for Shiba Inu, has dropped a teaser about Shiba Eternity games for the SHIB community. Proponents expect the launch of the collectible card game to be a bullish catalyst for Shiba Inu price.
Read more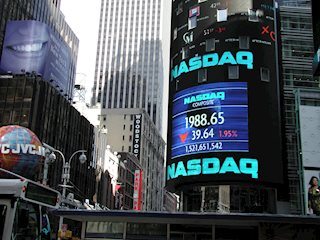 Equity markets remain at the precipice of a technical collapse, which we examine in the weekly long-term chart below. The overall picture remains one of nervousness ahead of the upcoming Q3 earnings season.
Read more
---