Markets to really Watch in 2020 - Tradeview Markets
The first 10 days of 2020 have come and gone. The holiday fat has been burned, New Year's resolutions set and ready to be broken. Towards the end of 2019 we saw many predictions of markets to watch in the new year. With those predictions, a lot was not factored in. Within the last week we have seen the true tone set for what may "really" happen in the upcoming months, which leads us to creating a list of markets and storylines which could be interesting for traders to pay attention to.
Here at Tradeview we track many of these markets on our various platforms, and analyse them daily using our social platform, TradeGateHub which launches next Wednesday.
Fundamental Analysis - Top storylines
The Iran / US story has been the main storyline which has escalated from last year, with some thinking we are on the brink of full scale boots on the ground. Now with claims that Iran is responsible for the shooting down of a civilian airliner, could Nato further back the US if hostilities rise? If so, how much fear would enter markets.
Staying with the US, Trump's pending impeachment, The US 2020 elections and of course the situation with the trade war with China seems no better. Pertaining to the trade war, we are none the closer to an actual agreement. One will eventually come as most of us believe, however could China use the above tensions as a means to attempt to seal a deal which is more beneficial to them. What may that look like, and how would markets react?
Brexit now and the UK finally in a position where parliament pushes through the withdrawal bill proposed by PM Boris Johnson, fresh off his majority election victory. However will the EU now play ball, or will a no-deal Brexit be the only way out? What would this road mean for the European markets and EURGBP?
With all the above, the situation with Hong Kong remains uncertain, South America seems to be in the midst of revolution, and climate crisis a ongoing discussion. From an human perspective, uncertainty would create fear, however these fears will create trading opportunities for those ready to take advantage. So what markets should be watched?
Top 3 markets to watch
1. Gold
As the world's safe haven currency, Gold last week reached an almost 10-year high, trading at $1611. The last time Gold hit that price from the position of a bull run, it went on to reach close to $2000 per ounce during the now infamous 2009 global crash. If any of the listed fundamentals spiralled out of control, could we see history repeat itself, with further gains in Gold?
XAU/USD - monthy chart - via Tradeview MT4

2. CrudeOil
2019 saw Crude trade in a range of $52 - $58. The attack on the Saudi Oil field saw it rise to as high as $63, as fears of supply shortages were expected. However the intervention of Trump, tweeting that the US would make up for any shortage, saw the rise in price swiftly ended, with a $12 bear run to $51. Recently fresh fears from the Middle-east saw prices rise again, could these heightened tensions mean we may be looking at a new range, $59 - $63 for 2020? With rises to $70 a possibility?
CrudeOil - Weekly chart - via Tradeview MT4

3. GBP/USD
As we go into the fourth year since the UK decided to leave the EU, 2020 looks as though it may be the year we finally see this happen. With GBPUSD rising to as high as $1.35 on the news of Boris winning with a majority government, could the actual ending of this storyline see both EU and UK markets rally? The weekly chart below shows that we are at a resistance of $1.32, however if we see history repeated and resistance broken like we did in January of 2019, could we see a run to the next resistance level of $1.42 in 2020?
GBP/USD - Weekly chart - via Tradeview MT4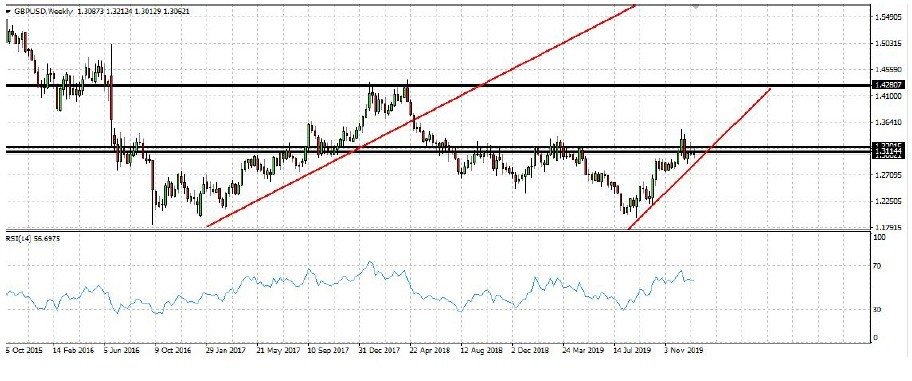 Feel free to connect with myself, Eliman Dambell on Linkedin to discuss any trading related opportunities you may be thinking of taking in 2020.
Trading any financial instrument on margin involves considerable risk. Therefore, before deciding to participate in margin trading, you should carefully consider your investment objectives, level of experience and risk appetite. Most importantly, do not invest money you cannot afford to lose. Consulting with your investment counselor, attorney or accountant as to the appropriateness of an investment in margin trading is recommended. This electronic mail message is intended only for the person or entity named in the addressee field. This message contains information that is privileged and confidential. If you are not the addressee thereof or the person responsible for its delivery, please notify us immediately by telephone and permanently delete all copies of this message. Any dissemination or copying of this message by anyone other than the addressee is strictly prohibited.
Feed news
---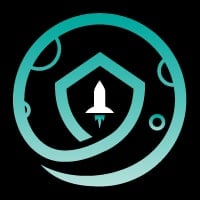 SafeMoon price is experiencing a bottom formation as SAFEMOON approaches a crucial support level twice over the past week. If a bounce from this barrier evolves, it will indicate a double bottom reversal in play. SafeMoon price crashed 20% between July 19 and July 20 to $0.00000273.
Read more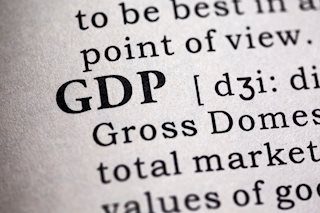 The US Bureau of Economic Analysis (BEA) will release on Thursday, July 29, its first estimate of the annualized Gross Domestic Product (GDP) growth for the second quarter.
Read more
---