Lower expectations of a rate cut after Powell commentaries improves the risk appetite
Outlook:
As noted above, sentiment toward risk shifted to wanting some over the past two days and many currencies got enough of a buying burst to make the pullback look like it has a real chance of becoming a full-blown correction. Beware! About half the time, it turns out to be false, and that seems to be the case today.
A contributor to the improved risk-on attitude was Fed chief Powell, who said the same stuff he has been saying all along: same story he has told before: the economy is in a good place and the virus outbreak is a risk to the outlook.
The CME FedWatch tool confirms that the idea of a rate cut in the first half is losing adherents. For the June 10 FOMC, 35.3% expect at least one cut. This is far higher than 18.9% back on January 10, but a drop from 39.8% the day before (Feb 10). At the same time, faith the Fed will stand pat is waning. Today it's 57.5% betting the Fed makes no change, and that was 71.8% in January. See the table. You'd think that the lowered expectations of a rate cut would be dollar-favorable, but instead it just effected an improvement in risk appetite.
Or maybe the dollar is taking a hit on expectations that the terrible Jolts report means a bigger slowdown ahead. As a rule, the FX market doesn't trade on Jolts, but the numbers really are terrible. The number of job openings in Dec fell 364,000 m/m, following a loss of 574,000 in Nov. Yes, that total is 938,000. That still leaves 6.42 million jobs available, but year-over-year, down 14.9%.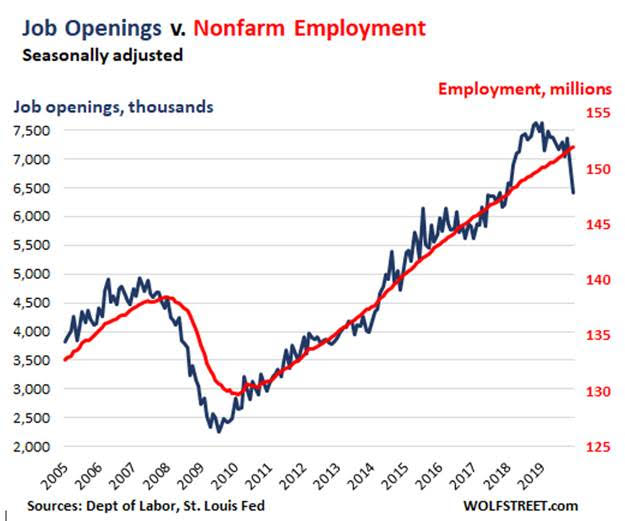 You can look at the data in more detail and find reasons, but raw macro data can't be disputed. As the Wolf report says, it most likely means a slowdown has started. "The lag between the first significant declines in job openings and an actual decline in employment, where jobs are being lost, seems to be about four to six months. If this data was skewed by a statistical fluke, the drop will self-correct over the next few months. But if what we're seeing here are the actual trends in job openings, and they don't bounce back in a serious manner, we can expect to see declining employment a few months from now." Only a snark would say the silver lining is that we will see the drop in payrolls before the November election.
And finally, let's be sensible about the Wuhan virus epidemic. It's not a flash in the pan or a black swan. It's certainly not on a par with Tiananmen Square, as one bigshot foreign affairs expert says. We don't yet know how big it will get and how far it will go, and therefore cannot know the end result. We probably don't know how big it is now, or how far it has spread, given China's secrecy and bad detection and reporting in other countries.
Today we get some snippets. Bloomberg reports Taiwan cut is growth forecast to 2.37% from 2.72%.A Thai officials said Q1 growth could be under 1%. In Vietnam, Jan exports crashed and growth could be less than 6% for first time in six years. On the bright side, the EU and Hanoi have a new trade deal that may serve as a model.
The only sane and reasonable way to think about the epidemic in terms of finance is to prepare for the worst and celebrate if the worst does not occur. This is not how equity guys operate, though. You'd think that companies with a supply chain originating/depending on China would see their stock prices fall. Not happening. Not yet. Traders would rather stay on the bandwagon that has already rewarded them handsomely. The name for this is blind greed.
Net-net, the FX market wanted a pullback, but it's struggling. This is likely one of those times a softer dollar will fizzle.
Tidbit: Zacks offers an interesting comparison of P/E ratios to try to judge whether equities are overvalued…. See the table. And here is the judgement call: "Investors are constantly searching for ways to 'value' the market. Valuations help us determine when stocks are cheap and therefore attractive, or when they're expensive and should be avoided. But valuations alone should not direct an investment strategy.
"If today we saw a confluence of negative economic data alongside high and rising valuation metrics across the board, then we'd probably have something to fear. But we don't think that's the case at all. Global growth is expected to hit close to 3% in 2020, interest rates remain low globally, inflation is low and controlled in the US, the labor market is strong as ever, and corporate profits are expected to post strong growth following weak comparisons in 2019. Some valuation metrics may signal overheating, but at the end of the day, it is fundamentals, earnings, growth, innovation, and investor sentiment that will determine the market outcome."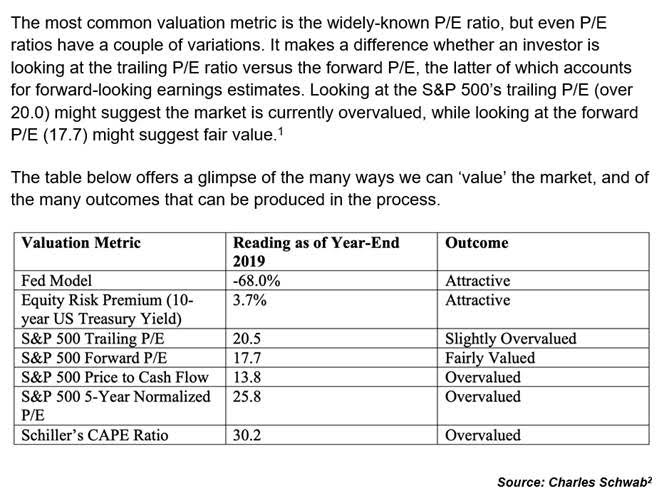 Well, that's one opinion. We'd say global growth at 3% is not a useful metric for three reasons. First, it's too high. Even if China gets the epidemic under control fast and it never becomes a pandemic, China is still looking at growth of about 4.5% instead of the 6-8% we have seen in recent years. China is 17% of global GDP. You need high-growth countries to make up for the one-percenters like the eurozone. Which leads to problem no. 2: it covers countries with under 1% and those with over 7-8%. Secondly, as we wrote yesterday, if we had a giant spreadsheet showing all of Asia (and not just China) and its cumulative combined knock-on effect on the rest of the world, we would be a lot more scared about the economic effects.
US politics: Instead of using a foreign leader as the point of his knife, Trump is now using his own Justice Dept. Before advisor Roger Stone is sentenced, presumably to avoid the controversy of pardoning him, Trump got the Justice Dept to change its recommendation in sentencing Stone. He says it's unfair. How we know it's the improper thing to do: all four Justice Dept prosecutors resigned. This was the team that recommended 7-9 years of prison for Stone's seven felony charges. The new team has not yet made a recommendation on how much time Stone should serve. Trump called the recommended sentence unfair and a miscarriage of justice.
Do the 8000 people who came out for the Trump rally in New Hampshire know the facts in this case, or the proper way these cases are handled? The NYT says 11,000 attendees, by the way. The blatant corruption is breathtaking. Trump voters seem to think promoting self-interest above all else is "smart," like cheating on taxes and your wife. This speaks ill of the moral fiber of the country and not just the president.
The New Hampshire primary gave the expected result, a win for Bernie Sanders, who has been campaigning there for over 5 years. But his win is small, only 25.7%. Warren trails with 9.3%, so together the two far-left candidates get 35% of the vote. Meanwhile, the two moderate candidates come in second and third, with Mayor Pete just behind Bernie with 24.4% and Klobuchar at 19.8%, a big rise for her. Together they have 44.2% of the vote, surpassing the pinkos. If we stretch the point and add Biden to the moderate camp with his 8.4%, the moderates combined have 52.6% vs. 35% for the far left. But like Iowa, New Hampshire is about 90% white. Now on to South Carolina and Nevada. We heard on TV late last night that one county in S. Carolina has more black voters than the entire voting population of New Hampshire….
---
This is an excerpt from "The Rockefeller Morning Briefing," which is far larger (about 10 pages). The Briefing has been published every day for over 25 years and represents experienced analysis and insight. The report offers deep background and is not intended to guide FX trading. Rockefeller produces other reports (in spot and futures) for trading purposes.
To get a two-week trial of the full reports, including the Traders Advisories, send $3.95 to [email protected] using Paypal.
This morning FX briefing is an information service, not a trading system. All trade recommendations are included in the afternoon report.
Analysis feed
---
Latest Forex Analysis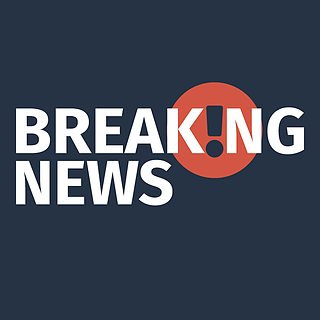 The cryptocurrency holders might have a hard time trying to hide their Bitcoins or other digital assets. IRS considers changing the standard 1040 form by including a bold question on the front page: At any time during 2020, did you sell, receive, send, exchange, or otherwise acquire any financial interest in any virtual currency?
Read more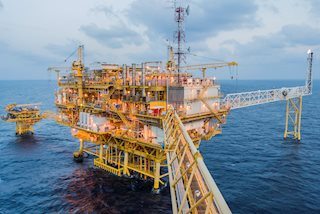 It has been a mixed Friday for WTI as the price is moving sideways heading into the weekend. All of the excitement was last week when the OPEC+ JMMC decided to keep output levels at their current rate until December.
Oil News
---