Huge CPI revisions - prices rose much faster than originally reported, for months
If you thought prices were rising faster than the BLS said, you were right. Let's discuss revisions.
On Friday, February 10, the BLS quietly revised the CPI higher for four of the past five months, with one month unchanged.
Here is the BLS Updated Seasonal Factors Announcement.
Each year with the release of the January CPI, seasonal adjustment factors are recalculated to reflect price movements from the just-completed calendar year. This routine annual recalculation may result in revisions to seasonally adjusted indexes for the previous 5 years. [And it did in spades] Recalculated seasonally adjusted indexes as well as recalculated seasonal adjustment factors for the period January 2018 through December 2022 were made available on Friday, February 10, 2023.
All Items as Reported and Revised
December as Reported -0.1, As Revised +0.1
November as Reported +0.1, As Revised +0.2
October as Reported +0.4, As Revised +0.5
September as Reported +0.4, As Revised +0.4
August as Reported +0.1, As Revised +0.2
Hmm. It seems the bit of celebratory deflation in December didn't happen. Let's look further.
Food and Beverage Revisions
Food and Beverage Items as Reported and Revised
December as Reported +0.3, As Revised +0.5
November as Reported +0.5, As Revised +0.6
October as Reported +0.6, As Revised +0.7
Hmm. It seems the Thanksgiving Turkey you bought cost more than they said.
Core CPI Month-Over-Month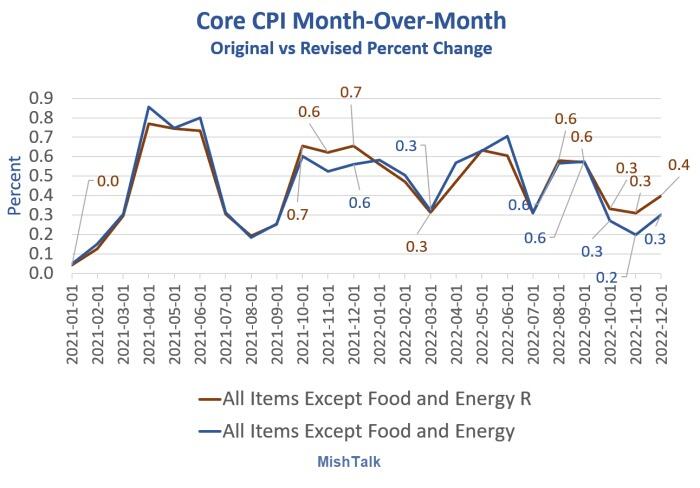 Core CPI as Reported and Revised
December as Reported +0.3, As Revised +0.4
November as Reported +0.2, As Revised +0.3
Core CPI is all items minus food and energy. Even that was up in the final two months of the year.
Smelly Revisions
Looking back to 2021, I also see a pattern of upward revisions late in the year.
Perhaps this all balances out. But even if so, revisions of this size are more than a bit smelly.
Expect Negative Job Revisions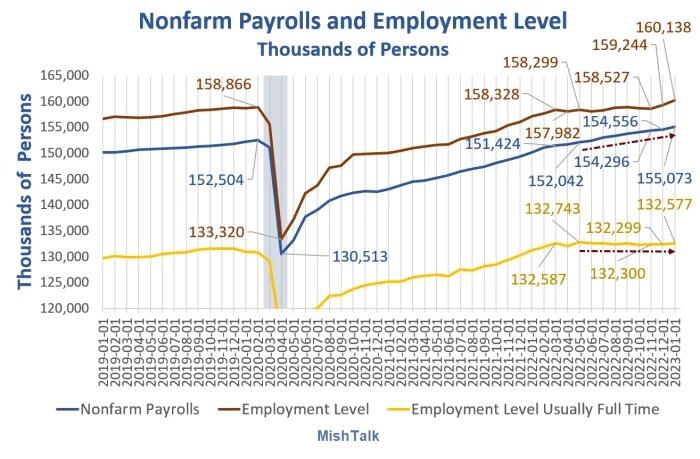 Speaking of revisions, I have been expecting negative revisions on jobs given the massive discrepancy between employment and nonfarm payrolls.
For discussion please see Unemployment Rate Hits New Low of 3.4 Percent as Jobs and Employment Jump But...
Jobs and employment rose more than expected in January. But because of massive revisions, the BLS cautions all of its household data is full of errors.
Hmm. The BLS household data is full of errors too. Who coudda thunk?
And please note that of the alleged job increase of 894,000 in January, 810,000 was a population control revision.
Payrolls vs Employment Since May 2022
Nonfarm Payrolls: +3,031,000
Employment Level: +1,893,000
Full Time Employment: -166,000
Employment and payroll revisions are a given. And they probably won't be pretty.
While we are at it, does anyone have a lot of faith in that fourth-quarter 2022 GDP report?
I smell revisions there too. And by the way, the 4th Quarter 2022 GDP Is Much Weaker Than Headline Numbers.
A 2022 recession is very much in play, although Some Believe It Will Be a Rolling Recession.
This material is based upon information that Sitka Pacific Capital Management considers reliable and endeavors to keep current, Sitka Pacific Capital Management does not assure that this material is accurate, current or complete, and it should not be relied upon as such.
---
Follow us on Telegram
Stay updated of all the news
Recommended Content

Dogecoin price is trading with a bullish bias, not only showing a broader market bullishness but also a newly found flow of capital into the meme coin market, with CoinMarketCap data showing meme coins are rallying on the seven-day timeframe.
Read more

The Reserve Bank of Australia is set to pause its tightening cycle once again, leaving the Official Cash Rate (OCR) unchanged at a 12-year high of 4.35% following the conclusion of its December monetary policy meeting on Tuesday. The decision will be announced at 03:30 GMT.
Read more
---