Fed to Inject $1.5 Trillion in Liquidity But Markets Plunge Again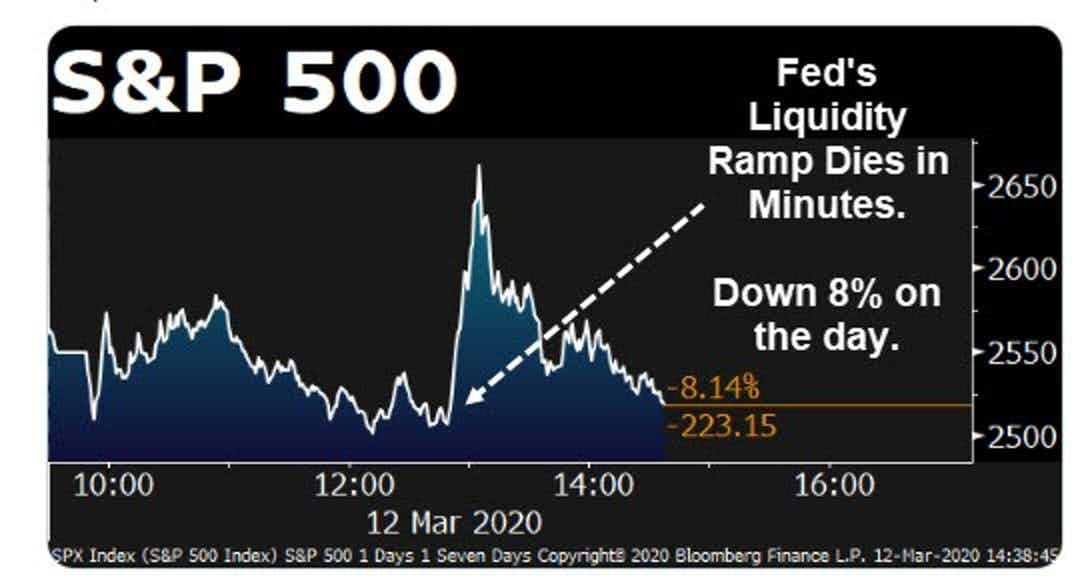 Although Fed stepped up to the plate today with $1.5 trillion in emergency liquidity, the market continued to dive.
Prevent 'Unusual Disruptions'
The Wall Street Journal reports Fed to Inject $1.5 Trillion in Bid to Prevent 'Unusual Disruptions' in Markets
The Federal Reserve said it would inject more than $1.5 trillion of temporary liquidity into Wall Street on Thursday and Friday to prevent ominous trading conditions from creating a sharper economic contraction.

"These changes are being made to address highly unusual disruptions in Treasury financing markets associated with the coronavirus outbreak," the New York Fed said in a statement on Thursday

The New York Fed said it would conduct three additional repo offerings worth an additional $1.5 trillion this week, with two separate $500 billion offerings that will last for three months and a third that will mature in one month.

If the transactions are fully subscribed, they would swell the central bank's $4.2 trillion asset portfolio by more than 35%.
Yet Another Round of QE
Here is the Fed's Statement Regarding Treasury Reserve Management Purchases and Repurchase Operations
The Fed can label this however they want, but it's another round of QE.
Bear Market Across the Board
Also consider U.S. Stock Rout Deepens in Broad Shift to Safety
The S&P 500 shed more than 7% shortly after the opening bell, plunging the index into bear market territory and triggering a 15-minute halt in trading. The drop marked the second time this week that a rarely-used circuit breaker was triggered.

On Wall Street, companies and exchanges are making contingency plans. The Chicago trading floor of CME Group said it would close at the end of Friday to preemptively avoid the spread of the virus. The New York Stock Exchange is also preparing a contingency plan in case it needs to close its iconic trading floor.

Some investors were disappointed Mr. Trump didn't clearly articulate details of how he planned to get an economic stimulus package through Congress and the lack of coordination between the federal government and the Federal Reserve.

"What you really need is confidence building," said Hani Redha, a London-based multiasset portfolio manager at PineBridge Investments. "That comes from giving detailed communication to the market about what they're seeing and doing to develop the sense there's a comprehensive approach."
Clearly Rattled Trump Bans All Travel From EU Starting Friday
Last night President Trump addressed the nation. It was a terrible performance in which he blamed the EU and praised his own actions. There was no empathy for Italy. His own assurances as recently as a week ago that the coronavirus was no big deal can now readily be seen as lies.
For more discussion, please see A Clearly Rattled Trump Bans All Travel From EU Starting Friday.
If you wish to see his 10 minute speech, the above link posts the full video.
Economic Reports are Meaningless Now
This morning, I commented Economic Reports are Meaningless Now
I now have the perfect example: Calculated Risk reports Fed's Flow of Funds: Household Net Worth Increased in Q4
How meaningless is that?
The second quarter of 2020 rates to be a doozie.
Here Is What Was Behind Yesterday's Unprecedented Treasury Dislocation
ZeroHedge has an interesting report on dislocations.
Please consider Here Is What Was Behind Yesterday's Unprecedented Treasury Dislocation
The Fed seeks to prevent unusual disruptions.
Ooops. It's too late for that.
In fact, Fed policy is responsible for these disruptions through its inflationary tactics that create bubbles.
As noted previously, a Very Deflationary Outcome Has Begun: Blame the Fed
Mike "Mish" Shedlock
This material is based upon information that Sitka Pacific Capital Management considers reliable and endeavors to keep current, Sitka Pacific Capital Management does not assure that this material is accurate, current or complete, and it should not be relied upon as such.
---
Follow us on Telegram
Stay updated of all the news
Recommended Content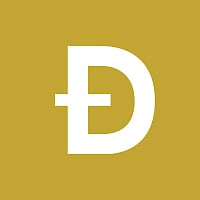 Dogecoin price has been in a tight range bound movement since November 22. The recent recovery above the range low looks promising and hints at an explosive move for next week.
Read more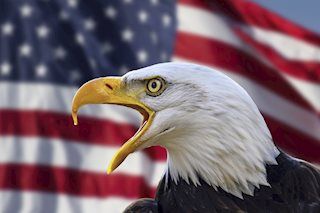 With the banking turmoil receding, market participants will turn their attention back to economic releases. The spotlight will fall on the US employment report.
Read more
---