Will 2023 be a good year for goodyear tire stock?
Cost inflation is expected to peak out in fiscal Q4 2022, but they expected it to peak in Q2 and Q3 2022, which it didn't.

Good Year gained market share to be the largest replacement tire maker in the U.S.

The falling U.S. dollar index and China's re-opening may provide some relief from rising input costs.

Shares trade at 8X forward earnings with a 4.7% short interest.

5 stocks we like better than Goodyear Tire & Rubber.
The Goodyear Tire & Rubber Co (NASDAQ: GT) stock fell just over (-50%) in 2022. The biggest issue plaguing its business has been continued cost inflation and the impacts of a strong U.S. dollar. However, as these conditions begin to wane in 2023, Goodyear should see margin expansion in North America.
Europe's main problem has been its soaring energy costs stemming from the Russia-Ukraine conflict. As the largest replacement tire company in the U.S., the Company has been struggling with higher input costs stemming from cost inflation across the board, from raw materials to transportation and labor. Net sales still climbed 8% after applying a 15% price hike in the U.S.
They surpassed Compagnie Générale des Établissements Michelin SCA (OTCMKTSL MGDDY) as the top replacement tire manufacturer in the U.S. Falling oil prices have helped get commuters back on the road as the Company expects normalization to kick in.
Cost inflation is still growing
The big problem with its Q3 2022 performance was, once again, cost inflation bolstering input costs. It saw raw material costs rise, labor costs, energy, and transportation. While it was able to control the impact in North America with price hikes, Europe was a different story as energy costs have been skyrocketing. Europe was the big problem in Q3.
Management losing credibility
Cost inflation is the most significant hurdle for Goodyear. Unfortunately, management has been bad at predicting a peak. They had predicted the peak in the prior quarter believing it occurred in Q2 and then in Q3, which it didn't. Now they are predicting it to peak in its next quarter Q4 2022.
The market didn't buy it as shares sold off regardless. The big question is will management be zero for three in the upcoming quarterly release? The Company expects input costs to continue rising at a rate of $300 million to $400 million in the first half of 2023, with the bulk of the YoY increase in Q1 2023.
Eco-tires displayed at CES 2023
Goodyear has been exploring tires created from sustainable materials moving away from relying solely on rubber. At the 2023 Consumer Electronics Show (CES), the Company displayed new demo tires that contain 90% sustainable materials with improved rolling efficiencies to improve energy savings even on electric vehicles.
The tires comprised surplus soybean oil rather than petroleum to maintain pliability and silica from rice husk residue to improve road grip and fuel efficiency. This improved from the prior year when they created tires comprised of 70% sustainable material. The Company hopes to release a 100% sustainable tire by 2030. The prototype tires are part of Goodyear's commitment to reaching zero emissions by 2050.
FX relief and cooper tire synergy
Once again, Europe has been the problem spot, even regarding FX headwinds. The strong U.S. dollar dramatically impacted net sales, from 15% growth in constant currency to just 8% YoY.
However, the U.S. dollar index has fallen over (-10%) since its highs in late September 2022. This could create a small amount of relief in its Q4 2022 numbers. Additionally, its synergies with its Cooper Tire & Rubber acquisition is expected to create $165 million in cost savings within two years of its acquisition which was completed in June 2021.
The acquisition helped bolster Goodyear's footprint in the light truck and SUV market that Cooper specializes in, not to mention the additional vehicle maintenance and repair services that can be cross-marketed to Cooper Tire customers. They compete with Driven Brands Holdings (NASDAQ: DRVN) in the auto repair segment. Finally, the China re-opening may also boost its business in China as commuters take to the roads.
Analyst upgrade
Shares of Goodyear Tire were upgraded to Overweight at Keybanc Capital Markets with a $39 price target. The MarketBeat MarketRank™ Forecast projects 24.48% earnings growth to $1.78 per share with a 40.5% upside price target of $16.19 and a 2.5 out of 5-star rating.
Descending triangle breakdown reversal
GT stock had been making lower highs on bounces while maintaining a flat-line support of around $9.66 since August 2022. This is called a weekly descending triangle pattern comprised of a falling upper trendline intersecting with a flat lower trendline.
Eventually, the lower highs on the bounces cause shares to crumble under the lower trendline to trigger a breakdown and another downtrend to lower levels. GT was set to break down at the end of December 2022. Then an interesting thing happened in January 2023.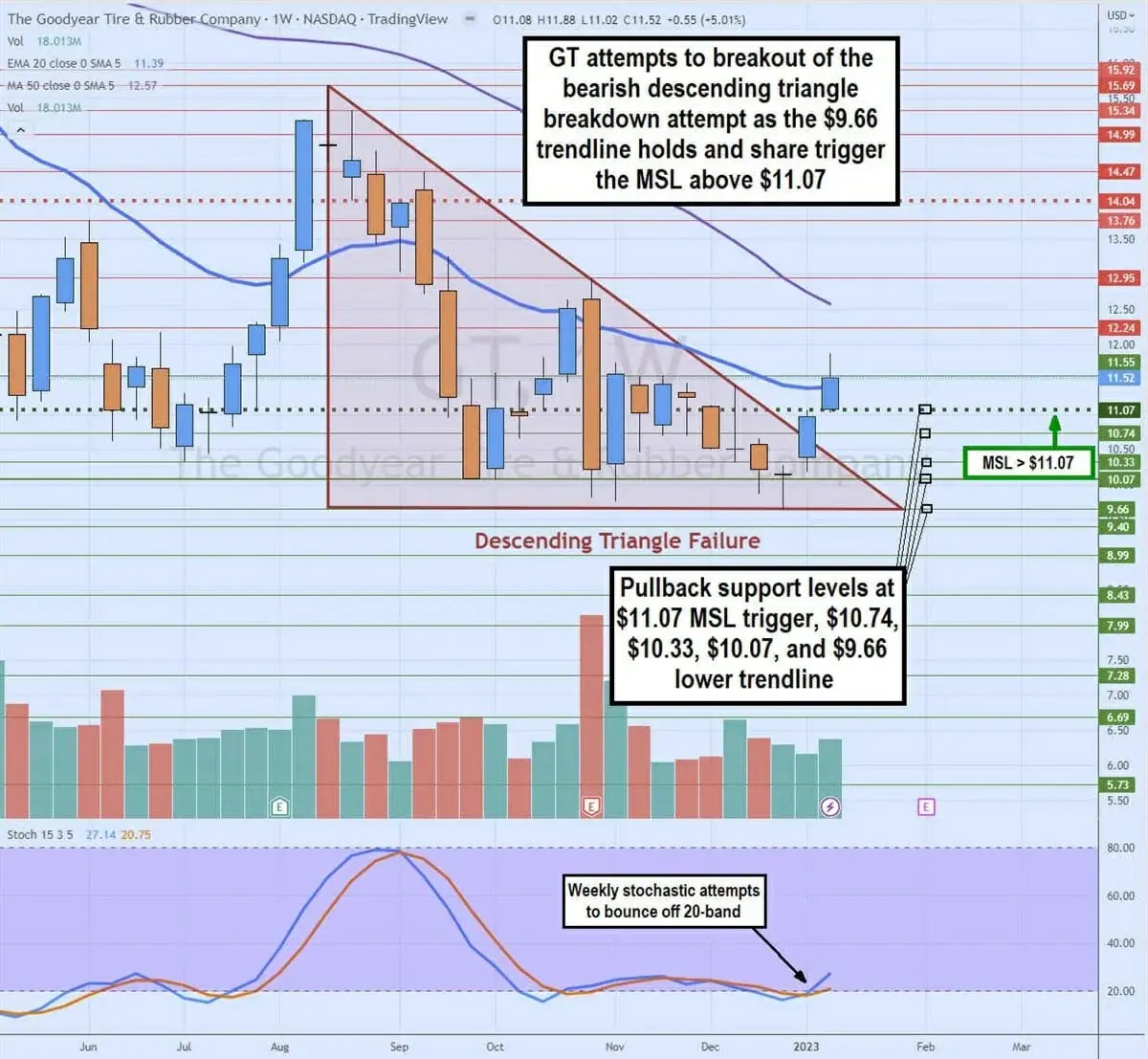 Buyers emerged that bought the dips and squeezed shares up through the falling trendline of the triangle to trigger a weekly market structure (MSL) buy signal on the breakout through $11.07.
The weekly stochastic has crossed back up through the 20-band, attempting to increase the buying momentum. The weekly 20-period exponential moving average (EMA) resistance is being tested at $11.39, with the weekly 50-period MA at $12.57. Pullback support levels sit at $11.07 MSL trigger, $10.74, $10.33, $10.07, and the $9.66 lower flat trendline representing the bottom of the triangle.
VALUEWALK LLC is not a registered or licensed investment advisor in any jurisdiction. Nothing on this website or related properties should be considered personalized investments advice. Any investments recommended here in should be made only after consulting with your personal investment advisor and only after performing your own research and due diligence, including reviewing the prospectus or financial statements of the issuer of any security. VALUEWALK LLC, its managers, its employees, affiliates and assigns (collectively "The Company") do not make any guarantee or warranty about the advice provided on this website or what is otherwise advertised above. The Company is not registered or licensed by any governing body in any jurisdiction to give investing advice or provide investment recommendation. The Company disclaims any liability in the event any information, commentary, analysis, opinions, advice and/or recommendations provided herein prove to be inaccurate, incomplete or unreliable, or result in any investment or other losses.
---
Follow us on Telegram
Stay updated of all the news
Recommended content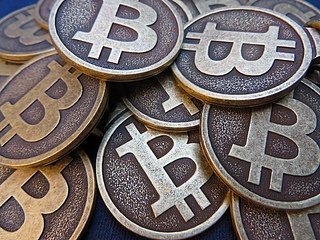 Bitcoin action slows down, allowing bears to doubt their strength. As more time elapses, the chances of bulls taking over control of BTC become more likely. A spillover effect would be noticeable in Ethereum and Ripple prices.
Read more

We had warned against the market wanting to get overly excited about the news of a US debt ceiling deal that was always going to get done. And now that this reality is coming to fruition, it's back to focusing on the market drivers where investors need to focus.
Read more
---