Why the US Indices are Reaching Critical Levels
Last month I explained how super long term cycles are coming together in the S&P500 and DJIA (15th October).
In a nutshell, we are 90 years on from the 1929 Crash and also 45 years on from the major low on 1974 which was caused by the OPEC oil crisis.
Very few people understand the value of super long term cycles but they are key to forecasting. They seem to time crowd behaviour. Ninety years prior to the 1929 collapse there was a major panic from 1837 to 1841 leading to "The Long Depression" in the USA and 45 years after that saw financial troubles.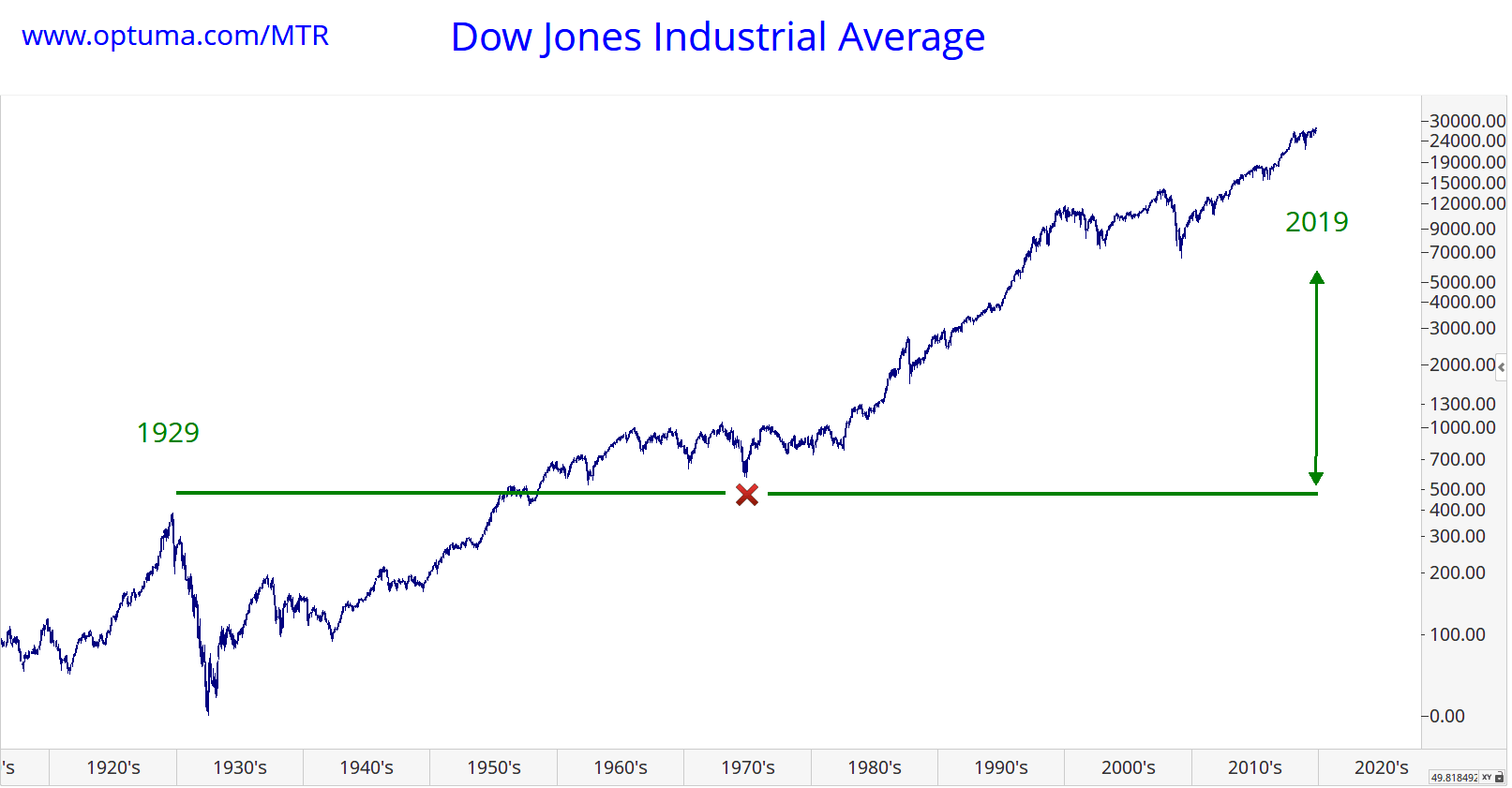 All this suggests that we need to exercise caution.
Markets often reach significant targets when they double in price.
And this is exactly what we are seeing now.
So we have time factors AND price factors in play. For students of the works of Gann – this is known as price squaring time.
Taking the range from the low from 1974 to the tops of 2000 and 2007 and doubling them, we see price targets of 3091 on the S&P500 and around 27,800 on the Dow Jones Industrial Averages.
This suggests that the markets may start heading out of steam fairly shortly.
However it is always possible that these targets can be exceeded by a few percent. A 3% exceedance would represent over 90 points on the S&P500 and nearly 900 points on the Dow 30.
Additionally, seasonally, since 1950, the S&P500 has typically closed higher on the last day of the year than it was trading on 22nd November on 75.4% of occasions. We are entering the bullish phase of the year.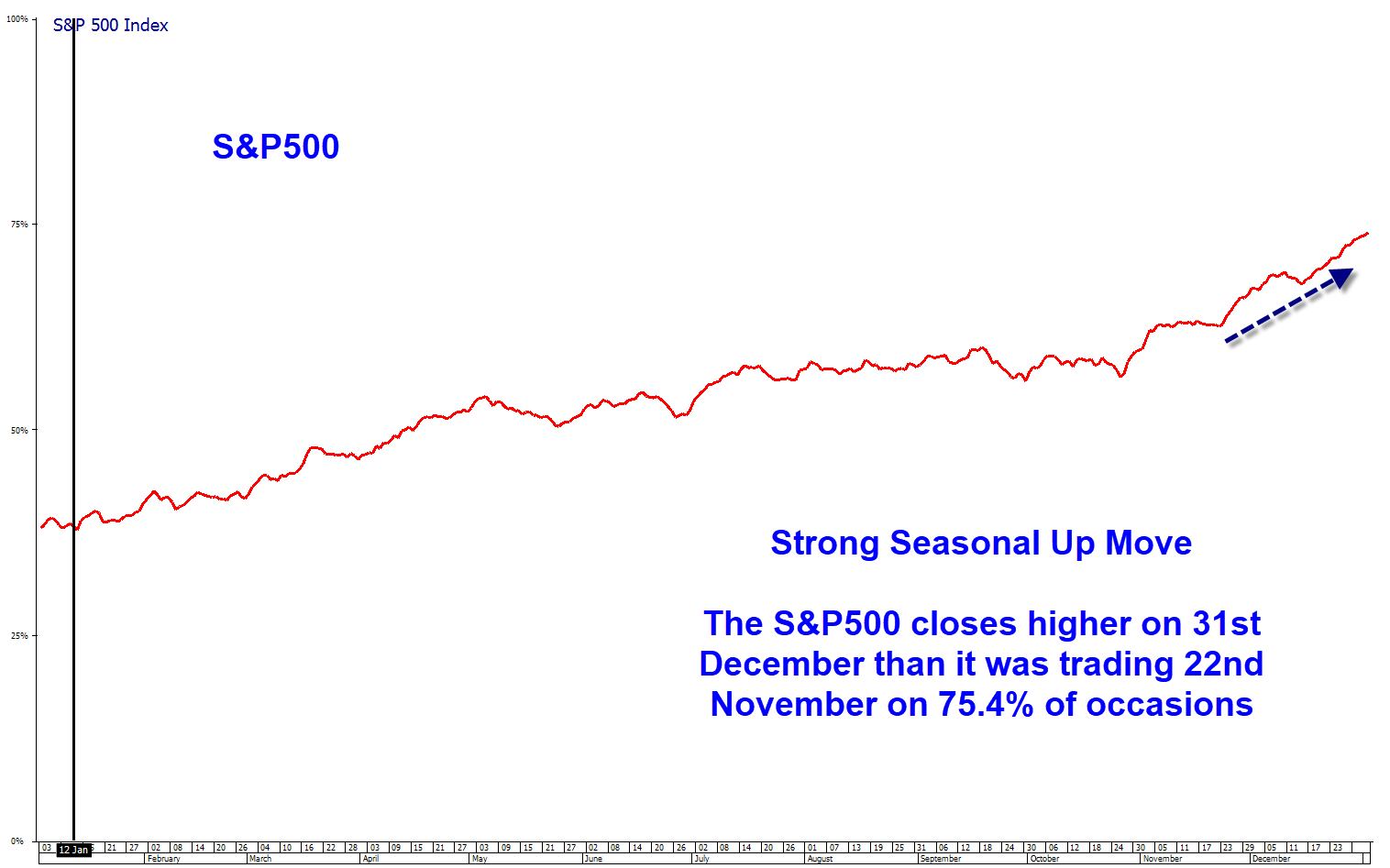 Let's now add to this our proprietary timing model. In this chart you will see a histogram below the chart. These histograms project into the future and where they spike the market has a high reversal probability. (We use a series of these cycle sets and only the main set is shown for clarity in the chart below). The next clear spike is showing for the week ending 20th December 2019. This is a potential window for a major turn.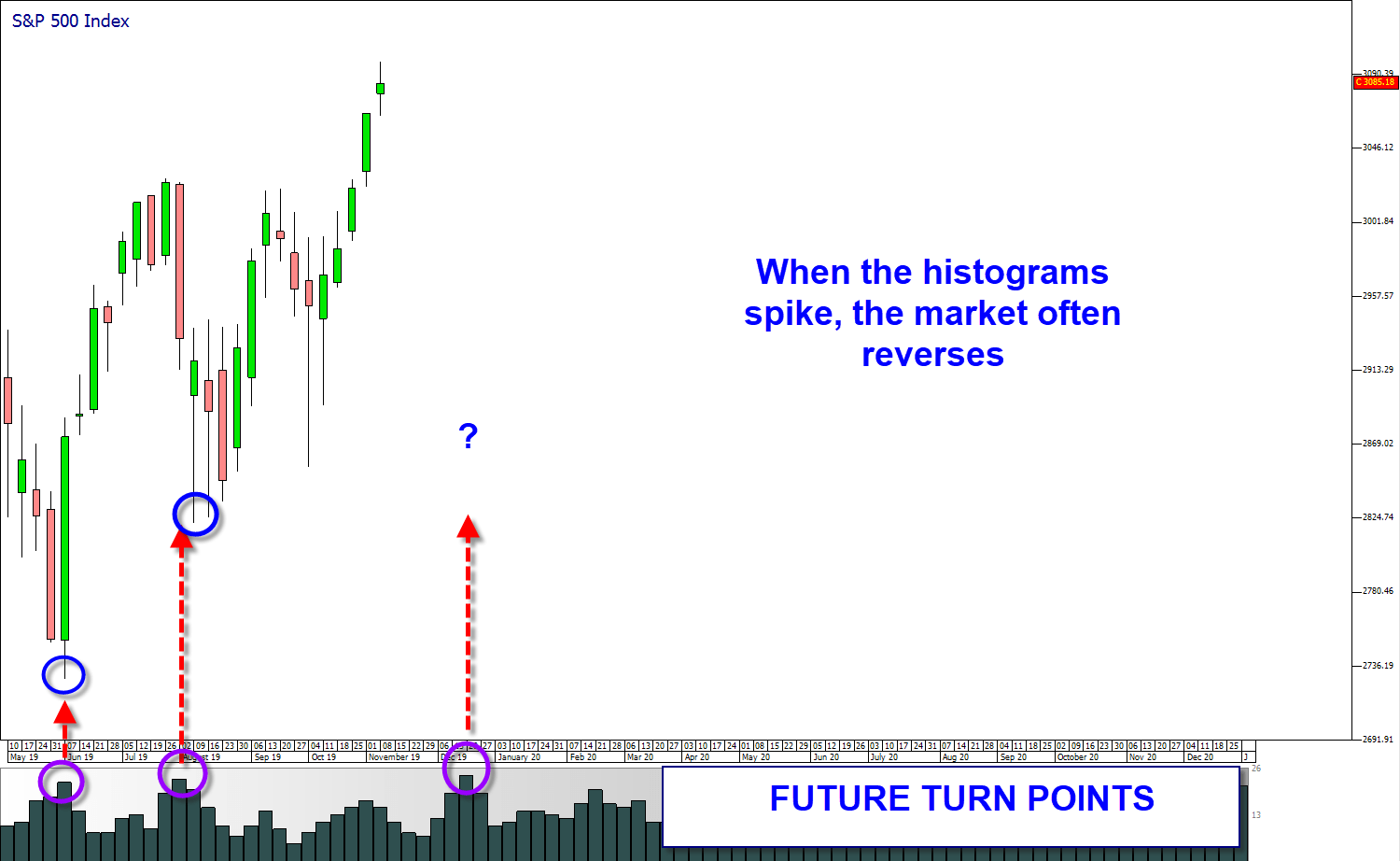 Finally, zooming into the present and fine tuning the markets, here are two charts with Andrew Pitchforks added. The upper parallel red lines are potential price targets and levels that we should all be aware of.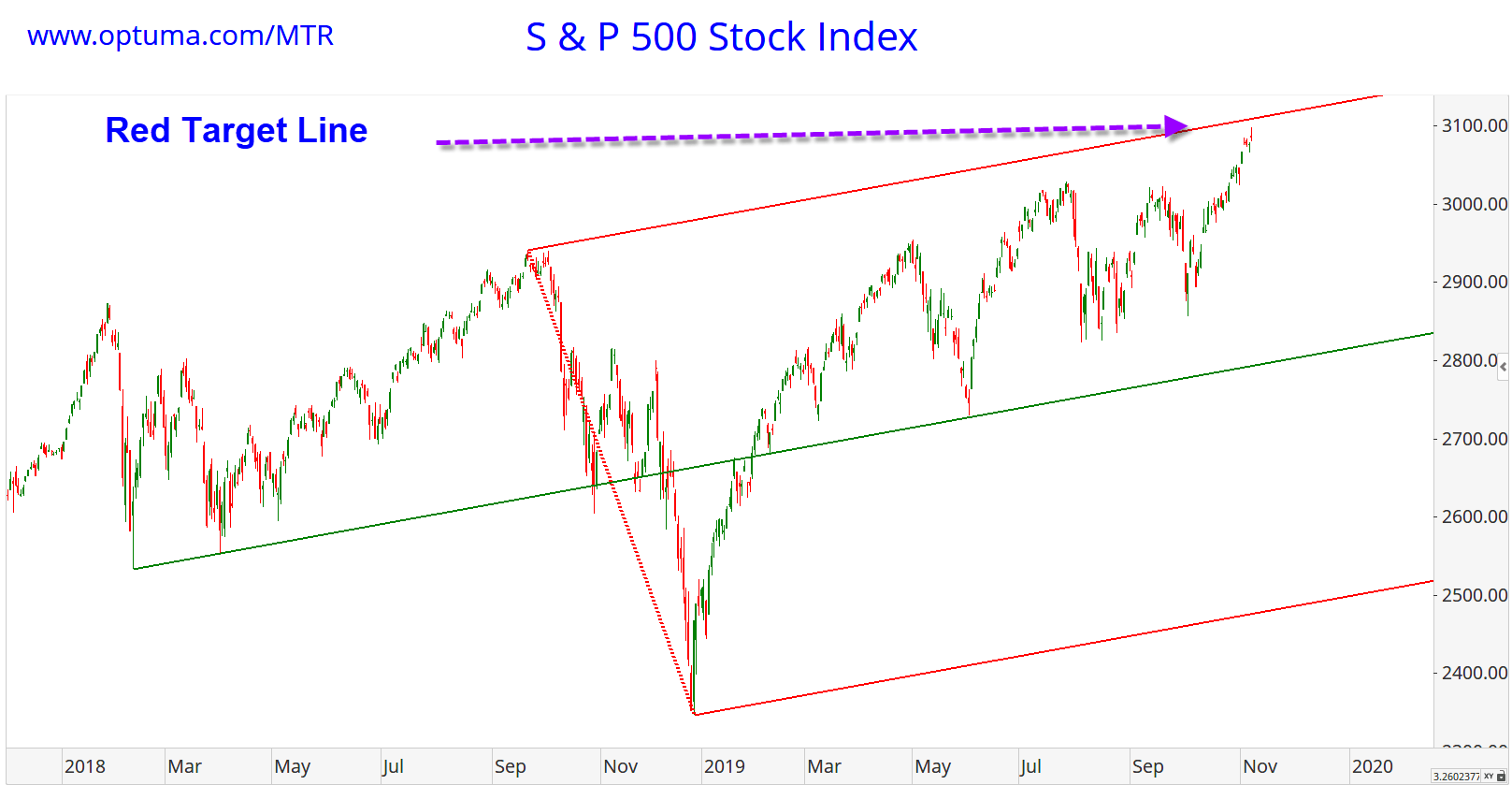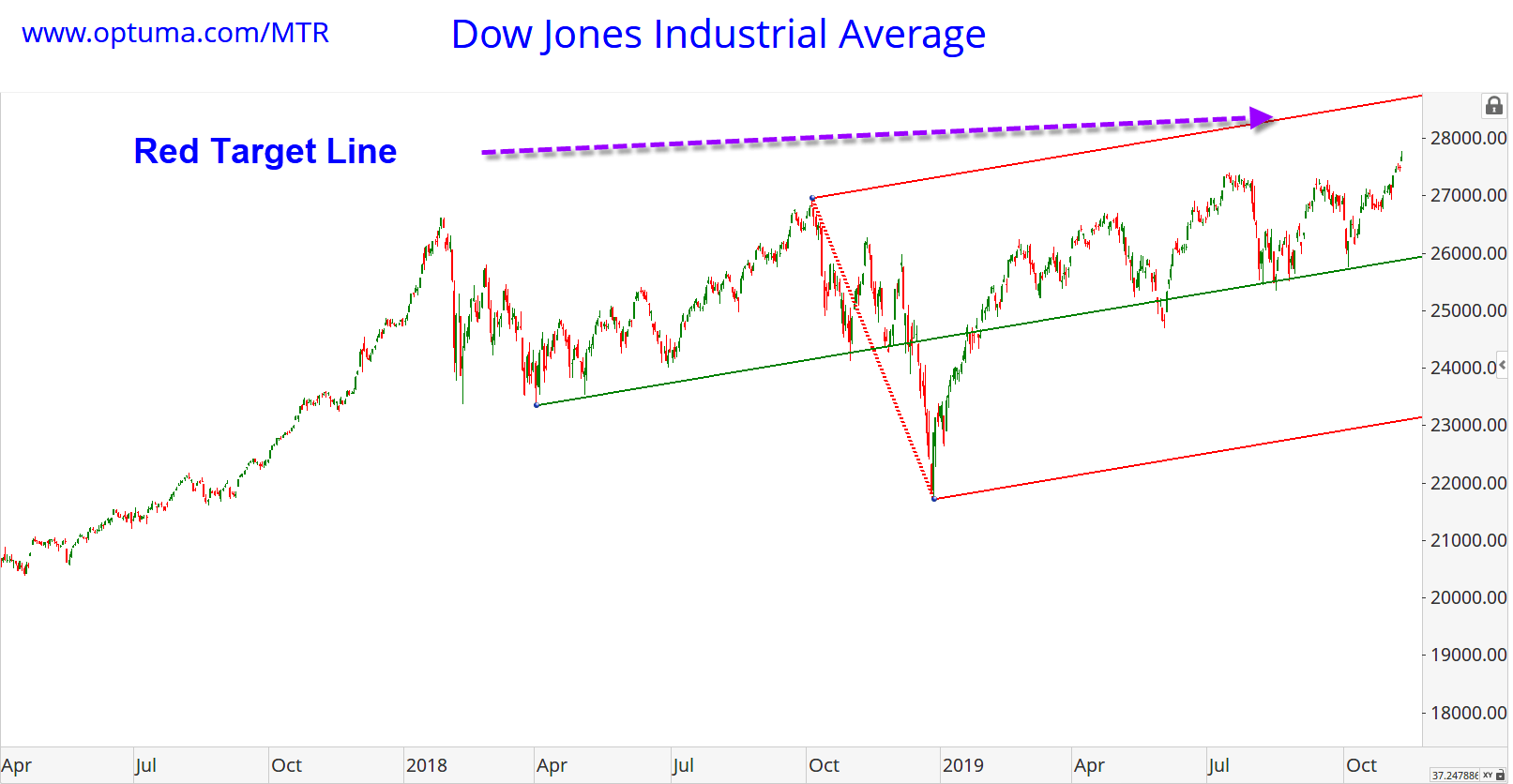 The bottom line is that we are approaching major price targets and major time cycles. We could be seeing the latter phases of this ten year bull market. However in the short term we are likely to head higher.
The Market Timing Report/Cycles Analysis Ltd is a research company. The information contained herein is for general education purposes and is not intended as specific advice or recommendations to any person or entity. Any reference to a transaction, trade, position, holding, security, market, or level is purely meant to educate readers about possible risks and opportunities in the marketplace and are not meant to imply that any person or entity should take any action whatsoever without first evaluating such action(s) in light of their own situation either on their own or through a professional advisor. If a person or entity does not believe they are qualified to make such decisions, they should seek professional advice. The prices listed are for reference only and are in no way intended to represent an actual trade, entry price or exit price conducted by The Market Timing Report/Cycles Analysis Ltd, portfolios managed by any entity affiliated with The Market Timing Report/Cycles Analysis Ltd or any principal or employee of The Market Timing Report/The Market Timing Report/Cycles Analysis Ltd . This information is not a substitute for professional advice of any nature, including tax, legal, and financial. While we believe the information contained herein to be accurate, all numbers should be verified by the reader through independent sources. Trading securities, options, futures, or any other security involves risk and can result in the immediate and substantial loss of the capital invested.
Analysis feed
---
Latest Forex Analysis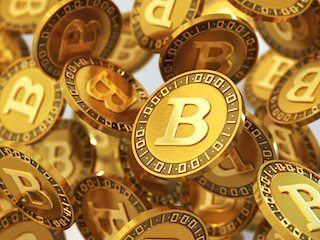 Greyscale floods the market with fresh money to satisfy the demand of its clients. Investors, willing to pay a 29% surcharge for exposure to Bitcoin without suffering the legal and operational inconveniences. Market remains at risk on the verge of new bullish territory.
Read more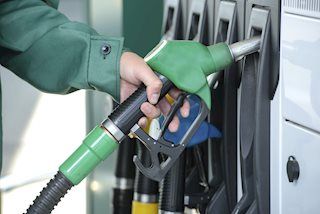 Crude oil prices built on Thursday's modest gains and rose sharply on Friday boosted by the upbeat market mood optimism surrounding Saturday's OPEC+ meeting.
Oil News
---