S&P500: Neptune Vibrations
Chaos Clinic for 5/1/2020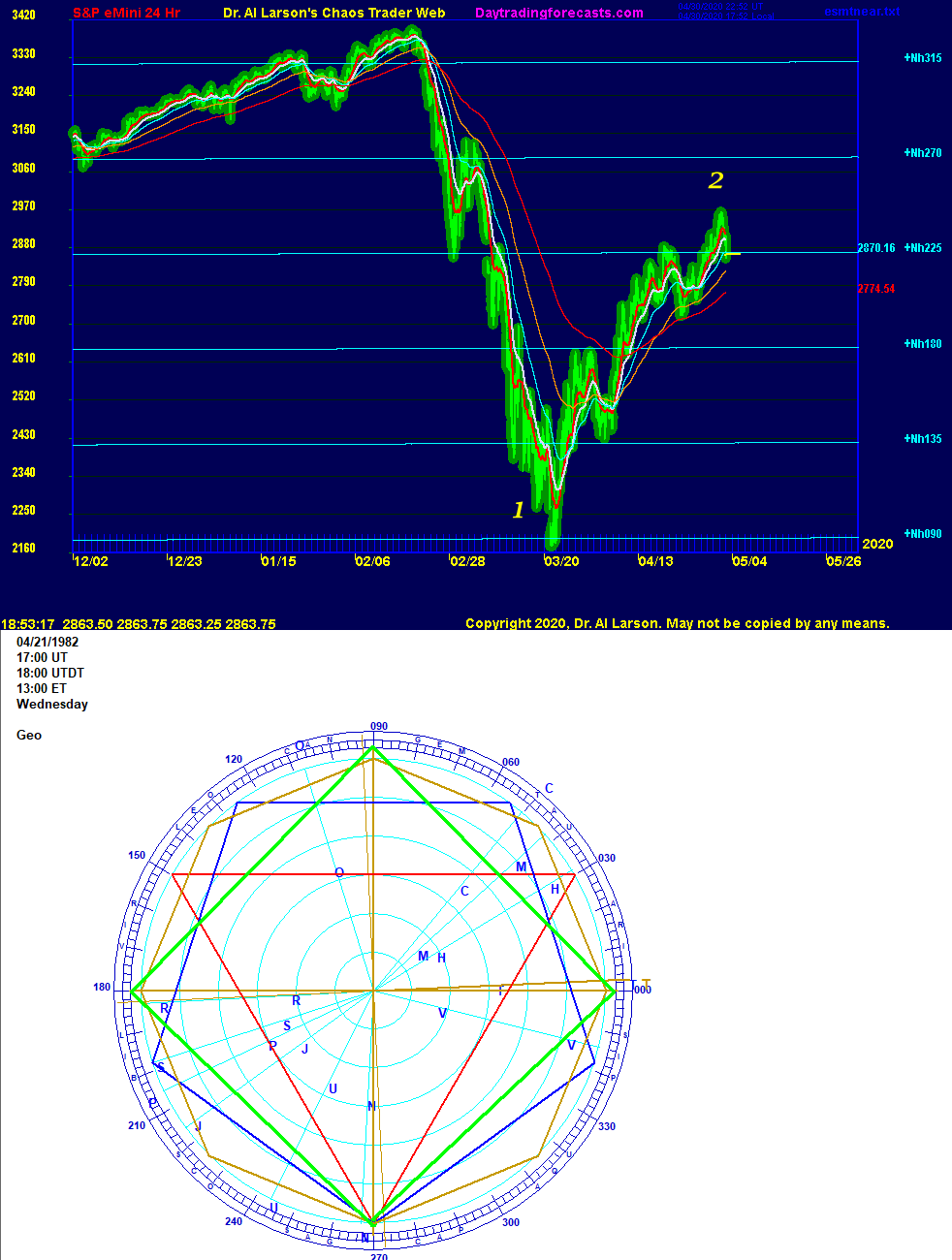 The top chart shows a plasma chart of the S&P, overlayed with heliocentric Neptune flux lines.

The flux lines are plotted every 45 degrees using a Wheel of 1800 scale. This scale is 5 times the Wheel of 360 scale that existed before COVID-19.

Markets have a "fractal fuzziness." Underlying that is a harmonic structure based on integer ratios. This shows up in this chart in the retracement ratios. The move 2 retracement was .642, a bit beyond the Fibonacci .618.

But in terms of the Neptune levels, the decline was down 5, up 3, the ratio of two integers, 3 and 5. The Fibonacci series is a seriesof intergers, starting with 1,2,3,5, and 8. So a a 3:5 ration fits. Energy adds together in integer ratios.

So why would Neptune electric field flux show up so strongly in the S&P? The answer is in the second chart, which is a natal ephemeris wheel for the S&P.

Neptune is very near the cardinal 270 degree position. Using this as a common point, there are harmonic relationships with several other natal planets.

Natal Sun is trine natal Neptune (red). Mars and Moon are square to it (green). Venus, Chiron, and Saturn are pentile to Neptune (blue). And Mercury is octile to Neptune. This octile creates frequency doubling with the square. Frequency doubling is a precursor to Chaos.

On the top chart, the Nh+315 level is 180 degrees to natal Mercury. The low of Nh+090 is natal Moon. The current Nh+225 is Mh+090. The intermediate level of bNh+135 is Mh+000, while the Nh+180 is both Tn+090 and Rn+270. So with the help of the plasma chart, which helps show the "fractal fuzz" and the ephemeris, the harmonic structure underlying the chaos is revealed.

The top chart looes like moves 1 and 2 of 7 in a down Chaos Clamshell.
This content was published on Dr. Al Larson's Chaos Clinic which you can attend each Friday for free.

Dr. Al Larson has developed a complete Chaos Model of Markets, four unique courses that let you become a Certified Chaos Trader, some very unique eMylar fractal pattern overlays, and tools that permit forecasting individual stocks and markets years in advance. You can also sign up for a free weekly email, and attend a free Chaos Clinic on Fridays. To learn more, click on the author's profile.

Be sure to sign up for the free weekly email!
Information on this page contains forward-looking statements that involve risks and uncertainties. Markets and instruments profiled on this page are for informational purposes only and should not in any way come across as a recommendation to buy or sell in these securities. You should do your own thorough research before making any investment decisions.
---
Follow us on Telegram
Stay updated of all the news
Recommended Content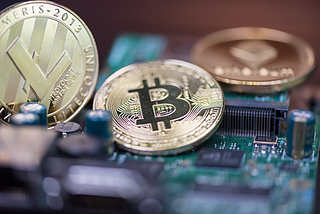 The Bitcoin-based BRC-20 meme coin, which had people confused as being an actual valuable token, is now slowly creeping up to that status. ORDI price rise over the past couple of days has been astonishing, and with BTC driving the price and crossing $44,000, ORDI is also gaining rapidly. But not for long.
Read more

For the last three trading sessions, the dollar index has been crossing up and down the 200-day moving average every day. All in all, the flirting with this level has been going on for more than three weeks, during which neither bulls nor bears were able to form a stable trend.
Read more
---