The Art of the Deal, A Shovelful at a Time
"China really wants to make a deal," says President Trump, "but I'm not there yet." Ya gotta hand it to the guy, he can pile up manure until it smothers the opposition. Nothing about Xi Jinping says he's eager to meet Trump's terms on trade, not any more than Korean dictator Kim Jong-Un is eager to make peace. And yet, would you bet against Trump? He's got quite a winning streak going, even if half of America pretends not to notice. He's also got a gift for putting losing deals on hold (i.e., North Korea), perpetually in limbo so that they are not cluttering up the scoreboard. He has little to lose with this strategy and everything to gain if Mr. Kim should shock the world someday by coming around.

Trump's foes like to think he plays the fool to Putin. But even Putin, who plays a weak hand better than any global leader we can recall, must defer to the very uncertainty of Trump. What will he do next? What is he capable of doing? No one really knows, perhaps not even Trump himself. He has pushed the tariff war farther than anyone could have imagined. The real surprise is how much support he has picked up for keeping the pressure on China. We've known all along that China has lied, cheated and stolen its way to economic success. Now, however, this is all part of the official narrative, a fact to be reckoned with not only by the Maoists responsible for the New York Times, but also by Wall Street Journal editorialists who espouse free trade as a religion.
About Those Bankruptcies….
It was easy to doubt the President's negotiating prowess when his book, The Art of the Deal, came out in 1987. Here's a guy who has bankrupted three casinos that were raking in dollars by the truckload. A hit-piece in the long-defunct SPY magazine asserted that Trump's biggest successes in business came only when he partnered with wheeler-dealers much smarter than he, including the Pritzker family, founders of the Hyatt hotel chain. An impressive and recurring feature of Trump bankruptcies is that he has walked away from them not only financially intact, but with the best piece of whatever could be salvaged from each deal. When some residential properties he seemingly owned went bankrupt, Trump always claimed he had no ownership interest, only a lucrative stream of royalties just for putting his name on the buildings.

It will be interesting to see whether the President reassesses Xi Jinping if the Chinese leader sends in the troops to crack heads in Hong Kong. Trump is instead suggesting that Xi meet with the protestors to make nice with them. Nobody could believe this is going to happen, but it makes Trump sound like a warts-and-all version of Will Rogers, with a little Chucky at the edges. The president acts as though he can get anyone to either like him or respect him. On the global stage, this seems to be true. It is only in America where he has failed to pull it off. Even so, no one, not even his most ardent detractors, is laying odds that he will lose in 2020.
Rick's Picks trading 'touts' are for educational purposes only. Past performance is no guarantee of future performance. (See full disclaimer at https://www.rickackerman.com/)
Analysis feed
---
Latest Forex Analysis
The US Dollar Index (DXY), which gauges the buck vs. a bundle of its main rivals, is now accelerating the downside and threatens to test the key support at 98.00 the figure.
US Dollar Index News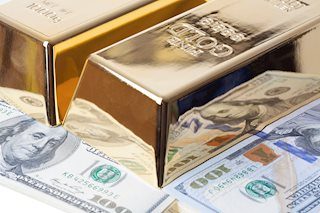 With the geopolitical tension concerning Hong Kong and Iran crossing wires, optimism surrounding the US-CN trade deal seems to fail in luring the Gold sellers. As a result, Gold takes rounds to $1,468 during early Asia.
Gold News
---