How to calculate your risk
Always use the stop-loss on each trade
As forex traders we never think about placing, entering in the trade without knowing where to place our Stop-Loss order, which protects us from bigger risk in case the market wants to go against us.
You must plan your trading for the next years. Trading is a business. It is a marathon, not a sprint! Read below to learn how to calculate your risk as a forex trader.
Successful traders are only those who successfully manage their trading risk exposure.
On the first place, a forex trader wants to protect his money and then make profits. Managing the risk is in my opinion one of the key factors for growing your trading account.
Before you start thinking about how much money can you make trading forex market, make sure you first take care of the risk. In our opinion, the Money Management makes a trading less stressful and it is also a difference between success and failure. That is why calculating the risk on every trade is a crucial. We are using this Myfxbook calculator. It is very simple to use.
Example on how to calculate forex position size and risk
1st step: Based on your trading edge rules, determine first how much you will risk in terms of pips. In MetaTrader 4 trading platform, you can use "Pip Meter" tool to measure the distance from your approx. Entry and Stop-Loss level in terms of "Pips".
NOTE: To use the "Pip Meter" tool, click the scrolling button on your PC mouse, hold and drag it on your chart.
Lets assume you are looking to buy EUR/USD, and set your Stop-Loss level 70 pips away from your entry.
2nd step: Use this Myfxbook calculator and choose/write down your:
Account Currency
Account Size
Risk Ratio in %
Stop-Loss in pips
Currency Pair
To continue from our 1st step above, we can give you an example.
Account Currency: USD
Account Size: 10.000
Risk Ratio in %: 2
Stop-Loss in pips: 70 (from Step 1)
Currency Pair: EUR/USD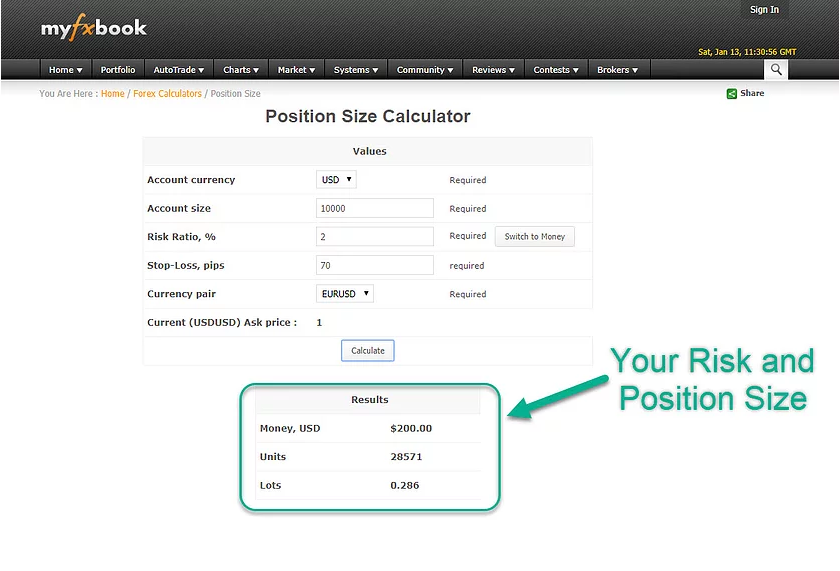 After you clicked the button "Calculate", you get your Forex Position Size and Risk. Based on our example above, traders risk would be 200$ per trade, and he/she can enter with no more than 0.286 lots (28571 units of currency pair).
That is it, simple as that!
As traders we can´t control the randomness of trades. No matter what trading edge, forex strategy we use, we never know if the trade will be winning or losing trade. All we can control is our trading process on each & every trade we take. When you trade the system, rules are always the same on each trade you take. The market is just too big to predict and you can't be right on every single trade.
Do not forget please – the market is the boss and will be always right! Worrying about ONE particular trade makes no sense. We see one trade belonging to a larger trades set. When we take a trade, we don't care if it's winning trade or losing trade.
Only thing we care is that we follow our trading process. After, the probabilities do the rest.
Do not forget – Trading is a business of probabilities.
Forex trading has large potential rewards, but also large potential risk. You must be aware of the risks and be willing to accept them in order to invest in the fx market. Don't trade with money you can't afford to lose. You must be aware of the risks of investing in forex and be willing to accept them in order to trade in these markets. Forex trading involves substantial risk of loss and is not suitable for all investors. Please do not trade with borrowed money or money you cannot afford to lose. We will not accept liability for any loss or damage, including without limitation to, any loss of profit, which may arise directly or indirectly from the use of or reliance on such information. Weekly forex outlook opinions on this page are for informational purposes only and are not investment advice. You should do your own research before making any investment decisions and take full responsibility for your own results, performance.
Education feed
---
Editors' Picks
RECOMMENDED LESSONS
Discover how to make money in forex is easy if you know how the bankers trade!
In the fast moving world of currency markets, it is extremely important for new traders to know the list of important forex news...
Chart patterns are one of the most effective trading tools for a trader. They are pure price-action, and form on the basis of underlying buying and...
The forex industry is recently seeing more and more scams. Here are 7 ways to avoid losing your money in such scams: Forex scams are becoming frequent. Michael Greenberg reports on luxurious expenses, including a submarine bought from the money taken from forex traders. Here's another report of a forex fraud. So, how can we avoid falling in such forex scams?
Trading is exciting. Trading is hard. Trading is extremely hard. Some say that it takes more than 10,000 hours to master. Others believe that trading is the way to quick riches. They might be both wrong. What is important to know that no matter how experienced you are, mistakes will be part of the trading process.
---