The Aussie Dollar, the Green Back and the RBA
Today while being interviewed live, the discussion focused around Aussie Dollar, and what some of my expectations for the currency, the central bank, and the broader economy were. The anchor noted that the Australian Dollar had risen to 74 cents overnight against the United States Dollar, and she asked for my perspectives on the potential for the AUDUSD to reach 80 cents.
While my answer had to be brief to fit the requirements of television-based interviews, it is honestly a reasonably long-winded answer. If we consider the last few times that the Aussie was nearing 80 cents was even above, we have seen similar environments. Strong commodity prices, the rapid expansion of China's economy, and a robust construction sector, this has usually been accompanied by the United States delivering quantitative easing measures and an increasing budget deficit.
This time is a little different, while the same key metrics as before need to be considered the figures on US stimulus and in turn, US debt is much bigger than what we saw in 2017 and the of course in GFC. In both of the times long since passed, the deficit to GDP reached a max of 6.8%, now I feel that the GDP to Deficit number will be in excess of 10%.
So, while the answer is the same US Dollar weakness, the amount of weakness is very different. And the possibility of the AUD reaching the 80cent and above range is undoubtedly plausible.
When it comes to the RBA actions and the Australian economy, it is a difficult area to give a definitive answer. The Australian economy has been titled as two geared, but to me, it's three, Victoria is stuck in Neutral or even park, the rest of the east coast is in first, while the west coast is in third gear rolling into pre-COVID performance. That makes an economy rather challenging to evaluate, and I feel that the Reserve Bank of Australia is acutely aware of this.
Today I am expecting them to hold on any rate adjustments and in general be relatively conservative in their approach. Though I will be looking for them to address household debt and consumer spending as the differentiation between each of the 'gears' will show potential constraints for GDP forecasts and the overall economic recovery of Australia.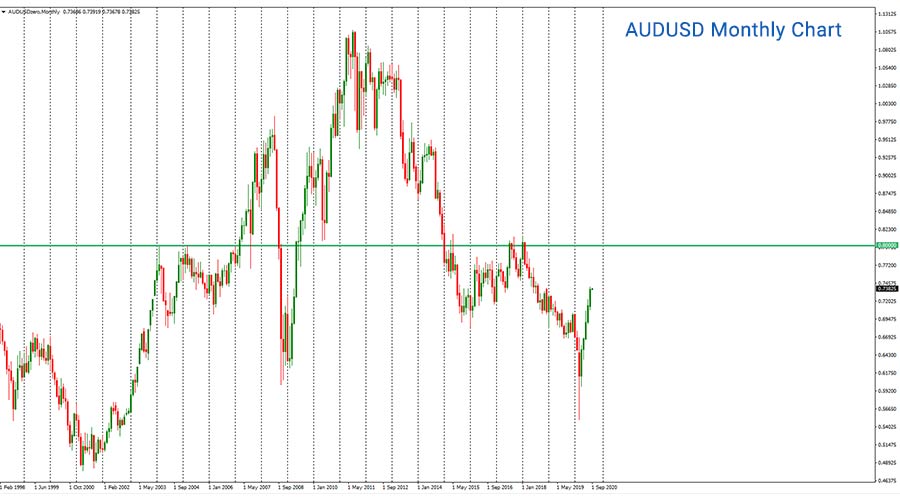 AUDUSD Monthly – Green Line at 80cents, highlighting the times above below and at 80 cents
RISK WARNING: Foreign exchange and derivatives trading carry a high level of risk. Before you decide to trade foreign exchange, we encourage you to consider your investment objectives, your risk tolerance and trading experience. It is possible to lose more than your initial investment, so do not invest money you cannot afford to lose。 ACY Securities Pty Ltd (ABN: 80 150 565 781 AFSL: 403863) provides general advice that does not consider your objectives, financial situation or needs. The content of this website must not be construed as personal advice; please seek advice from an independent financial or tax advisor if you have any questions. The FSG and PDS are available upon request or registration. If there is any advice on this site, it is general advice only. ACY Securities Pty Ltd ("ACY AU") is authorised and regulated by the Australian Securities and Investments Commission (ASIC AFSL:403863). Registered address: Level 18, 799 Pacific Hwy, Chatswood NSW 2067. AFSL is authorised us to provide our services to Australian Residents or Businesses.
Analysis feed
---
Latest Forex Analysis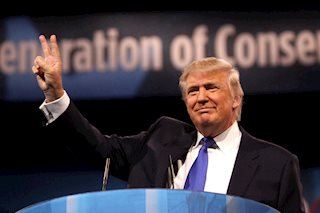 The first presidential debate is set to shake up the elections campaign. President Trump's playing down of challenger Biden's skills may turn into a double-edged sword. Markets will move on implications for a new fiscal relief package.
Read more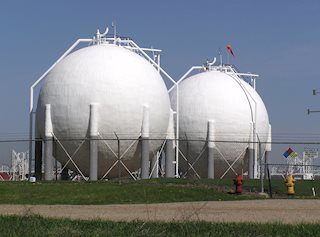 Prices of the American benchmark for the sweet light crude oil broke below the $40.00 mark per barrel and slipped back to the $39.70 region on Tuesday.
Oil News
---