Low UK unemployment masks mounting job losses
Job losses, unfortunately, appear to be rising, and recent data on the government's furlough scheme suggests that these redundancies are likely to be heavily concentrated among lower-paid workers. Rising unemployment is the main argument against a 'V-shape' economic recovery.
The low unemployment rate masks wider challenges
Four months have passed since the start of UK's coronavirus crisis, but for the jobs market, the real challenge is only just beginning.
There are an increasing number of reports of firms beginning to reduce the size of their workforces as the new Covid-19 normal sets in. In the hardest-hit sectors - the likes of hospitality and physical retail - demand is still clearly well below pre-virus levels, driven predominantly by safety rather than financial caution.
So far though, the impact on the official jobs numbers has been fairly modest. At 3.9%, the unemployment rate is still virtually at its all-time low.
Swift government intervention in the form of the job retention (furlough) scheme meant that over 9 million workers - just under a third of employees - kept earning a portion of their usual salary through the lockdown. And in the official statistics, those furloughed employees remain classified as employed - albeit working no hours.

Higher rates of furlough in lower-paid sectors

Source: UK Government, ONS
Percentage of eligible employees that have been furloughed by sector. Weekly earnings in wholesale/retail an employee-weighted average of the two sectors.
Recent announcements suggest unemployment will rise
There are however some signs that this official picture is changing. More timely payroll-based data shows that employment is down 2.2% on the previous 3 months, although interestingly it also shows that both inflows and outflows from work appear to have fallen (the latter more slowly than the former).
Assuming the rise in unemployment is initially concentrated among previously-furloughed workers, then it's likely to disproportionately affect younger, lower-paid employees from poorer parts of the UK.
Unfortunately, amid an increasing number of public job-related announcements, there's little doubt that unemployment will rise over the coming months. The gradual unwinding of the job retention scheme over the summer is being seen as a potential catalyst for firms to begin making changes, and the jury is out on how far the new government bonus scheme (incentivising firms to bring furloughed workers back) will cushion the blow.
Assuming the rise in unemployment is initially concentrated among previously-furloughed workers, then it's likely to disproportionately affect younger, lower-paid employees from poorer parts of the UK. That's according to the latest data on the job retention scheme, which we've mapped against pay levels in the charts below.
These figures also indicate that smaller firms have been heavier users of the scheme. This is not surprising but is potentially concerning because smaller firms are generally bigger job creators in aggregate compared to larger, more established corporates. Similarly, some of the sectors hardest hit by the crisis - in particular hospitality - have typically led the recovery in the job market in previous cycles, helping to offset weakness in other parts of the economy. Clearly that's unlikely to happen this time around, or at least until social distancing measures are able to be permanently unwound.
Early-20s workers most likely to have been furloughed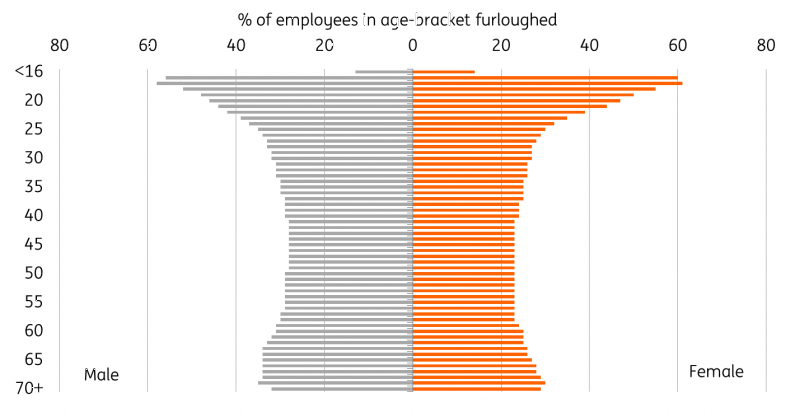 Source: UK Government
Higher rates of furlough in lower-paid Parliamentary constituencies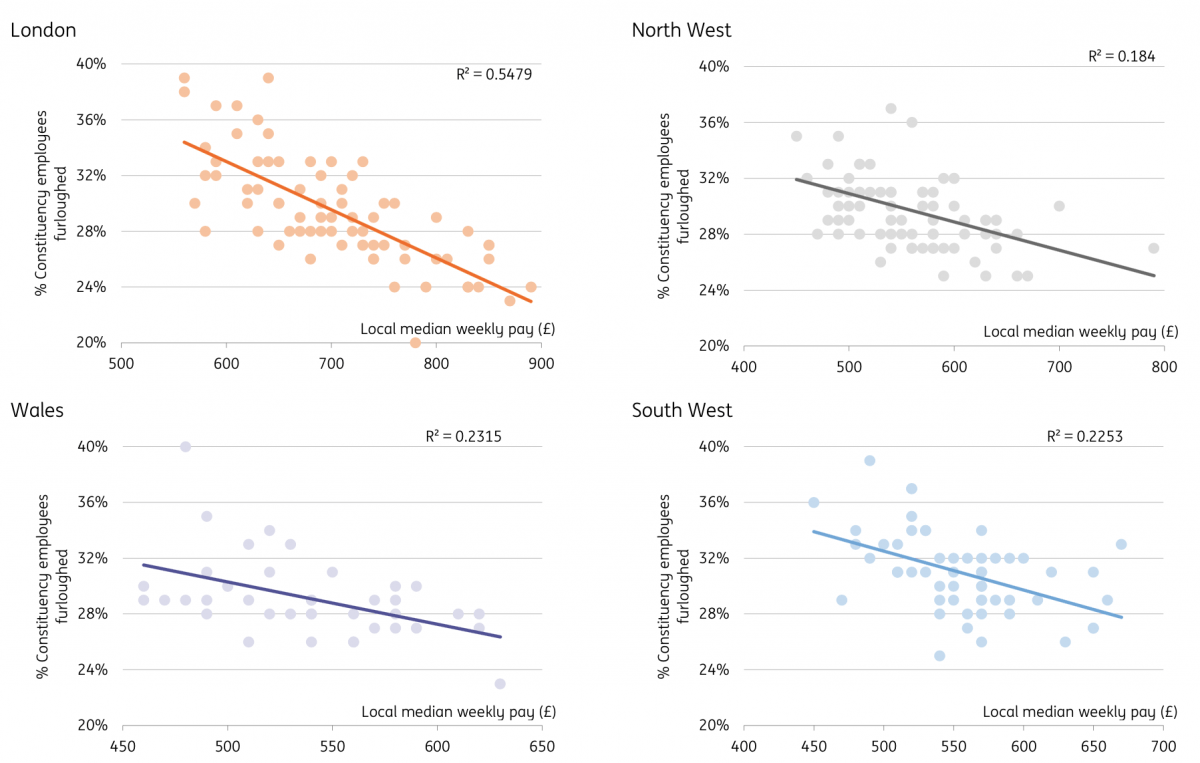 Source: UK Government, Commons Library, ING
Wage level is median gross full-time pay for each constituency.
In short, the outlook for the job market looks challenging, and this is the key reason why we think the economy won't regain its lost ground until 2022 at the earliest.
Read the original analysis: Low UK unemployment masks mounting job losses
Content disclaimer: This publication has been prepared by ING solely for information purposes irrespective of a particular user's means, financial situation or investment objectives. The information does not constitute investment recommendation, and nor is it investment, legal or tax advice or an offer or solicitation to purchase or sell any financial instrument. Read more here: https://think.ing.com/content-disclaimer/
Analysis feed
---
Latest Forex Analysis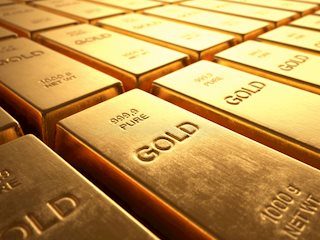 US bond yields are on the rise, supporting the recovering dollar and contributing to a sell-off in precious metals. The lack of progress in US fiscal talks and the increase in America's coronavirus deaths are among the depressing factors. US CPI is eyed.
Read more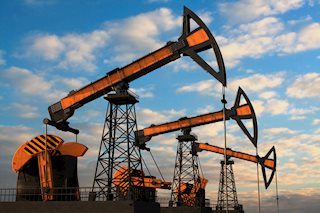 WTI could soon witness a big move in either direction. That's because, the spread between Bollinger bands – volatility indicators placed 2 standard deviations above and below the 20-day simple moving average of price - has narrowed ...
Oil News
---