Federal Budget – Rerun of 1994-95 Episode or More?
The continuing resolution, a temporary arrangement that is currently financing the operations of the federal government, expires on April 8, 2011. A federal government shutdown follows if Congress fails to authorize appropriations prior to this date. It is widely expected that a breakthrough in budget talks will take place prior to the deadline. However, there is uncertainty about whether a compromise will be reached at the appropriate time.

The 2011 federal budget impasse brings to mind the 1994-1995 shutdown of the federal government following differences between then Speaker Newt Gingrich and President Bill Clinton. The federal government was closed for business November 14-19, 1994 and December 16 - January 6, 1995. It is estimated that this 27-day closure of the federal government entailed a cost of $1.4 billion.

At the present time, the financial market environment is markedly different from 1994-95 period because the global economy is recovering from a severe financial and economic crisis and advanced economies are faced with budgetary challenges. During the 1994-1995 federal budget impasse, the U.S. economy was growing at a rapid clip and the Fed was tightening monetary policy aggressively to rein in inflation. Between November 14, 1994 and January 6, 1995, Treasury market yields were not unduly affected by budget negotiations. The Fed raised the federal funds rate 75 bps on November 14, 1994 and 50 bps on January 31, 1995 (see Chart 1).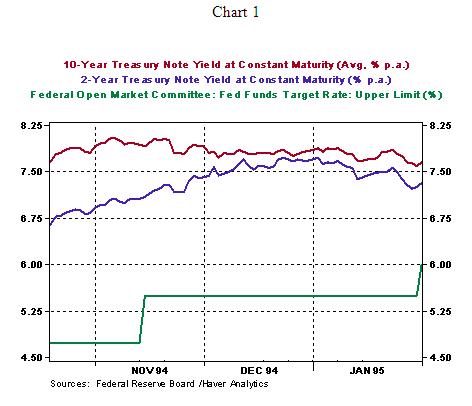 Currently, bullish economic data have been largely responsible for higher Treasury market yields in recent days (see Chart 2).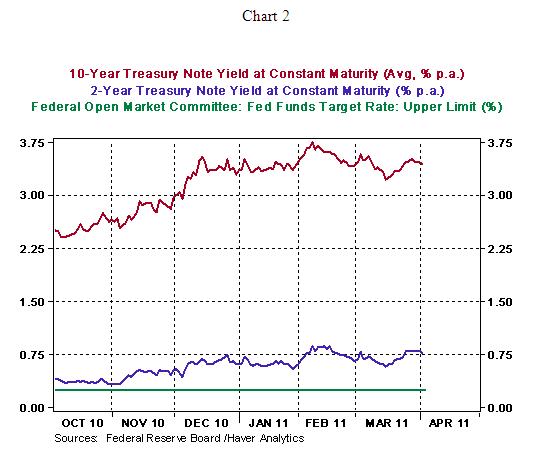 Equity markets in the late-1994 and early-1995 reflected fundamental economic conditions and the impact of tight monetary policy in 1994.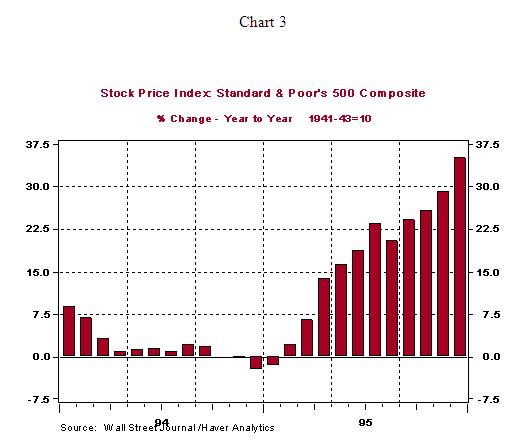 The bottom line is that the federal government shutdown had virtually no impact on financial markets in the 1994-1995 episode; a similar situation is emerging this time around. But, the bigger challenge pertains to the debt limit of the United States.

The current debt limit of the U.S. economy at $14.29 trillion is set by Congress; this was last raised from $12.394 trillion on February 12, 2010. Reaching this limit prevents the Treasury from raising funds through issuing new debt and the Treasury may find itself unable to meet its day-to-day obligations. The statutory debt limit has been raised on ten occasions since 2001. As of March 31, 2011, Treasury debt outstanding was estimated to be $14.2 trillion. (Daily commentaries of January 10 and 11, 2011 include details pertaining to the debt situation)

The Treasury Department estimates that outstanding debt will hit the ceiling by May 16, 2011. Treasury Secretary Timothy Geithner's remarks summarize the implications of the not raising the debt limit.

The "consequences of that would be catastrophic for the United States. Default by the United States would precipitate a crisis worse than the one we just went through. I think it would make the crisis we just went through look modest in comparison. It would force us to cut payments to the military, cut critical payments to our seniors. It would be a reckless, irresponsible act."

He said failing if the country defaulted on its debt (which as of Friday was $14.199 trillion) it would "call into question the willingness of the United States to meet its obligations" and this would "shake the…foundations of the entire global financial system."
Information on these pages contains forward-looking statements that involve risks and uncertainties. Markets and instruments profiled on this page are for informational purposes only and should not in any way come across as a recommendation to buy or sell in these securities. You should do your own thorough research before making any investment decisions. FXStreet does not in any way guarantee that this information is free from mistakes, errors, or material misstatements. It also does not guarantee that this information is of a timely nature. Investing in Forex involves a great deal of risk, including the loss of all or a portion of your investment, as well as emotional distress. All risks, losses and costs associated with investing, including total loss of principal, are your responsibility.