Thursday, Mar 13, 21:26 GMT
ASIA-PACIFIC Trading Newsletter
Follow us on Twitter • Subscribe to our RSS feeds • Visit our Facebook page
FXBeat News
Goldman Sachs cuts 12 month Aussie forecast to 80 cents from 85 cents
by Gerry Davies



Current Session: Asia
3 reasons for the EUR/USD crash
EUR/USD reversed its very nice gains made in recent days and is trading at 1.3850 at the time of writing. The pair practically returned to the post-Draghi range, but isn't sure it is going to stop there.
Next Economic Events
Date (GMT)
Country
Event
Actual
Cons.
Previous
Mar 13
17:00
EMU
ECB President Draghi's Speech
18:00
US
Monthly Budget Statement (Feb)

$-193.5

-$212.0B
-$203.5B
21:30
NZ
Business NZ PMI (Feb)
56.2
23:50
JP
BoJ Monetary Policy Meeting Minutes
Mar 14
00:01
UK
BoE Quarterly Bulletin (1Q)
04:30
JP
Capacity Utilization (Jan)
2.2%
04:30
JP
Industrial Production (MoM) (Feb)
4.0%
0.9%
[ View All ]
Forex Minds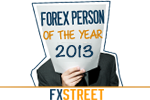 We have two finalists for the Forex Person of the Year 2013 title... Who are they?
Live Webinars
Gold and Silver End of Week Review
Expert: Phil Carr
Start: Fri, Mar 14, 11:00 GMT

Type of Session: Webinar

[ View All ]
Educational Resources
You Sure You Are Looking At Charts Properly?
Sam Seiden − There is so much education, and so many books and articles on how to properly analyze price charts. While I find many flaws in the conventional wisdom regarding this topic, one certainly leads the pack and is the focus on this piece. The foundation of conventional chart analysis according to the trading books and all the education out there is "support and resistance."
See more Lessons From The Pros:
How The Markets Work It Off by Brandon Wendell, CMT
Counting the Days – Calendar Option Strategy by Russ Allen
You Can't Solve a Trading Problem with the Same Level of Thinking That Created It by Dr. Woody Johnson
Latest from the Forex Social Network
Daniel Elo created a blog post 18 minutes ago Copper Meltdown Crosses the Rubicon as Chinese Fears Grow
Copper hit hard by margin liquidations. Australian Dollar slides alongside Copper, Crude Oil. Is Dr. Copper issuing a warning about global growth? Is...
George Sofianos commented a blog post 24 minutes ago Inside the Currency Market: EUR/USD
Hi Brian did he comment really on that? It is very strange, it seems that there are pressures from French and Italians to downplay a little Euro, we m...
FXStreet Newsletter does not constitute a solicitation for the purpose of buying or selling in the foreign exchange market. Although the information contained in FXStreet Newsletter comes from trusted sources, FXStreet is not responsible for guaranteeing the accuracy, timeliness, completeness or fitness of such sources. © 2014 "FXStreet. The Forex Market" All Rights Reserved. FOREXSTREET, S.L. - Portaferrissa 7, 1r 2a Barcelona 08002 Catalonia - Spain.
Before printing please ensure that it is absolutely necessary. Remember the environment is for all of us!